Grassroots leaders from Temburong are keen to socialize the employment, training and business opportunities to their community after seeing the latest national initiatives to improve industry up close earlier today.
19 village heads and penghulus, together with Temburong District Officer Md Amir Hairil Awang Haji Mahmud, made the trip to Brunei-Muara yesterday, visiting Job Centre Brunei (JCB), the Capacity Development Centre (PPK), Darussalam Enterprise (DARe) and the Serasa Industrial Site – which houses the recently opened margarine factory under Western Foods & Packaging.
Temburong's Legislative Council representative and Penghulu of Mukim Bokok Yang Berhormat Haji Emran Haji Sabtu said the Temburong community would be keen to learn about the upskilling opportunities offered PPK and the support available to start and grow businesses from DARe.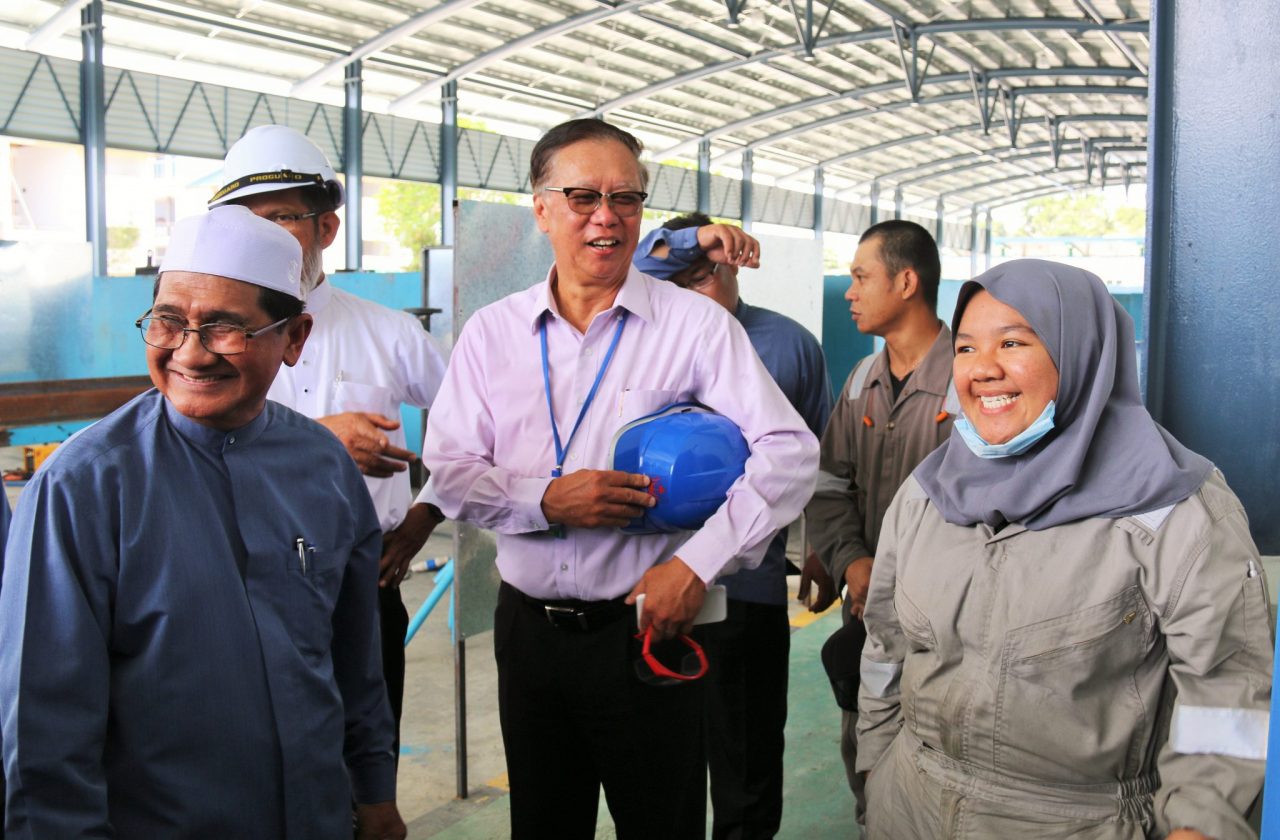 "We are very happy that even Temburong youth are enrolling to gain new skills at PPK," said YB Hj Emran. "Although these skills are not traditional, our youth are up to the challenge to improve themselves – and the guaranteed employment (in companies) upon completion shows that the government and private sector are working together to have a skilled local workforce. I believe more people in Temburong need to know about this opportunity."
13 courses – mostly skilled technical work targeted for school leavers – are being targeted for PPK.
The first intake of over 600 Bruneians, who have received conditional offers of employment from Hengyi contractors for the Pulau Muara Besar refinery, began their three months of training in September as mason/plasterer, woodcraft, steel craft, rigger, scaffolder, marker fitter/riveter, blaster painter, heavy vehicle driver, and insulator.
The grassroots leaders were also briefed on PPK's second phase – which will be completed in January – and saw the site's entrepreneur centre, which is expected to house 20 local food and beverage and retail businesses that will cater to students and the general public.
Meanwhile, YB Hj Emran added that support in financing, facilities and capacity building were needed for Temburong's businesses – the majority who are arguably still in a nascent, micro stage – to be ready to take on the opportunities from the expected increase in traffic once the highly anticipated Temburong bridge is complete in 2019.
"Because our population is still small (below 10,000 residents) and transport (by land) is difficult, there aren't that many businesses and goods can be expensive," said YB Hj Emran, who shared that grassroots leaders would also be meeting with their District Office tomorrow to discuss business related issues.
"However (most) are confident that were will be new opportunities in Temburong (with the bridge's construction). But we must work and seek out organisations like DARe to be prepared and have a plan (when the bridge is complete)."