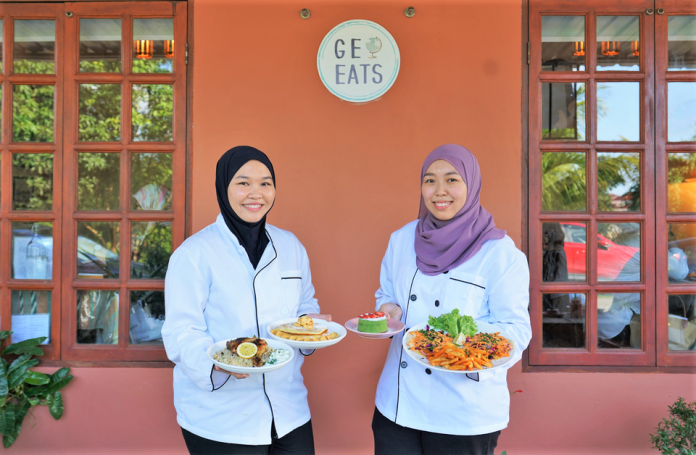 Late on a Friday afternoon, close to 20 cars have parked at the end of Simpang 381 along Jalan Jerudong.
But they haven't gathered for a wedding or family function – they've come to dine on some curiously named dishes inspired from nine different countries, served up by sisters Nurul Nadiatul Hidayah (pictured main R) and Nurul Munawarrah Hidayah Hj Sarifudin (pictured main L).
As they wait inside Geo Eats' cosy, cottage-like interior which seats up to 30 across eight small tables, Muna and Nadia and take the reigns in the kitchen.
Despite being on the ground floor of their home, the kitchen's build is more commercial than residential, constructed back when their mother decided to open a warong styled eatery back in 2013.
"It (my mum's home eatery) didn't quite work out," says 24-year-old Nadia, who graduates with a degree in media and communications from Universiti Brunei Darussalam (UBD) this year. "It was hard to get customers to notice the place."
With just 46 posts in two months, Geo Eats has racked up 2,605 followers by curating a feed of eye-catching pictures on Instagram. It's a fitting example of how small, cottage businesses have leveled the playing field against their more established counterparts – at least in their ability to independently market and make themselves known to the wider public, who would otherwise never drive past their outlets.
"Instagram has been a game changer for us," says Nadia, who spent a semester in the US as part of UBD's Discovery Year programme. "From that we were able to build, get repeat customers and gain good word of mouth."
Muna gets to work on a middle eastern staple – Shakshuka – a pot dish of poached eggs in tomato sauce baked with sausage and beef and served with a side of sourdough bread.
"From the bread to tomato paste, we make it in-house," says 28-year-old Muna, whose diploma in hospitality from Cardiff University has seen her work in several kitchens before deciding to start her own.
"After my sister finished uni (and was waiting to graduate), we traveled to Turkey then Europe. Exploring different cuisines was always one of our favourite things to do; when we came back we thought, why not have a small eatery that would serve all these different flavours."
"The kitchen already had the basic equipment," says Nadia, who prepares a yam lava cake. "And the dining area already had the tables and chairs. Muna's a great cook, and I was willing to learn. We knew that finding work wouldn't be easy – and we really wanted to give running a business a try."
With an outline of the world painted as a backdrop, they coined the name Geo – short for Geography – pairing it with Eats, and opened at the end of December.
"Right now we have (three) starters, (nine) all day breakfast dishes, (nine) mains as well as different pastries and desserts on the side," said Nadia. "During peak hours we're full house, so we're looking at expanding the seating space to upstairs."
The sisters are currently supported by six other staff and buoyed by the positive response, are looking to add a few more to keep opening hours more consistent.
They're still getting used to the business technicalities – and steer clear of self-ascribed labels of CEO, director or managers, keeping their focus on improving the menu on offer.
"We're looking serve wholesome, comfort food, without preservatives," said Nadia. "But we want to serve it different to what's already out there."
Geo Eats is located at No. 13, Simpang 381, Jalan Jerudong (simpang after Nasi Katok Jerudong) and opens from Tuesday to Sunday, 9am to 2pm, 4pm to 8pm. Follow @geoeatsbn on Facebook and Instagram, or contact +6738271381 to get in touch directly.