"My wife's the one who really runs the place. She's the one you should speak to," said my gruff-looking driver, 58-year-old Hj Ali Hj Abdullah, as we took his 4×4 along a bumpy road in Kampong Layong, Tutong.
Passing by a huge, above ground pipe, the faint sounds of ducks quacking grow louder. We continue on, until we stop by a house that looks only partially done.
Erni Nasriah Abdurrazak, wife and owner of Erlin Jaya Enterprise, steps out to greet me.
"The pens are just behind (the house)," says the 38-year-old. "I hope you don't mind the smell."
Four wooden pens with zinc roofing and a simple wire mesh perimeter – Erlin Jaya's operation isn't the prettiest. But with 5,000 ducks, it churns an average of 1,000 duck eggs per day which are salted twice a week by Erni, and her 17-year-old daughter.
The business keeps a list of buyers; the first catering companies and restaurants, along with other 68 grocery stores in Tutong and Bandar.
"We started out eight years ago with bamboo pillars, zinc roofs and just enough to feed and care for 500 ducks," said Hj Ali, who works as an Imam full-time.
Erni, who married Hj Ali in 2000 – has always searched for additional ways to bolster the family's finances; from selling local kueh, planting rice and at one point – importing poultry and rabbits for sale.
None, except the poultry imports proved to be profitable, but that didn't last long either. In 2008, the spread of the bird flu epidemic resulted in Erlin Jaya losing their licence to import live poultry into Brunei.
"So we decided to start from scratch and rear our own poultry. We had about 500 ducks," said Erin. "We initially sold the eggs unsalted, as we didn't have enough (volume) to start a salting operation."
The sales were rolled back into rearing more ducks as they slowly expanded the pens. About four years ago they decided to begin salting the eggs – but chose to do at about half the saltiness as a healthier option to the standard salted eggs.
"We first sold the eggs at the tamu and the response made me believe that there is a market for medium salted duck eggs," said Erni.
Their large eggs retail at $12 for 30 eggs, and $3 for six eggs – and they manage to move all their produce each week. But by taking up just half an acre of the three-acre plot of land that Hj Ali inherited from his late father, there's still plenty of room to grow.
"Our dream is to eventually supply our eggs to the whole of Brunei," says Erni.
"But to do that we need to produce (more than) 25,000 eggs per month," added Hj Ali.
Erlin Jaya has yet to obtain financing – and hurdles in the business' management and accounting have to be overcome for the business to grow further.
The couple are unable to readily share the cost to produce each salted egg for example, and do not have the knowledge to keep proper books on the business.
They shared that introductory classes on bookkeeping are done mostly in English, which the couple admits they have limited fluency in.
Erni's undeterred however, and while working to secure an investment from Badan Tanmiah, the Brunei Islamic Council's investment body, will continue to quietly chip away until their salted eggs stock the shelves of stores across the country.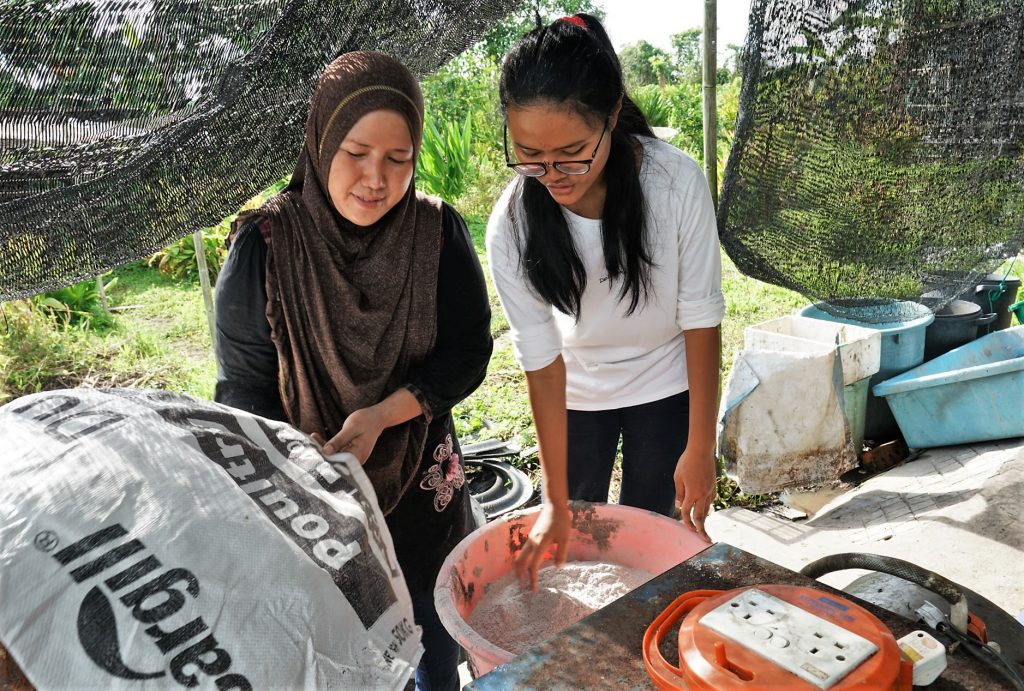 To make an order or to get in touch with Erlin Jaya Enterprise contact +6738872080.