Darussalam Enterprise' (DARe) food and beverage (F&B) incubation programme Kontena Park officially launched its fifth cycle on June 1 with eight vendors looking to grow their homegrown brands.
Since its launch in 2017, Kontena Park has seen 33 vendors generate $1.2 million in sales cumulatively in its four prior cycles – which provides 12 months of tenancy at a monthly rental rate of $350.
The facility underwent a major renovation in 2019 to feature an all-new design, while the training and support provided to vendors during their tenancy has also been developed to reflect the latest industry trends and best practices.
The objective of Kontena Park is to help early-stage F&B businesses – especially those based from home – gain their first experience operating in a commercial setting, while also building up their capabilities through dedicated training, mentoring, and coaching for them to be able to progress onto operating their own establishments after graduating.
The programme today requires applicants to first join DARe's Micro Business Bootcamp, taking three weeks, then submit a business plan, and undergo a food review and interview. The finalised vendors will then receive their own unit along with a complementary point-of-sale (POS) solution and a subscription to an online accounting software to automate record keeping and manage their finances.
Vendors also have access to other DARe initiatives including financing, marketing support, and industry-specific business opportunities.
More than 10 alumni of Kontena Park have successfully graduated to operating their own premises including Moisjito, Seven Sporks, and Kopitiam Ka Ginab. Here's a quick look into the latest eight vendors who hope to follow in their footsteps.
Security personnel turned chef: Pondok Qaya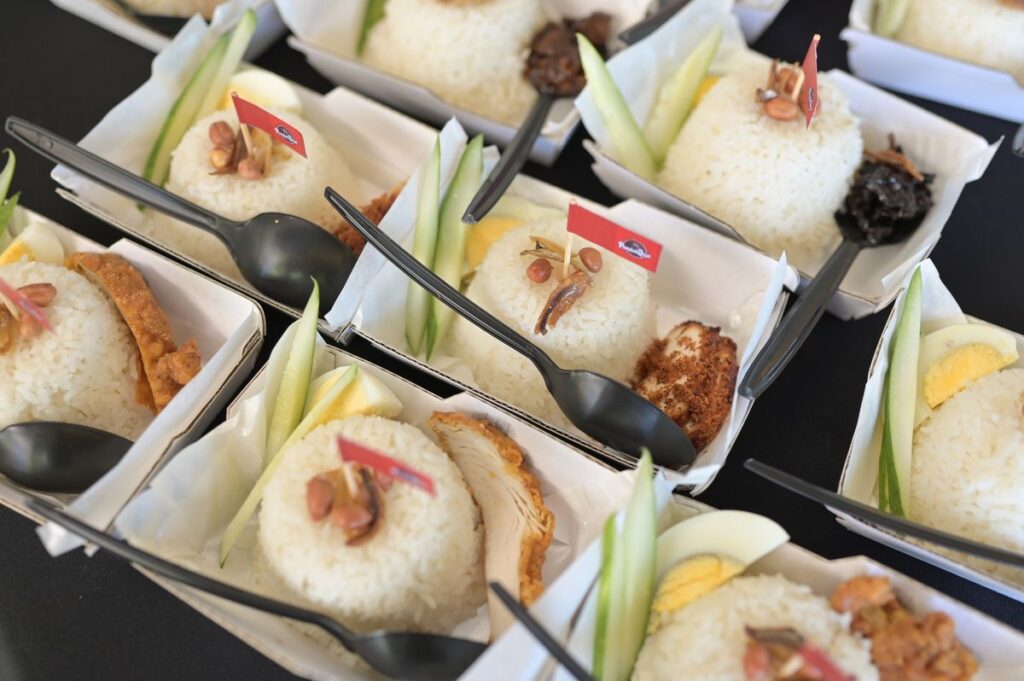 At the first unit of Kontena Park is 38-year-old Jeratallah Jumat, a former security personnel turned chef, looking to build a name for himself under Pondok Qaya by serving nasi lemak.
It's been six years since Jeratallah first began selling to friends and family, before stints across the years at food stalls in Gadong and Salambigar.
Now a full-time business owner and chef, Jeratallah's menu is all about his signature nasi lemak with four options of protein: spiced fried chicken, sweet black pepper beef, hati buyah (beef lungs) cooked with soy sauce, and sambal sotong (squid in chilli paste).
Father and sons serve Middle Eastern-inspired 'over rice': Warong Dewa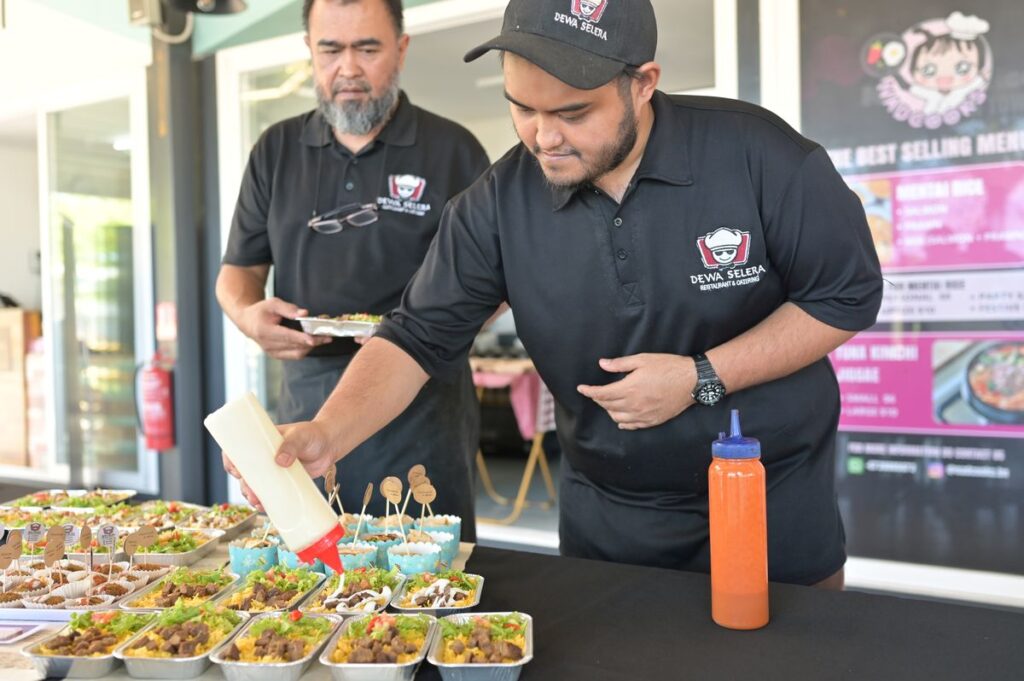 Inspired by Middle-Eastern street food, Hj Md Salleh Abdul Kadir and his two sons Abd Hafiz and Abd Hariz specialise in 'over rice' – a bed of yellow rice served in a tray with either chicken, beef, or lamb on top. Customers can also have the same proteins – which are richly spiced – inside a wrap.
"The business started in 2012, after I quit my job with Royal Brunei," said Hj Md Salleh. "Initially we were serving Asian warong (foodstall) style; like fried rice and different type of fried noodles, but we eventually wanted to create something different."
The growing popularity of Middle-Eastern street food in the West, as evidenced by chains such as The Halal Guys, spurred Hj Md Salleh to experiment with developing a new menu for Warong Dewa/Dewa Selera.
Now more than a decade into running his own business, Hj Md Salleh admits that he's long overdue to learn the fundamentals of managing a business – outside of cooking and serving customers.
"When we stopped by Kontena Park a few years ago we were impressed but we learned that it was more than just the physical (space); there was the training that DARe was offering," he said.
"We have experience in cooking and customer service, but things like book-keeping; we've never done before. Now we are doing so religiously; though it's not easy, it's the right stepping stone for us to be a successful business, so we can open our own outlet one day."
After more than a decade in the industry, chef starts own business: My Dish by Azeem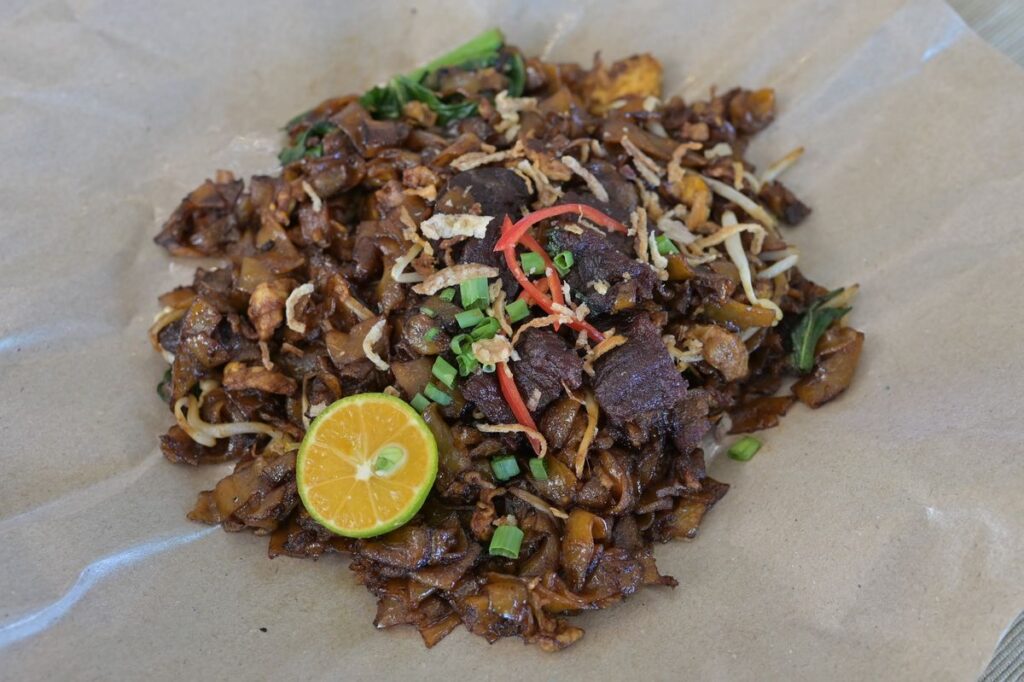 Having spent his 20s working in the kitchens of Royal Brunei Catering and The Empire Hotel before leading the catering section of Maersk Drilling's operations in Brunei, Md Azeem Md Yasan decided to begin his 30s by building his own business.
With his extensive background, My Dish by Azeem has served up dishes from several different cuisines, but for his Kontena Park stint, he's developed a breakfast-lunch-focused menu to cater to the surrounding offices of Anggerek Desa Technology Park.
Each dish is cooked fresh upon order; with three main categories of items – fried noodles, fried rice and roti canai.
"We started this business during the pandemic, after the contract from my last job was up, we (my wife and I) were weighing up other job options or starting our own business," said the 33-year-old, who participated as a Kontena Park pop-up vendor for several weeks before applying for a year-long tenancy.
"We have a lot to learn on the business side, so this is the right place for us to start. InsyaAllah next year we can have our own small restaurant."
Bringing their Middle-East experience back home: Noaz Creation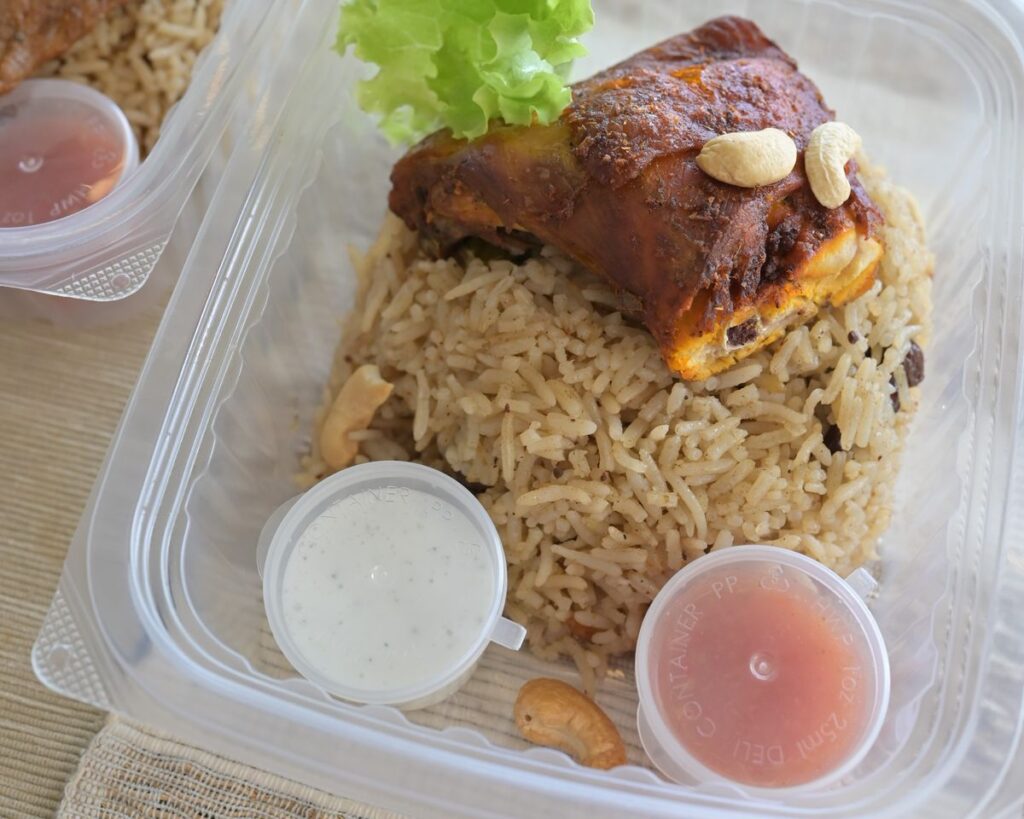 As a woodworking enthusiast taking on custom orders through her Instagram Noaz Creation, Norhijjahwati Bair decided to pivot her business into selling food during the pandemic.
Leveraging her experience with her family being stationed in Oman for several years, Norhijjahwati – better known as Noi – serves up Arabic rice (nasi Arab) with either chicken, lamb, or prawns.
"We studied how they make it there and tried to replicate it back here the best we can with local ingredients as well, so it's a bit of a combination – like a Bruneian nasi Arab," she said.
With demand for custom furniture dropping during the pandemic, Noi's swift decision to capitalise on thw growing demand for takeaway has now put her on the path of turning her home-based operation from Kg Tanah Jambu into a commercial pursuit.
"With Kontena Park and DARe we have everything (we need) under one roof, so this is the best place for us to expand our business, for us to be able to plan our next step while gaining new customers," she added.
Nadcooks serving Japanese and Korean favourties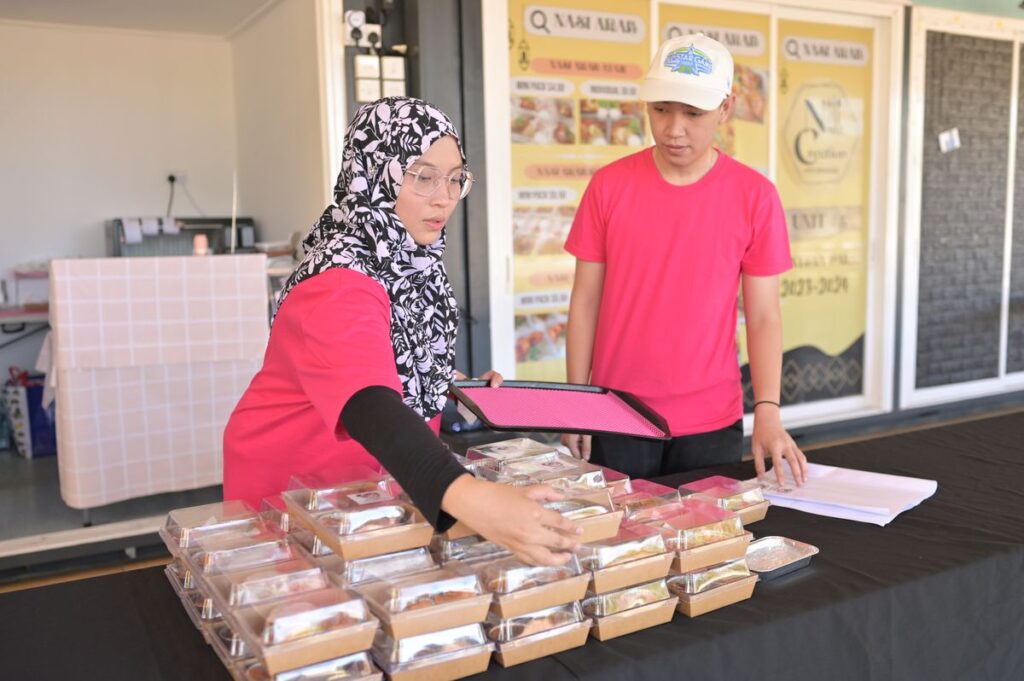 The pandemic was undoubtedly a challenging time for businesses in many sectors, forcing the Great Reset.
But for many of the new business owners in the fifth cycle, the increased time spent at home during the pandemic served as a starting point to experiment with entrepreneurial pursuits which are now beginning to bear fruit as society reopens fully.
Another such vendor is Nadcooks, led by its sole proprietor Nadia Adenan, who decided to transition from working from a corporation to becoming self-employed.
Serving up mentai rice – a Japanese spicy baked rice – and Kimchi Jigae – a Korean-based stew with fermented vegetables – Nadcooks has already built a steady online following, which she hopes to translate to her physical setup.
"Back during COVID-19 (2020), I was working from home. During my free time, I would research these dishes that weren't really common in Brunei and found that I could get the ingredients to make them locally," said Nadia. "From there I could see the potential for it to be a real business."
Buoyed by cooking competitions, young couple sets up RZ Café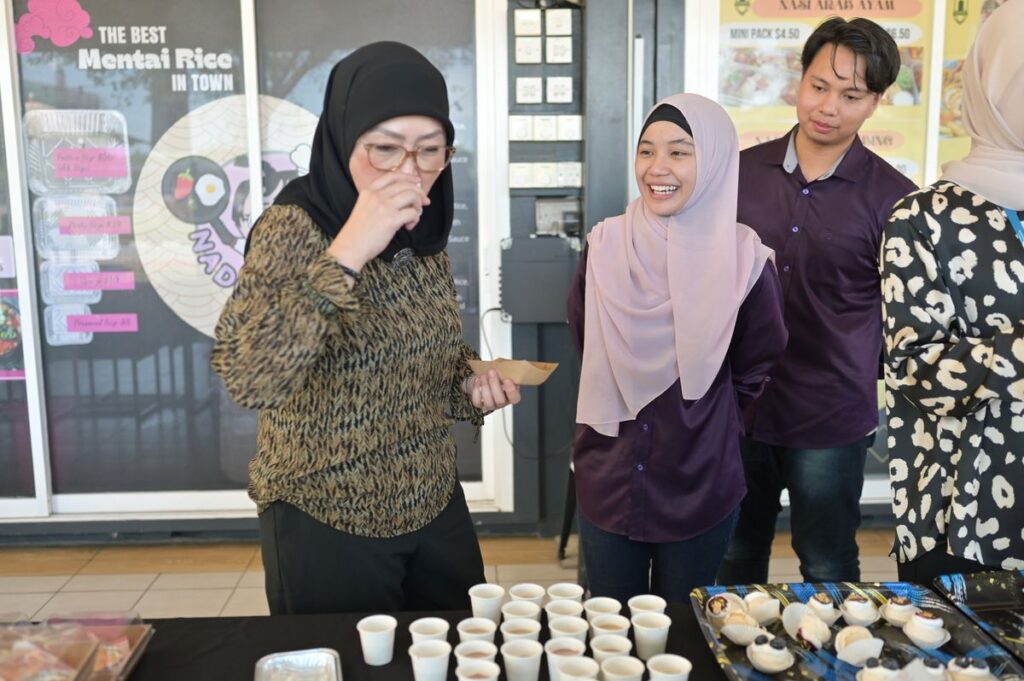 The youngest vendors of the fifth cycle are married couple Zaslin Eva and Razieff Wong – both 21 years old – who are hoping to build their own café brand having participated in several cooking competitions including Radio Television Brunei's Selera Remaja.
Similar to the menu of commercial beverage chains, RZ Café serves coffee staples such as latte and mocha, alongside milk tea and chocolate drinks. They're also serving two lighter bites to complement their drinks; chicken wraps and deep-fried enoki mushrooms
"We started our interest in cooking and drinks back in 2017 when we were still in school, so from there we worked at different eateries to gain experience, hoping to one day have our own space," said Zaslin.
"We have learned more than expected (so far from Kontena Park), and hope to take our experience here to open our own cafe after."
Pastry and pasta: My Dessert Diaries by An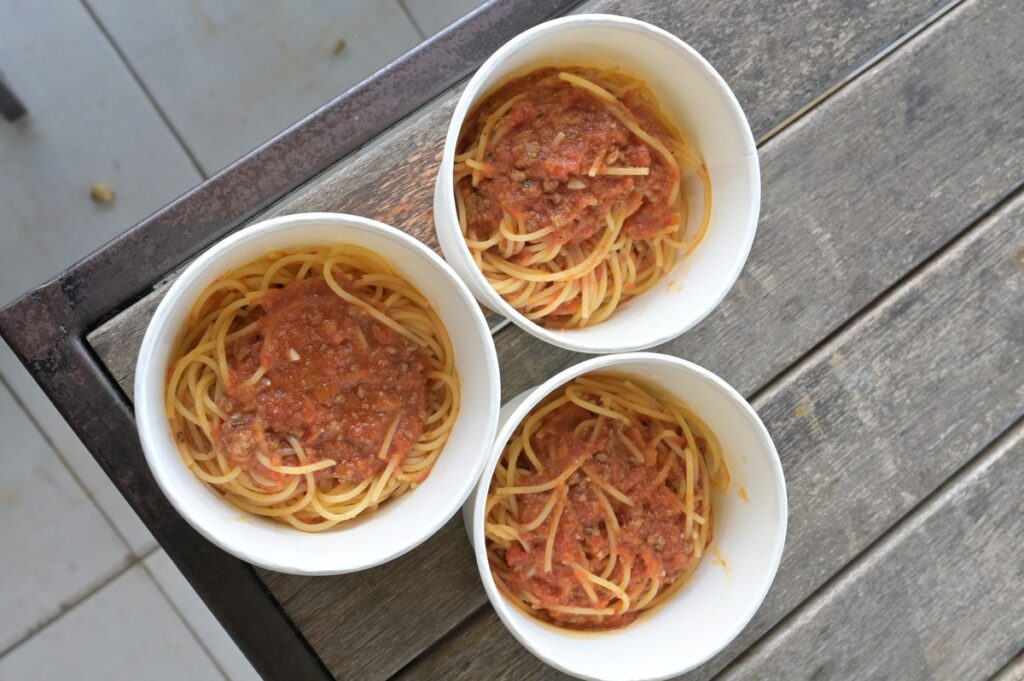 As the sole desserts-focused vendor in the fifth cycle, My Dessert Diaries by An specialises in choux au craquelin – a French-styled cream puff – and mini pavlovas, which are made to go. To complement their desserts, they're also serving pasta bowls.
"This business started by a group of us who have experience working in restaurants, and we decided to come together during the pandemic where we began to take orders from home," said manager April Lee.
Lee said that since new businesses have to learn to share the responsibilities of managing and operating the business amongst themselves, they have to be well-versed in different areas, which they hope to leverage from DARe's training and expertise.
Serving a local favourite in new ways: Pais Nyanyat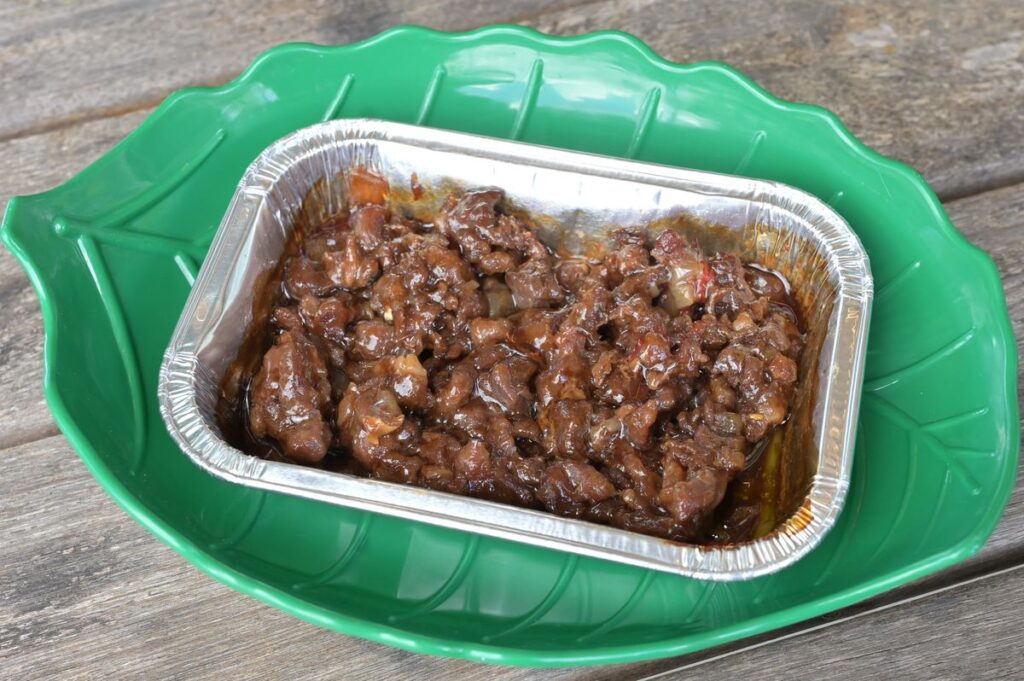 At the final unit of Kontena Park is a son's business that pays homage to his mother's recipe of pais – a local delicacy made typically by braising fattier cuts of beef marinated with chilli, onions, soy sauce, and salt.
But 32-year-old Safwat Hj Nordin's Pais Nyanyat is also putting a new spin on it by serving pais as a filling for hotdog buns, kebabs, and wraps alongside more traditional preparations with rice and noodles.
"My mom first began this business from home in 1995, but as she grew older she was no longer able to do the cooking herself. I told her I could continue the business, but I had to earn her approval first," said the 32-year-old.
"So I had to keep making pais until she was satisfied with the quality and gave me the blessing to sell."