The sun has yet to rise over Syafiq Iqbal's humble home in Lumapas, but the 26-year-old personal trainer is already up with his mother Fatimah Ismail, preparing more than 20 egg salads to be sent out later that morning under their healthy meal delivery service Seven Sporks.
The pair run like clockwork; Fatimah boils the eggs, while Syafiq lays down the salad base of lettuce and onions in brown bowls. Each is then filled cherry tomatoes, eggs and advocado and topped off with a vinaigrette of olive oil, rosemary, salt, pepper and balsamic vinegar.
"With the Seven Sporks meal plan, you won't see the same meal repeating for six weeks," says Syafiq. "But in terms of nutrients – especially calories – each meal will remain within 350 to 600 (calorie) range. So you can always stay on your goals, but still enjoy variety."
By 9.30am, Syafiq heads out deliver across Brunei-Muara, and hands over orders for Belait and Tutong to a freelance delivery person. All customers are promised to have their lunch delivered to their doorstep by 12pm.
After, Syafiq stops by the grocery store to pick up the next day's ingredients, and then heads home for a short nap before beginning his second job of the day as a trainer at Hybrid Gym.
"I have been grinding it out for over a year on this schedule," he said. "But things are slowly starting to pick up. The sales at Seven Sporks are growing month-to-month."
No degree, no problem
After dropping out of college at 21-years-old, Syafiq began working in home financing in BIBD, before progressing into a supervisory role at a telecommunications company where he would earn a degree-holder equivalent salary of over $2,000.
A self-described doer, Syafiq has always preferred to be out on the front lines in the workplace. Outside, he was emboldened by his pursuits in the gym, his body changing dramatically as he lost over 40kg.
"Growing up I was always the big, fat kid. To be able to shed that identity – it was the most rewarding thing for me, and I wanted to be able to share that with others," said Syafiq. "I was convinced that I could make it (training others) full-time."
By 2016, Syafiq's fitness journey had evolved from bodybuilding to wholly embracing CrossFit-styled training that combined elements of strength, power and endurance. He believed fitness was his calling – and later that year – quit his job to become a trainer full-time.
Struggling to make ends meet
Syafiq's brashness – which previously helped him ascend the corporate ladder – proved to be his undoing in his sudden decision to quit his day job to become a personal trainer full-time. In the two years that followed, there were months where he would take home as little as $200 off a commission-based structure.
"From earning a few thousand to a few hundred dollars a month was a huge hit; I had misjudged how hard it would be to be just a trainer full-time," he said, as he began doing personal training from a makeshift gym at home just to earn a little more.
By having more personal chats with clients at home, he began to understand their needs more intimately, realizing it was often their failure to control their nutrition outside the gym that was leading to poor results – especially when it came to weight loss.
"There comes a point for everyone where increasing physical activity or exercise isn't enough to lose weight," Syafiq explains. "At some point – if you're looking to lose weight – you need to be consuming fewer calories but at the same it's not only about eating less, as you'll still have nutritional needs (for daily function) and to make sure you can recover (from workouts)."
Syafiq offered to help some of his clients prepare their meals, and began uploading pictures of his handiwork on social media. They were relatively low in calories but packed with nutrient-dense foods.
"Seven Sporks was born out of necessity; I was struggling, desperate for another way to earn income," he said. "But Alhamdullilah, it also turned out to be another way that I could legitimately help people in their fitness journey."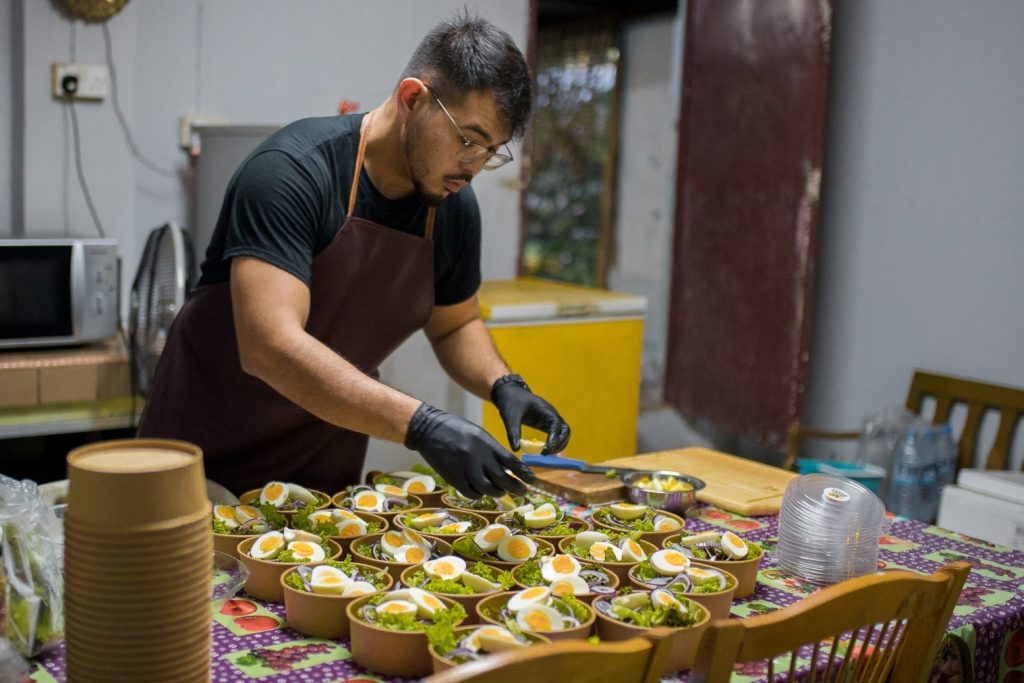 Seven Sporks is not short on competition – healthy meal eateries and deliveries have seen a sudden growth across the Sultanate over the past few years.
Whether the rising consumer demand is purely novelty or in response to alarming reports that one in three Bruneians are obese – the highest rate in ASEAN – is still up for debate. For Syafiq, it's an unmissable opportunity for his business to address.
Despite holding down two jobs, he further stretched his schedule to join DARe's Microbusiness Bootcamp earlier this year.
"Through the bootcamp I was able to see the potential growth of my business more clearly and to develop and implement strategies that would further our growth, from product development to marketing," he said. "I went in with 700+ followers, and we've more than tripled that in a few months, as we now cater to 25 to 50 weekly subscribers."
Today, Seven Sporks has refined their menu, with each bowl analysed for its nutritional profile – the first for any healthy meal delivery service in Brunei. There are three weekly packages which cover meals for five days from Monday to Friday or Saturday; the signature pack ($25), a low carb or Keto pack ($33) and a custom pack for those with specific nutritional requirements. Delivery for the week is $12 for Brunei-Muara and $17 for Belait.
By partnering with nutritional coach Lim Fan of Kray Kray Fitness, Seven Sporks is able to provide customers a breakdown of each bowl's nutrition, comprehensively covering macronutrients – the number of carbohydrates, fats and protein – as well as micronutrients – which covers the different types of vitamins and minerals.
Syafiq's goal for 2020 is to consistently have 100 weekly subscribers, and one day expand his team inside Seven Sporks' own industrial kitchen.
"When I was young my parents used to own a restaurant but we couldn't keep it open," says Syafiq. "It's always been at the back of my mind. So with Seven Sporks I not only hope to provide for my family but build something that my parents can be proud of."
Watch: Syafiq shares his entrepreneurial journey