For many Bruneians, taking to the football field is almost a rite of passage from one's childhood to teenage years. But for the majority who don't make it professional – or even to the local leagues – the coming-of-age process can also signal the hanging up of one's boots.
With few avenues to partake as an adult, many are resigned to only reminisce playing the beautiful game, living vicariously from the couch or stadium seats.
Super Squad intends to flip that situation on it's head – beginning with their online booking-gamified platform best described as football meets Uber and Airbnb.
Faezal (L) with DPMM captain Wardun.
"We want make football accessible for everyone," says Super Squad's founder Faezal Murni at his office at iCentre, days before he launches his platform in Kota Kinabalu, Sabah with the Super Borneo Championships.
"We want to reclaim the joy of being able to play the sport we love at the convenience of a click. The reality is outside schools, universities and local leagues and cups, there aren't many avenues to play football even though it is the most popular sport in Brunei.
"Organizing a single game outside these institutions and contests means booking a venue (often weeks, sometimes months in advance), finding a full team, finding an opposing team, hiring a referee and then hoping everyone shows up."
Faezal's remedy for the state of recreational football is straightforward. Super Squad will do the heavy lifting; secure venues, come up with a daily match schedule, hire referees, buy team bibs and balls.
Users only need to sign up on Super Squad's website, purchase match credits – which work out to $3.50 for individual games and as low as B$20 for 50 games – and select a venue, date, time and field position. After each three month season – as is with the ongoing Super Borneo Championships – the players that rack up the most goals, assists and team will win individual prizes.
"What makes Super Squad unique is that you don't have to have a team to join in and play since it's a drop in system," says Faezal. "This means when you show up, you'll get the opportunity to play with a new group of players each time."
After drawing more than 3,000 players and hosting 1,000 games in the past 12 months, Super Squad has become the first Brunei sports-based startup to be backed by Tourism Malaysia to expand to Sabah, according to the director of their Brunei office Hj Ibrahim Seddiqi Talib.
As Faezal sets their regional plans in motion, a lingering question remains – how did the 38-year-old go from being a military pilot to founding one of Brunei's most promising startups?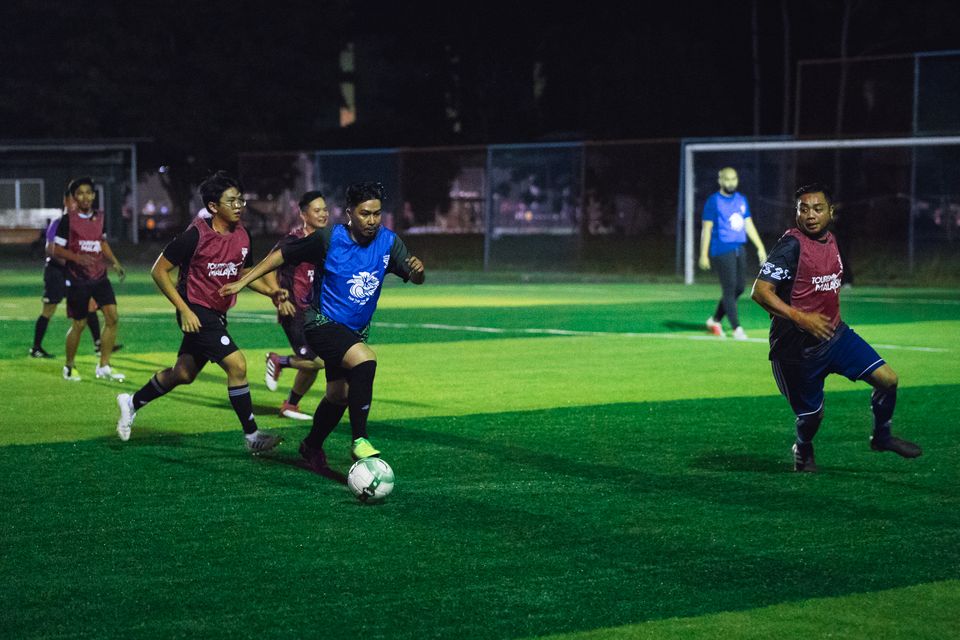 Finding meaning after service
While Super Squad has been enjoying an eventful year, it's been far from an overnight success. Retiring from his post as captain and his role as a helicopter pilot with the Royal Brunei Air Forces in 2009, Faezal spent the following six years in managerial positions beginning with his family's construction business Majra & Anak-Anak and helping them start Fullhouze restaurant.
He then spent close to two years as G4S Secure Solutions's head of business development in Brunei, before starting Respin Labs in 2015 – an acronym for revolutionizing the sports industry.
"I had the rough idea (for Super Squad) back in the military but I honestly didn't have experience to execute it," says Faezal. "Working for businesses helped me understand whats it takes to draws customers, secure government projects and plan for expansion."
Faezal's distinctive pitch to the Brunei Economic Development Board (BEDB) earned Respin a spot within the startup incubation facility iCentre that same year, as well as a familiarization trip to Silicon Valley – which he recalls fondly as the true beginning of his entrepreneurial journey.
"Seeing the mindset and determination of startups in Silicon Valley really opened my eyes," he said. "It helped me believe in myself – that I had what it takes to put my thoughts into action and create this football platform."
DARe's Startup Bootcamp
The transfer of BEDB's SME development portfolio to the newly formed Darussalam Enterprise (DARe) in 2016 would turn out to be another turning point for Faezal, who had begun to develop Respin's first product called Weekend Warriors.
On August 7 that year, Faezal launched Weekend Warriors with his co-founders Simon Soo and Hj Mohd Sabri Hj Zulkifi as a futsal booking platform, focusing on hosting games at the Public Works Department's sport complex on the weekend.
Two months later, Faezal enrolled into the first cycle of Startup Bootcamp, a 100-day business development programme led directly by DARe's then CEO Soon Loo, an award-winning Bruneian entrepreneur who experienced success in Silicon Valley.
Faezal began to refine his business model through the bootcamp; rolling out football alongside futsal, incorporating weekday matches and to further attract the recreational crowd, he streamlined matches to be made up of two ten-minute halves.
Futsal matches followed the standard five-a-side format, while football matches were reduced from 11 to eight-a-side, on a smaller pitch.
With his pitch to revolutionize recreational football, Faezal attracted leading administrators from regional football associations to his advisory board. Not long after, talks with Air Asia and Redbull were underway to take Weekend Warriors regional.
'Never losing sight'
Jolly – and to a certain degree – agreeable, Faezal brims with optimism as he presents, cutting a impassioned figure when pitching on the stage or boardroom.
He cut in another partner as a potential investor to Respin in 2018, but later parted ways for undisclosed reasons. Weekend Warrior was to remain a commercial entity, but without Faezal's involvement or shareholding.
The 38-year-old put his head down and began rebuilding, launching Super Squad in October last year. He hasn't looked back since – preferring to let his team's work speak for itself.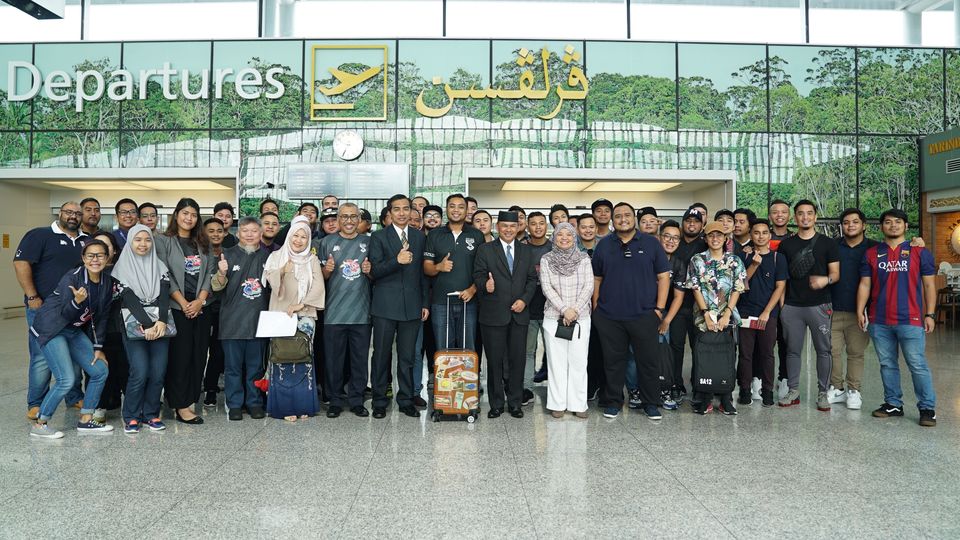 On Thursday, Super Squad put Tourism Malaysia's support by flying over 50 of their most loyal players a to Sabah to mark the platform's international debut at Yayasan Sabah's football centre.
Faezal took the first of three scheduled flights for Super Squad that day, sitting alongside the players, many of which have grown to become his friends. Upon arriving, they were checked in to Ming Garden hotel and were later invited to a welcoming dinner along a pier, all at Super Squad's expense.
Exactly 12 months later, by all measures, Super Squad has exceeded the traction of its former counterpart when it comes to football.
Tourism Malaysia is eager to see Super Squad expand to other Malaysian states as a way of promoting visitors to experience both countries, and negotiations to enter Philippines have also begun.
"We have a young, driven team and built a loyal base in Brunei. Now I'm determined to take Super Squad even further," said Faezal, who feels that he's unlocked a newfound determination since rebranding.
"The goal is to integrate the Super Squad regionally, so no matter where you are or where you go – whether it's your hometown, or you're abroad on holiday, work or visiting family – there's always a place for you to meet up with others to play football."
Watch: Super Squad expands to Sabah