For a 24-year-old, Ahmad Fathi Dr Hj Norafan has an unusual daily routine: overseeing an offshore fish farm and an Islamic-centered daycare, while also undertaking a Master's in Biodiversity from Universiti Brunei Darussalam (UBD).
For his simultaneous entrepreneurial pursuits in starting and growing Fatih Aquaculture and Alya Playhouse, Fathi took home the Outstanding Youth Project Award earlier in August, becoming the sole entrepreneur to win a National Youth Award in 2023.
Fathi's accomplishments in his early 20s certainly pique interest, so we spoke to Fathi to ask him: what's behind all of his early success?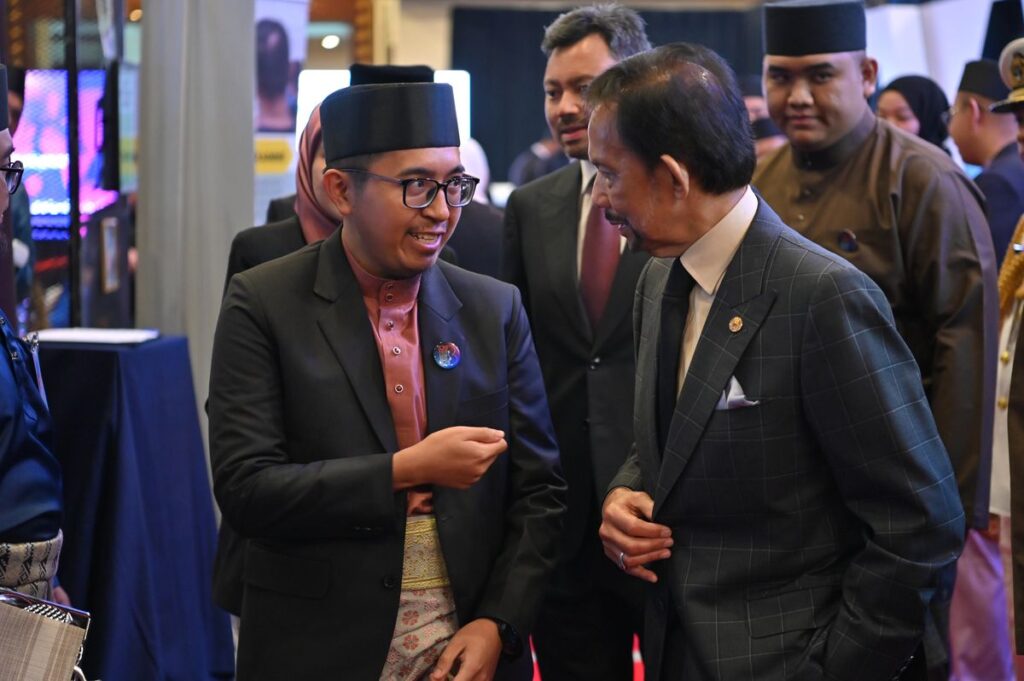 Passion and self-direction
At the foundation, Fathi has the education, experience and passion for aquaculture.
Much of his trajectory is self-directed; deciding to enroll into UBD for a degree in Biological Science focusing on the marine sciences, followed by doing his discovery year attachment at Sabah's Borneo Marine Research Institute where he learned industrial-scale aquaculture.
He applied his lessons in his parent's backyard, where he built up a recirculating aquaculture system with nearly 30 tanks and aquariums as a pilot, while awaiting approval from the Fisheries Department of the Ministry of Primary Resources and Tourism for a commercial site.
Validated by producing a tonne of red tilapia from home, Fatih Aquaculture was then given one-hectare site at Pulau Keingaran near Mentiri in 2022, where he installed 24 cages to breed red tilapia and seabass.
"Knowing that I was interested in marine life and aquaculture from early on, I made sure my education, work experience and personal time were all aligned with pursuing this purpose," said Fathi.
"So by the time I completed my degree and attachment, I became fully occupied applying what I had learned in my backyard. All that trial and error helped us to open our sea cage farm, although the (production) systems (of a recirculating tank versus open water farming) are different."
Leveraging personal and national ecosystems
The word ecosystem has now become a part of everyday business speak. Originally used by biologists to describe a community of organisms interacting in their environment, the concept is now used by business leaders, experts and policymakers to explain the complex interplay of variables that can affect the success or failure of an enterprise.
With passion and self-direction as his base, leveraging and maximising both his personal and national ecosystems have been the next step to Fathi kickstarting both of his enterprises.
His UBD coursemate Abd Muid Abdullah has been helping Fathi since his backyard operation, and Fathi's family helped provide the initial funding to start both his aquaculture and childcare operations.
He filled the gap he had in business knowledge by enrolling to Darussalam Enterprise's (DARe) flagship startup bootcamp programme Accelerate in 2021, and was named as one of the top startups of the sixth cohort.
"I urge other Bruneian youth to take advantage of all these programmes because they've been an eye-opening experience for me not just in knowledge but in networking and learning of new opportunities," he said.
His participation in the programme connected him to DARe's wider ecosystem of business development initiatives, and he was subsequently selected to attend an entrepreneurship exposure trip to Singapore in March last year, followed by successfully applying for a grant this year.
The additional funding has helped increase Fatih's production from 24 to 54 cages in under a year, which has the potential to double his current monthly output of 500kg of tilapia and seabass combined.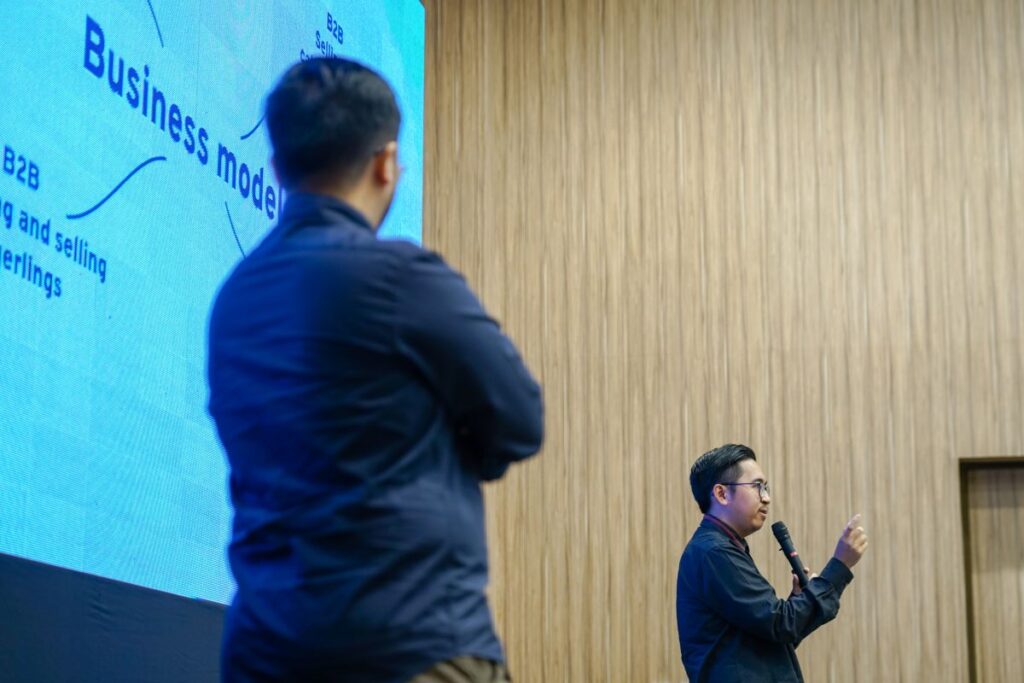 Diversifying, time management and delegation
Balancing multiple enterprises and undertaking his Master's simultaneously is clearly an exercise in time management, delegation and systemisation.
Fathi explains his approach: "When the business first starts, of course, we are micro-managing the operation, because we are setting it up, recruiting people, and making sure we are delivering the product and service.
"There's a lot to do for one business, let alone two businesses. So that's where time management comes in – we divide our time and attention to each business, as best we can.
"But over time, no matter how good your time management is, there won't be enough time if you're still micromanaging. I learned that business is about how you build teams and systems around delivering what you want to customers."
Across both businesses, Fatih now oversees over 30 employees and has set up systems in place for the businesses to be able to run daily, routine operations without his constant presence.
"For the aquaculture side, we have people stationed, living at the site. Because of my background and the fact that we are still trying to improve the production I am still involved in the operation by reviewing the information that my staff collects for us to continuously improve," he added.
"On the childcare side, it is more automated now. I'm in charge of the licensing (approvals to run the centre) and the hiring and building of the team. But the operation itself is fully delegated and structured, so all the roles I've been holding onto at the beginning, I can leave it to the team now."
Fathi's foray into setting up Alya Playhouse, an Islamic-themed childcare centre, initially appears outside his expertise.
But the 24-year-old spent his pre-university education in an Arabic school, while his father currently serves as Universiti Islam Sultan Sharif Ali's Rector.
The idea for a daycare came about after discussions with his parents while Fathi was still awaiting approval for his aquaculture site.
"I've always had a passion for aquaculture, but there were a lot of uncertainties in making it a profitable business. We did not have a commercial site at the time (2020) so that's where we (me and my family) brainstormed what kind of business could we explore that would have a more stable cash flow," he said.
"We can see a growing trend of both parents being employed, so there is definitely a growing opportunity for daycares to look after children who are too young to go to school while their parents are working. But to separate ourselves within this market, we introduced a more Islamic-focused service."
Alya Playhouse today has 100 students in two locations and a third is planned within the coming months. In Tanah Jambu, they take up three residential units – with the third also being planned for the same area – while the other is located in a single residence in Beribi.
Each day has an assigned activity using recycled materials alongside an Islamic lesson, with the assigned teacher updating the parents throughout the day on their children's progress.
Their approach is resonating with many parents – and Alya now has a waiting list.
Continuous improvement
Fathi's commitment to continuous self-learning and improvement is the final factor.
His decision to enroll for a Master's was not a pursuit of a superfluous accolade, but a tactical play as part of his long-term business strategy for Fatih Aquaculture.
His Master's research centres around setting up a local hatchery – recognising that Brunei's aquaculture value chain typically relies on imported fingerlings or juvenile fish. But because COVID-19 initially limited the species available for experimenting, Fathi's switched to the locally popular udang galah (giant freshwater prawn) as his primary focus.
He also undertook a shorter, hybrid course from Osaka University on Halal Science last year.
Though the progress of Fatih Aquaculture and Alya Playhouse has now received national recognition, Fathi believes they are still in their infancy.
"We are only utilising 20% to 30% of the one-hectare (for aquaculture), and will take us four to five years for us to fully utilise the site by operating 300 cages.
"We also face many challenges in stabilising the production, mostly because we are producing in an open water environment. So we work closely with Fisheries Department on remedial steps within the Brunei Good Agricultural Practice (BGAP) framework. We are also looking into more technological-driven solutions, potentially with the Brunei Innovation Lab," he said.
Meanwhile Alya's short-term goals are to gradually open more daycares, but Fathi has more ambitious long-term plans to expand it into a private school.
The 24-year-old's parting message for the younger generation looking to find their footing is to self-assess and then engage:
"What are your interests? What are the skills that you currently have and what can you build on? Understanding that, then try to make a living from it.
"Then you need to connect yourself with others. Organisations like DARe, LiveWIRE there's so many opportunities and assistance they provide, but we as the youth need to engage with them more."