Newly established consortium Anson International has signed on to set up Brunei's first commercial integrated marine maintenance yard (MMY) and decommissioning yard (DY) at Pulau Muara Besar to first service domestic, then wider regional, demand.
The agreement, signed yesterday at the Ministry of Finance and Economy (MoFE), will see the creation of a 16-acre integrated yard which will serve as the anchor facility for the Brunei Darussalam Maritime Cluster (BDMC) once operational in the fourth quarter of 2024.
This falls within the government's aspirations of expanding its services industry as one of its priority sectors under its economic blueprint.
The joint venture of Anson consists of local lead partner Qaswa Holdings of the Adinin Group of Companies, MoFE's Strategic Development Capital Fund, and two foreign companies serving as lead technical partners – South Korea's Dongil Shipyard for marine maintenance, and UK's CessCon Decom for decommissioning.
The setting up of a commercial integrated yard positions the country's economy to better capture the value of services relating to marine maintenance, repair and overhaul (MRO), and decommissioning and restoration (D&R).
This means businesses requiring MRO such as vessels, and D&R services such as Brunei Shell Petroleum assets and platforms, will be able to utilise the locally-based integrated yard instead of facilities abroad.
Done locally, these services could contribute $10 million to $25 million annually in the short-term, and generate 4,000 direct and indirect employment opportunities in the long-term, said Second MoFE Minister and PMO Minister YB Dato Seri Setia Dr Awg Hj Mohd Amin Liew Abdullah.
Over time, the integrated yard is also targeting to capture wider regional demand, helping position Brunei as a leading trade and logistics hub.
"The integrated yard is expected to spur the development of auxiliary industrial services to support its operation; promote services and opportunities to local micro, small, and medium enterprises as well as foreign companies; and act as an impetus for the development of other new industries under the services sector," said the minister at the project signing ceremony.
The opportunity to build and operate the integrated yard was an open bidding process facilitated by Brunei Economic Development Board (BEDB) alongside other government and national agencies.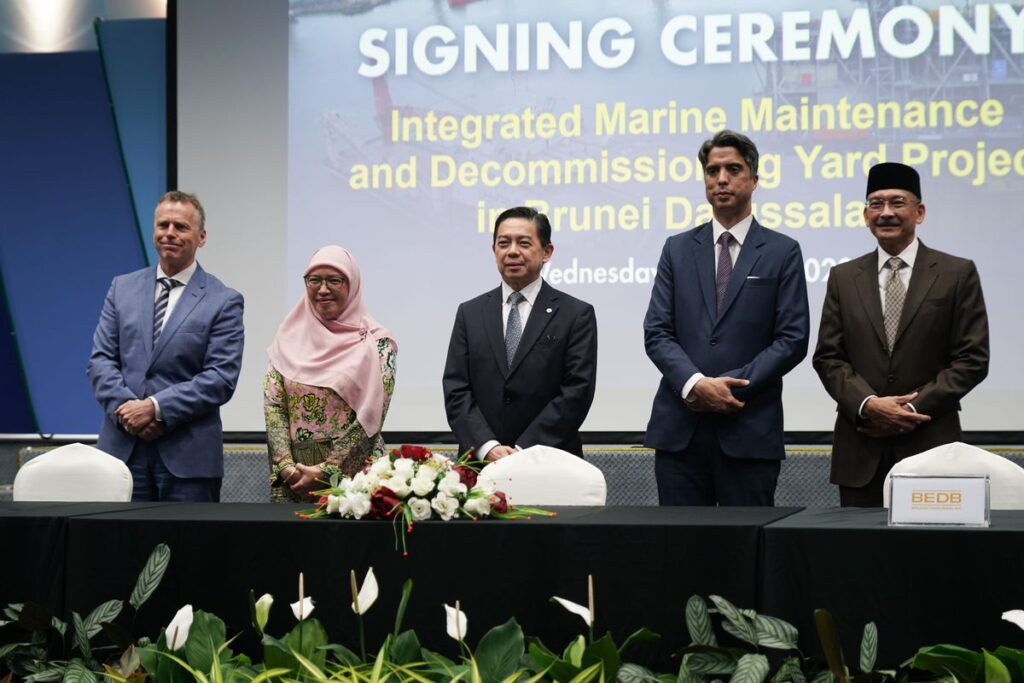 How will the yard operate?
Project lead for Anson's yard Hafriz Fayadh said the integrated layout allows for independent MMY and DY areas but shared common facilities to be cost-efficient and environmentally friendly.
MRO activities will be carried out on the west wide and D&R on the east side, with a shared quayside. Lifting equipment, warehouse, and office facilities will be shared.
The decommissioning section can accommodate three topside structures from oil and gas platforms, while the marine section can accommodate six large vessels, two via slipways and four berthed by the quayside.
Services at the MMY include: marine quayside maintenance; inspecting, testing and commission; dry essential docking; basic maintenance period; supply base; class surveys; fabrications; and repairs.
Meanwhile the DY can provide: structure dismantling; material removal, storage and supply base; recycling; engineering; onshore and offshore transportation; waste handling and treatment; fabrication; and project management.
Fayadh added that the yard incorporates renewable energy solutions and the circular economy concept by utisiling solar cells and inverters, a re-circulated waste water treatment system, and food waste composting.
Other recovered materials from service activities will also be recycled, including steel, which is being planned to make light pole towers for the site.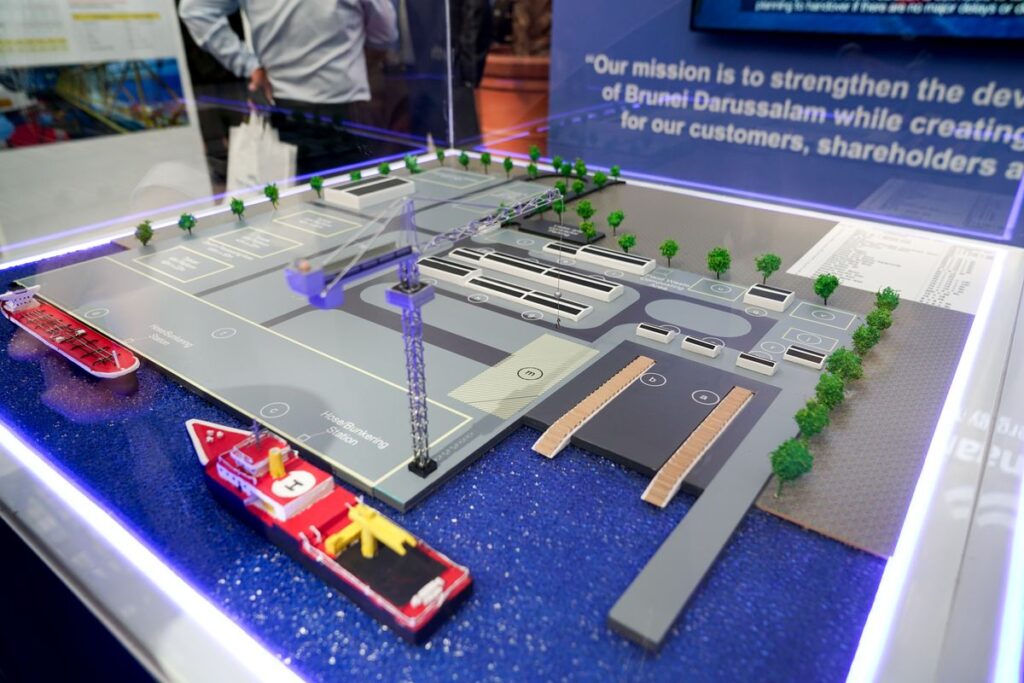 Establishing Brunei as both D&R and trading and logistics hub
The setting up of a commercial MMY and DY is timely with Brunei Shell Petroleum currently undertaking a major D&R programme.
The minister also cited industry estimates of the D&R industry being worth over US$30 billion in the next 20 years in Southeast Asia.
D&R services will also lead to other industrial activities including metal foundries and fabrication facilities and recycling waste management.
The provision of MMY facilities form an integral component of a fully-fledged marine industry ecosystem envisioned by BDMC; which would include shipbuilding capability and marine-related engineering and construction activities.
BDMC is part of the government's industrial roadmaps, specifically its aspiration to be a leading regional trading and logistics hub, which also provides international connectivity to facilitate growth in other priority sectors and the wider economy.
The recent boon in the country's downstream oil and gas, driven by exports from Hengyi Industries and Brunei Fertilizer Industries, is also expected to carry synergistic effects for the overall trading and logistics sector through increased trade volume.