Brunei-China joint venture Hengyi Industries recorded US$3.5 billion in revenue in 2020 in the first full year of operating its oil refinery and petrochemical plant on Pulau Muara Besar (PMB).
Hengyi's production value accounted for 4.48% of Brunei's GDP and 50.57% of the country's trade total trade volume from January to September last year, according to statistics from the Department of Economic Planning and Statistics (DEPS) and Hengyi.
During the same period, Hengyi also accounted for 44.6% of the country's exports and 59.27% of its imports. Hengyi's petrochemical output in the first three quarters of 2020 has driven the country's downstream sector towards a four to seven-fold increase, helping the country continue growing its GDP despite the COVID-19 pandemic.
Hengyi Industries CEO Chen Lian Cai said last year's exports total to 6.38 million tonnes of petroleum products and 1.7 million tonnes of petrochemical products.
"Despite the challenges we faced due to the pandemic, we have remained in high operation load for the whole year," said Chen during Hengyi's first media appreciation last Thursday.
"We are able to help contribute to the diversification of the nation's downstream industry, and make significant progress in helping the nation to realise Wawasan 2035's goal of creating a dynamic and sustainable economy."
Hengyi also supplied 283,000 tonnes of fuel products for the local market through Brunei Shell Marketing from May to December last year.
Hengyi's PMB plant refines crude oil from Brunei and other countries for local consumption, the surplus of which is exported. The petrochemical plant uses the byproducts of refining to produce feedstock – raw materials used for industrial manufacturing – for the Hengyi Group's factories in China, which are one of the world's largest producers of polyester and chemical fibers.
The PMB refinery is Hengyi's first foray into petroleum refining and aromatics production to strategically secure the group's supply of raw materials and increase their overall value chain.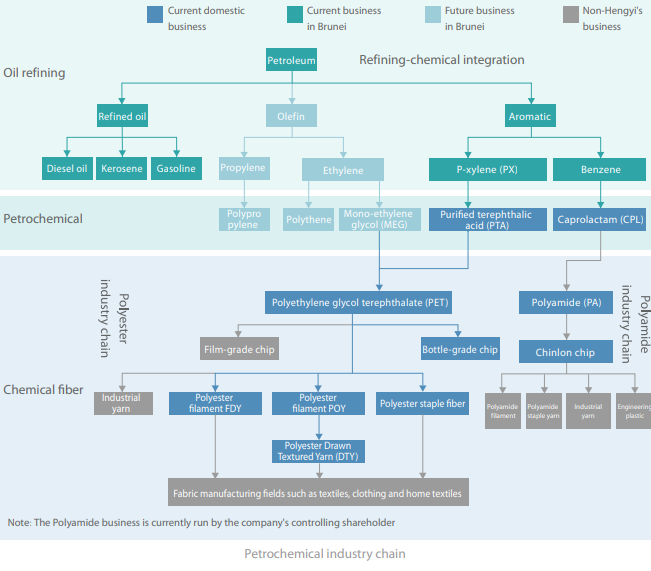 Hengyi currently employs 675 Bruneians who account for 40% of their workforce, and currently offers three joint scholarship programmes by Chinese and Brunei institutions for Bruneians which provide job opportunities at Hengyi upon graduation.
Lanzhou Petrochemical Polytechnic College has partnered with Politeknik Brunei and the Institute of Brunei Technical Education to offer diplomas in chemical engineering and refinery operator respectively. Universiti Brunei Darussalam and Zhejiang University are offering a joint degree in chemical and process engineering.
Hengyi's CEO also shared that they have offered business opportunities to 87 local enterprises to date which has created 1,500 employment opportunities for the provision of different services.
These cover engineering including chemical materials, construction, towage and pilotage, and commercial inspection; logistics sectors including security, chartered flights, catering, transportation, apartment rental, and cleaning; and other fields including financing services.
Hengyi's US$3.45 billion facility on PMB began production at the end of 2019. The Brunei government owns a 30% stake in Hengyi Industries through its Strategic Development Capital Fund subsidiary Damai Holdings, with the Hengyi Group owning the remaining 70%.
Reuters reported last September that Hengyi is continuing with their plan to invest B$13.65 billion to build the second phase on PMB, raising their crude processing refining capabilities by 280,000 barrels per day and creating an additional 4.5 million tonnes of downstream products per year.