Hengyi Industries' oil refinery and petrochemical plant has been the main contributor to the increase in industrial downstream activities which has driven Brunei's economy to a 2.8% growth in the second quarter (Q2) of 2020 amidst the global coronavirus pandemic.
Minister of Finance and Economy and Minister and the Prime Minister's Office YB Dato Seri Setia Dr Hj Mohd Amin Liew Abdullah said last Thursday that production at Hengyi's plant at Pulau Muara Besar (PMB) has been in full-swing after the construction of the first phase was completed at the end of 2019.
As a result, Brunei's non-oil and gas sector, specifically industrial downstream activities, saw an almost five-fold increase from $50.8 million last year to $294.9 million in 2020.
Brunei's GDP in Q2 was $4.84 billion compared to $4.71 billion from the same period last year. The sultanate also recorded a growth of 2.4% in the first quarter of 2020.
Discussions for Hengyi phase two progressing
Hengyi's produces petroleum and chemical products made from raw materials supplied by the oil and gas sector, which was measured by the Department of Economic Planning and Statistics (DEPS) as downstream activities under the non-oil and gas sector in the recent GDP report.
"Many other countries are having their economy contracted (in Q2) so in Brunei we are very lucky to have this positive growth," said the minister at the government's COVID-19 press conference.
"The major part of this growth came from the downstream oil and gas activity that is where the Hengyi project comes from… Compared to last year (statistics) when we didn't have that production, so that shows the significant increase."
The minister added that discussions for a second phase at PMB are progressing, which is expected to be substantially larger than then US$3.45 billion invested to develop the first phase – and its production and economic impact is expected to be more significant.
The Brunei government owns a 30% stake in Hengyi Industries, with China's Zheijiang Hengyi Petrochemical owning the remaining 70%.
"Of course there are a lot of issues that we need to discuss to make sure that we can all agree before we go ahead with it (second phase) but I think we are quite close to it," he said in response to a reporter's question on expansion at PMB.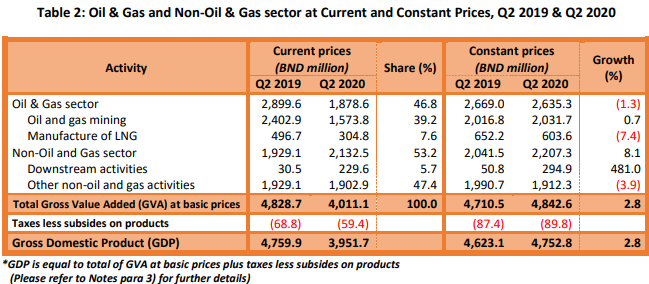 Oil and gas sector decreases 1.3%
The progress in the country's downstream was able to offset a marginal decrease in the country's oil and gas industry, which was adversely affected by lower prices and a decrease in liquefied natural gas (LNG) production.
The oil and gas sector contributed $2.635 billion, continuing to make up over 50% of the country's GDP.
Production of crude oil in Q2 this year increased from 115,020 barrels per day to 118,270 barrels per day, but oil prices plummeted by 60.6% over the same period.
Meanwhile production of LNG – whose prices also dropped by over 40% – decreased from 984.34 thousand Million British thermal units per day (MMBtu) to 910.97 MMBtu in Q2 2020.
Pandemic hits service industry; retail of essentials increase
With restrictions on placed non-essential travel and dining in Q2 due to the COVID-19 pandemic, the service sector declined by 3.6% with the sub sectors of air transport (-93.1%), hotels (-55.5%), land transport (-33.7%) and restaurants (-19.6%) hit the hardest.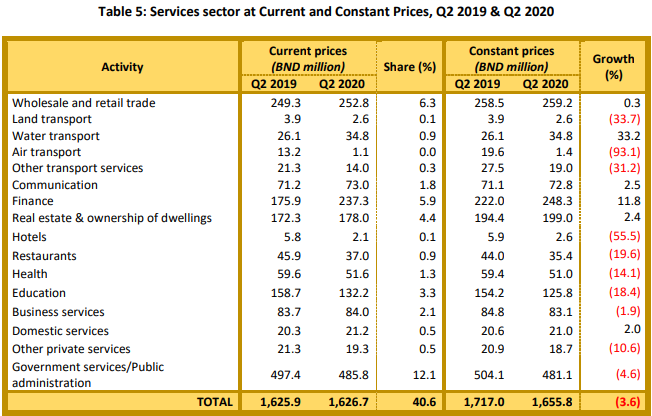 The pandemic and the subsequent increase in work and studying from home has also caused a shift in consumer demand, reflected in the country's retail sector, which recorded an overall increase of 1.6%.
DEPS reported that there was a 59% increase in sales of computer and telecommunications equipment, a 29.6% increase in recreational goods, while both supermarkets and department stores saw growths of over 7%.
Significant decreases were charted in books, newspapers and stationery (-33.8%); textiles and apparel (-32.4%) and petrol stations (-18.2%).