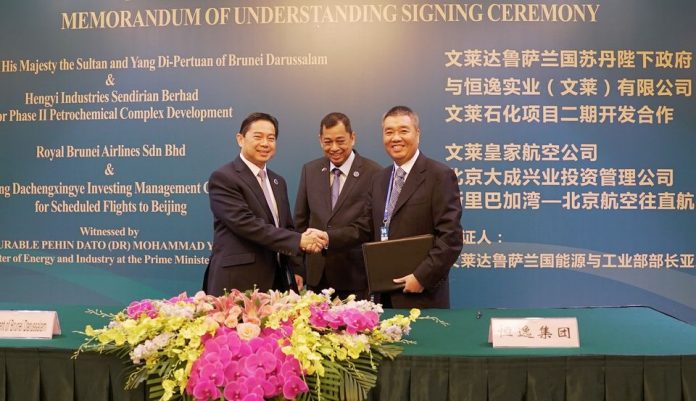 Hengyi Industries has committed USD 12 billion to develop the second phase of its Pulau Muara Besar (PMB) refinery and petrochemical plant, which is expected to raise the site's crude oil processing capacity to 22 million tonnes per year when it becomes operational in 2022.
Chairman of Zhejiang Hengyi Group Co. Qiu Jianlin (pictured main R) said after signing a Memorandum of Understanding with the Government of Brunei Darussalam on Friday said that investment for the first and second phase will amount to over USD 15 billion – representing Hengyi's largest foreign investment to date.
The project's downstream output for the first phase, previously reported to include 1.5 million tonnes of paraxylene and 500,000 tonnes of benzene annually, will now be further increased by 1.5 million tonnes of paraxylene and ethylene anually under phase two.
While the refining of crude oil ensures Brunei has self-sufficiency in petroleum products for local consumption – the surplus of which will be exported to regional countries – much of the downstream chemical products – used primarily as raw material for industrial processes and manufacturing – will be exported to China, explained Qiu Jialin.
Paraxylene is the main ingredient for purified terephthalic acid (PTA) which is used to create polyester fiber (PET). Ethylene glycol is also an important precursor for PET. Both PTA and PET are highly demanded industrial chemicals to make clothing and plastic materials – and meet Hengyi's aspirations of being the world's number one polyester manufacturer.
Jialin added that the first phase, which is currently under construction and is slated for completion date by 2019, will create 971 jobs. The second phase, expected to begin construction next year, will provide for another 1,500 jobs. 70 per cent of this workforce will be Bruneian.
"The PMB project will also demand the provision of services, financing and logistics from local Bruneian companies, which we estimate will create another 3,000 to 4,000 jobs," said Jialin.
Meanwhile, employment opportunities in construction for phase one of the project is expected to reach 10,000 at its peak, about half targeted to be local.
The MoU signing took place at the Liyuan resort in Nanning, Guangxi, People's Republic of China, with Dato Seri Paduka Dr Awang Haji Mohd Amin Liew Abdullah signing on behalf of the Brunei government and witnessed by the Minister of Energy and Industry at the Prime Minister's Office Pehin Datu Singamanteri Colonel (Rtd) Dato Seri Setia (Dr) Awang Haji Mohammad Yasmin Haji Umar.
These agreement takes place after the state visit of His Majesty Sultan Haji Hassanal Bolkiah Mu'izzaddin Waddaulah ibni Al-Marhum Sultan Haji Omar 'Ali Saifuddien Sa'adul Khairi Waddien, Sultan and Yang Di-Pertuan of Brunei Darussalam to China, where he held a bilateral meeting with the President of the People's Republic of China Xi Jinping on September 13.