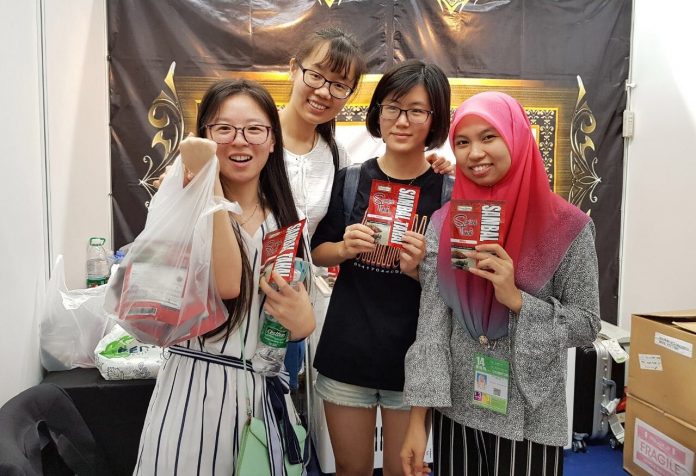 Every year in September, the second floor of Nanning International Convention and Exhibition Centre's (NICEC) building D lights up with a colourful array of products and services from Southeast Asia for the China-ASEAN Expo (CAEXPO).
On the right of the main stairway leading up to the second floor is Hall 5. This year, it serves as a historic milestone for the participation of Brunei Darussalam, not just because the Sultanate is this year's Country of Honour, but because it is the very first time the country has filled an entire pavilion in all the 14 editions of CAEXPO.
A total of 119 companies took part from September 12 to 15, 91 of them falling into the category of micro, small and medium enterprises (MSMEs) – more than half are attending the expo for the first time.
We've chronicled their exploits – and in terms of product sales – here are Brunei's top five.
GOLDEN ASWAD AROMA ENTERPRISE
Locally made perfume, all with a touch of Oudh – oil extracted from the dark resinous resin of agarwood taken from the gaharu tree. Oudh Al Aswad – the perfume name brand – was easily one of the priciest items sold at Brunei's pavilion, beginning with eau de parfums; ¥900 for the Orange and Oudh and ¥1,200 for Golden Empire.
Oudh Baginda, a 100% concentrated perfume, was ¥2,800, and the most steep, Supreme Brunei – nothing but pure Oudh extract – ¥12,000. Total sales were over ¥75,000 (that's about BND 15,000).

"It was an excellent, first-time opportunity for us to introduce Brunei perfumes to the Chinese market," said Hj Raduan, co-founder of Golden Aswad, who has recently tied up with a Chinese speaking partner from Brunei with the hopes of taking the brand international.
"After the first day we realized that most customers don't carry as much cash on hand, so we signed up for an account through the mobile app WeChat to accept payments, which we ended up receiving half of our sales from."
Hj Raduan added that he was approached by three to four companies to either supply the perfumes, outsource the manufacturing or franchise the brand to China.
RIZQUSSALAM
Smoked, dried herring (ikan tamban) that's deboned and blended into a paste to be fried with onions, garlic and tamarind (asam jawa). The result is Rizqussalam's Sambal Tahai, which did well to sell close to 500 packets at the Tampines Hari Raya Bazaar in Singapore in June, as well as enter more than 20 small convenience stores across Brunei.
This time around, they sold out 1,200 packets, each priced between ¥15-40.
"It was initially hard for us to move the product because of the trouble translating sambal in Mandarin," said Rizqussalam's assistant manager Hj Md Mu'inuddin Hj Saidin (above C). "People weren't really keen on buying what they taught was sauce in a packet. When we swapped out bread (testers) for rice, and people had a taste, they begun to buy, and many times returned for more."
Hj Md Mu'in's sister and brother-in-law founded the business, which currently operates out of an extension on their home compound in Lumapas. By next year, they hope to move into a small factory unit to scale up production, before beginning to look at export.
ESTABLISMEN KECANTIKAN DAN KESIHATAN BETYE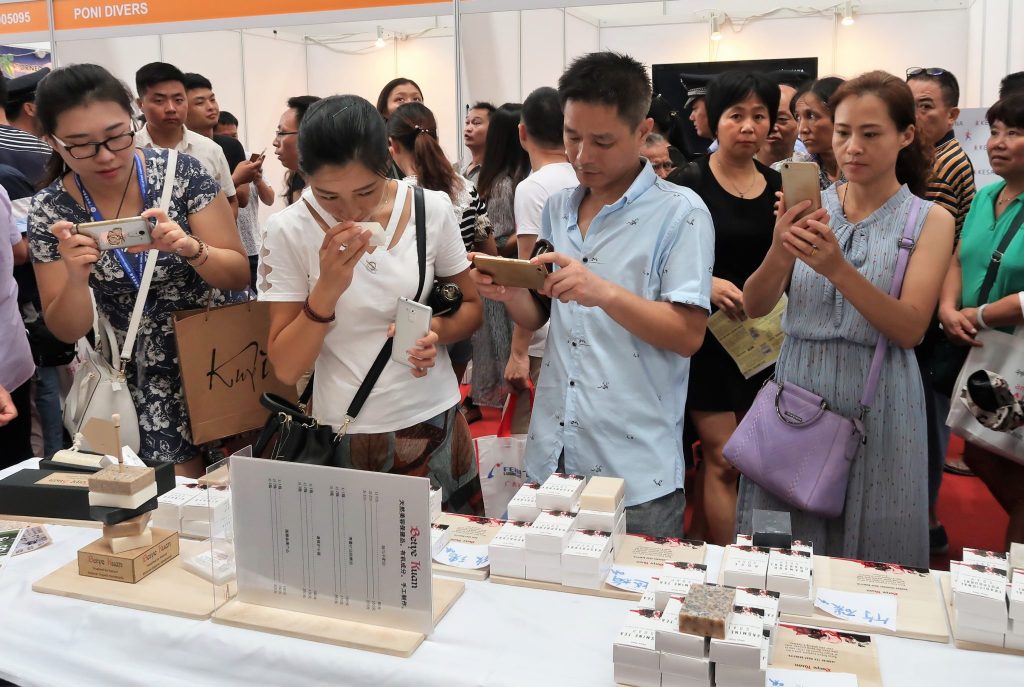 Third time's a charm for Tutong-based, handmade soap specialist Betye Kuan, who sold most of their 300 bars of all natural soap at a premium ¥90 each.
"This is our third time back, and our best showing at CAEXPO so far. We came more prepared this time," said Betye's owner Normerzi Rozita Omar who also brought about 20 hand and body creams.
"By the final day we cut the prices but we had already sold most of our stock. What's made the biggest difference is having (printed) explanations of what the product is (in Mandarin), justifying why the product (is priced at a premium) and what the benefits of using all natural soap are. Previously we would have had difficulty explaining what was unique or special about the soap."
Also contributing to Betye's improvement this year is packaging with a more professional look. Normerzi is currently weighing interest to supply her products abroad, but also wants to supply local beauty establishments like spas and saloons with her product first.
AMAL HADIZAT ENTERPRISE
Back for the second year in a row, Amal Hadizat's spicy, crunchy cashew nuts have sold out again. This time it's 850 packets (110 grammes) and 150 tubs (185 grammes) – selling between ¥30 to 50 – which is about 300 items more than their haul last year.
Co-founder of Amal Hadizat Pg Hayatul Laila Munirah Pg Abdul Rahim (pictured below R) said that this year was particularly special given Brunei's status as Country of Honour, with His Majesty Sultan Haji Hassanal Bolkiah Mu'izzaddin Waddaulah ibni Al-Marhum Sultan Haji Omar 'Ali Saifuddien Sa'adul Khairi Waddien, Sultan and Yang Di-Pertuan of Brunei Darussalam's visit to the commodity pavilion a highlight that raised the spirits of vendors participating.
"It was a great honour for His Majesty to visit our booth and present to him our business," said Pg Hayatul. "We are more knowledgeable and ready this year (compared to last year). We understand the buyer's questions and was able to provide them with information on pricing, shipping charges and documentation in order for us to export. Local and ASEAN countries are our main focus (market) now. But we will not miss any opportunity to export our products to any corner of the world."
BELLARY ENTERPRISE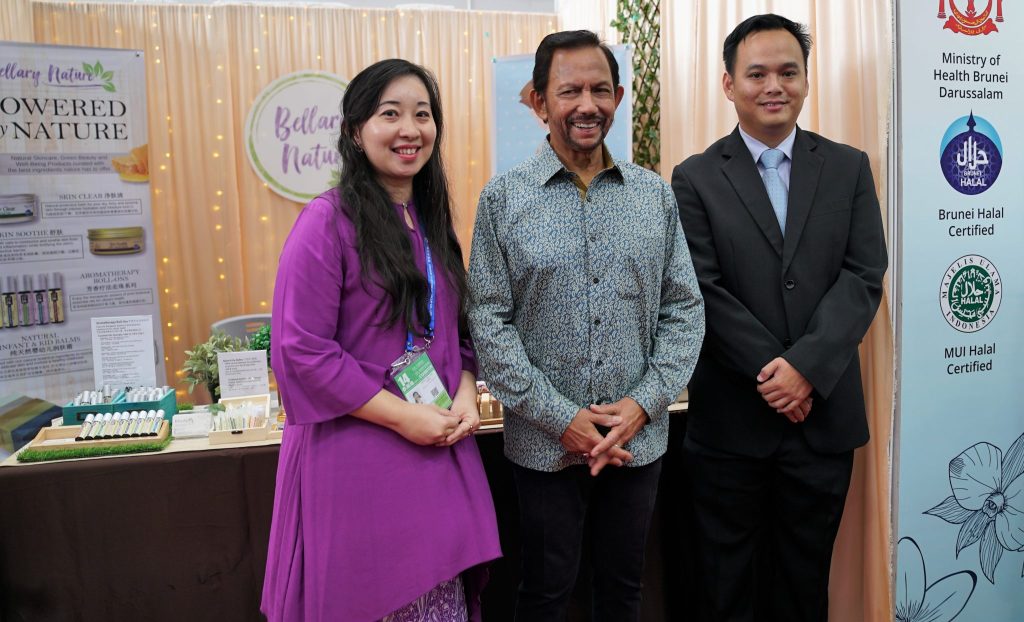 Determined to gain market validation from the Chinese market on their line of natural beauty and cosmetic products, Bellary brought 36 different items – falling into the categories of soap, skin care, balms and essential oils.
"What we found was that products that weren't really widely available in China, like our natural, handmade soap, baby products, eczema care and lip balm, all sold out very quickly," said Ted Jee, who runs the business with his wife Diana Han. "The skincare products were tougher to sell – since there are already many well known, international brands that sell in China."
Jee said that 15 to 20 parties expressed interest in selling their product in China, but added that when factoring logistics costs between Brunei and China, they have to make sure supply volume is substantial for all parties – producer, distributor and retailer – to make a profit.
The ranking above is based off Darussalam Enterprise's (DARe) records of CAEXPO. In respecting the confidentiality of the listed companies, we have not released their sales figures unless given permission to do so.