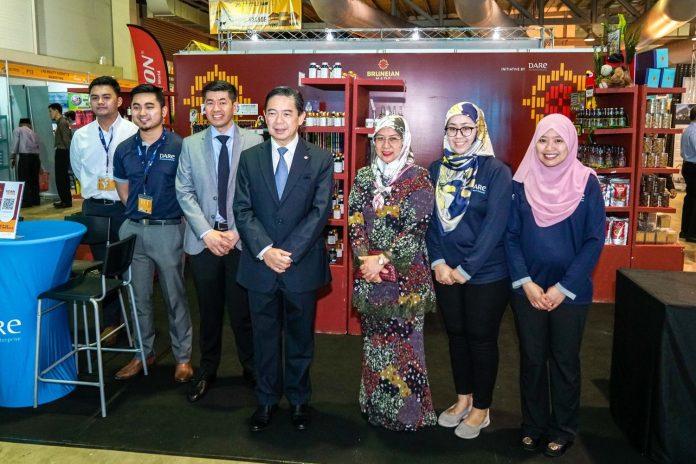 Darussalam Enterprise (DARe) is showcasing close to a hundred locally made products by nine up and coming micro, small and medium enterprises (MSMEs) under their Bruneian Made initiative at the 25th Consumer Fair taking place until May 30.
The Bruneian Made booth, located at Bridex Hall 1 next to Jalan Furniture, ties into Consumer Fair's local edition theme by offering Bruneian branded health and beauty products, packed food and beverage, and fashion.
Making their first expo appearance under Bruneian Made is air freshener brand Neat Formula and Fennel & Dil serunding (meat floss) by KS Food Industries.
Also participating are oudh perfumery Cahaya Gaharu, all natural cosmetics and toiletries producer Perusahaan Iman Putera, Volco Venture hot sauce, Taurean Bakeshop and Cafe and modest women's fashion brands Mumtaz and VHC Hijab.
DARe Market Access officer Muhd Zul'izzat Hj Abd Halid explained that the Bruneian Made initiative helps locally made products reach a greater audience through participation in high-traffic expos, special supermarket and display shelves as well as an online store.
"Consumer Fair is known as one of the biggest fairs on a national level where thousands of people will come down just to see what there's on offer; we expect at least 85,000 visitors throughout the five days of the event. It's a great avenue for our MSMEs to showcase their businesses and reach out to the public," he said.
DARe's Bruneian Made has recorded over $670,000 in sales from 30 MSMEs retailing over 150 products since its launch in 2017.
The Bruneian Made supermarket shelves can be found at 11 outlets nationwide, including Hua Ho Manggis, Kiulap, Tanjung Bunut and Tutong; Supa Save Mata-Mata and Seria; and Sim Kim Huat at The Airport Mall.
Muhd Zul'izzat added that 10 local companies with export potential are currently undergoing a product development programme by the ASEAN-Japan Centre and the Brunei embassy in Japan, with selected products targeted to be showcased at the upcoming Dubai Expo.