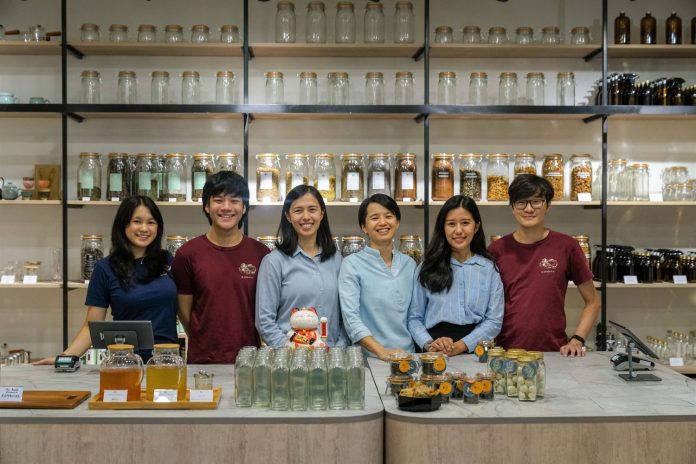 A year after developing the concept of Brunei's first store dedicated to retailing products for low-waste living, Kaimana finally opened its outlet on the second floor of the Mabohai Shopping Complex.
Kaimana's store stocks over 600 household, storage, and personal care products along with 20 different types of teas which are sold in either recyclable or reusable containers.
Customers can also purchase teas, granola, and soap using their own containers or containers bought in store.
The startup – founded by sisters Trisha and Tracy Lai with their cousins Tiffany Lai and Denise Yong – had been operating as an online store while also earning recognition through local entrepreneurial programmes including Darussalam Enterprise's Accelerate programme and Brunei Shell Marketing's hackathon Disrupt, where they were awarded with second and third place respectively.
Trisha Lai, who returned to Brunei from Vancouver, Canada last year after 15 years working abroad, said the business was initially borne out of logistic constraints caused by the COVID-19 pandemic.
"When I returned to Brunei for Chinese New Year (in 2020) and the borders closed shortly after, I couldn't travel back out. At the same time I had difficulty finding low-waste products here, so I saw that there was potentially an opportunity to start a business (focusing on low-waste living)," said Trisha.
The founders – along with support from family members – pooled together the capital to open the store, while also receiving the DARe co-matching grant to purchase a commercial-grade sanitizing machine for their product packaging.
Kaimana's catalogue includes amber jars which extend natural preservation by blocking UV rays, mason and mold jars, and plastic-free containers and bags made from silicone. The majority of their products are from renowned low-waste brands from New Zealand, Canada, and Europe, which generally carry a higher price tag compared to their plastic counterparts but offer a longer lifespan.
Kaimana has also set up a corner for sustainably made Bruneian products including reusable diapers from Chubby Phat Kisses, toilet rolls made from recycled paper produced by En Evo and all-natural toiletries by the Natural Bar.
Trisha added that they have designed the store with modular furnishing, enabling them to move their central checkout space to make room for workshops relating to low waste products and living.