At 64-years-old, Hjh Rosnani Hj Abd Hamid (pictured main L) shows no signs of slowing down.
After 20 years working in the private sector – first in telecommunications and then in banking – Hjh Rosnani started her own business Nikmat Rose Storage – which another 20 years later, has grown to be Brunei's biggest producer of the beef-based local delicacy belutak.
Since moving into DARe's Beribi Industrial Site two years ago, Nikmat Rose has scaled their production up to 200 packets (200g to 250g each) of belutak a day, while continuing to manage the rising costs of raw ingredients due to the COVID-19 pandemic.
Having recently earned the internationally recognised Good Manufacturing Practice (GMP) standard to complement her already Halal-certified product, Nikmat Rose's belutak is now available at all major supermarkets across the country's four districts.
While her small yet promising business grows from strength to strength, we turn back the clock to revisit their growth as told by Hjh Rosnani herself.
A delicacy without a commercial manufacturer
Belutak can be summarized as a traditional Bruneian beef sausage.
More specifically, it's made from chunks of beef and tallow, marinated with garlic, salt, chilies and different spices, then shaped into a sausage by being filled inside a cow's intestine. The product ferments through dehydration, forming a distinct taste and texture similar to cured meats.
Although widely recognized as part of traditional cuisine, belutak – unlike more commonly consumed meat processed products such as burgers and sausages – had yet to be produced consistently by a commercial-scale manufacturer.
Hjh Rosnani first learned of this product gap not as a connoisseur of belutak, but as a businesswoman who had set up a retail business focusing on cold storage products.
"After leaving my last job (at Standard Chartered) I opened (Nikmat Rose) as a retail store which sold frozen food products including belutak," she said.
"And we would always sell out (of belutak) and the supplier (local producer) was not consistent enough in meeting the (consumer) demand. That's when I realized the potential business opportunity."
Nikmat Rose's initial model as a retail business lacked uniqueness. Overheads were heavy, Hjh Rosnani recalls, and the retail market was fairly established with well capitalized competitors dominating the field.
At the same time, belutak production in Brunei was mostly limited to individual restaurants – who produced for their own dishes – and small producers who were content to produce from home with no concrete ambitions of setting up factories.
Hjh Rosnani consulted local chefs and elders to create a belutak recipe that could be mass produced yet still be authentic and faithful to traditions. By 2006, she shut down her retail business and began making belutak with a vision of being a leading producer in the market.
Accessing supermarkets
Production began in Kg Masin in a rented house, but by offering a frozen product, Nikmat Rose would struggle to negotiate their way into established supermarkets and bigger convenience stores with freezers.
For the better part of two years, they sold their products directly to customers, before finally securing entry to Hua Ho Kiulap in 2008. Their product was well received, and Hjh Rosnani made a calculated expansion to relocate to a two story shophouse near the Mulaut Abattoir not long after.
Along the way, Nikmat Rose also gradually acquired machinery that would accelerate production times; the most significant being different dehydrators which process in the belutak in a few hours compared to the traditional sun dry method which lasts up to five days.
After her entry to Hua Ho's Kiulap outlet, Nikmat Rose was able to negotiate supply to other branches before entering Sim Kim Huat, Supa Save and a host of restaurants.
Space, financing and certification: Nikmat Rose sets $1 million revenue target
In the past decade, growth has been gradual but not rapid for Nikmat Rose. Although they now can count on major supermarkets to stock their belutak, the product itself is still somewhat niche; yet to be seen by the majority of the population as an everyday staple which its meat-processed counterparts such as burgers and sausages often enjoy.
As a sole proprietor, Hjh Rosnani has had to squarely shoulder the risks associated with capital-intensive expansion, and therefore waited almost ten years before taking the next step to move into an industrial site where they now occupy two units.
As part of her engagement with DARe, Nikmat Rose enrolled for the Standards Consultancy Programme to achieve GMP certification and also secured a co-matching grant – which together with additional financing from Bank Usahawan – has helped the business reach new heights.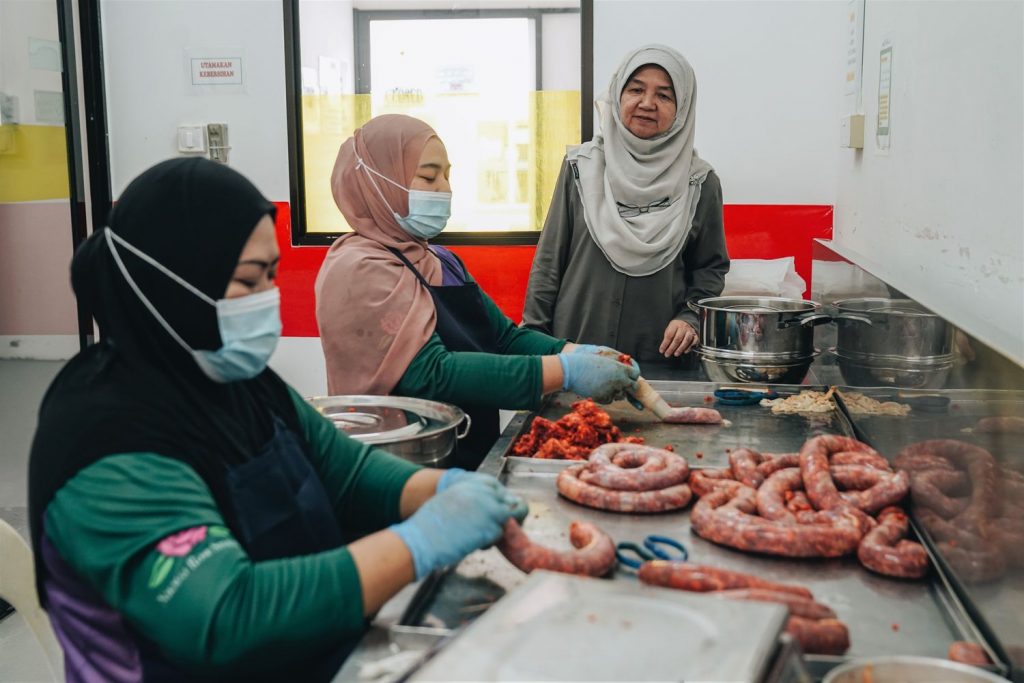 With GMP and Halal certification, the export market appears a lucrative path for Nikmat Rose's belutak. But on the advice of DARe CEO Javed Ahmad, Hjh Rosnani is keen to solidify their presence in the local market first: with a target of $1 million in annual revenue in close reach.
"By achieving the (necessary) certifications, export markets have become a possibility," said Hjh Rosnani. "Not only that, but we see more businesses (shops and eateries) and consumers buying our product because they have confidence that our product is made to high and safe standards."
Within the freezers of supermarkets, you can now find Nikmat Rose's all-new box packaging with the belutak encased securely inside with plastic wrapping. There are cooking instructions, nutrition facts, and expiry dates, while the serving size comfortably feeds two people.
Once a rare delicacy sold without instruction in unusually large rolls, it is now packaged and sold with a design on par with international products. If Nikmat Rose's two decade journey has to be summarized, it's simply as the company that has single-handedly making belutak accessible to the everyday person – an achievement its founder Hjh Rosnani is most proud about.
"It will be great to have a (standalone) factory that makes nothing but this amazing and rare Bruneian delicacy," says Hjh Rosnani with a smile. "InsyaAllah, we will try to be the one that does it."