When Syidah Kariya and Tan Thiam Kui crossed paths in 2014 as colleagues in a consulting firm, they were aspiring professionals in their 20s in search of a greater calling beyond the nine-to-five.
With a degree in Biological Science and a Masters in Management, Syidah did environmental assessments while Kui – a Geoscience graduate – worked as the firm's safety officer.
After hours however, Syidah had an unusual hobby of blending papers while profiling different pulps, convinced that she would one day bring to market a recycled product made wholly from recycled papers – if she could only find the right founding team to back her.
"When Syidah approached me with the idea of turning used paper into toilet tissue I was convinced that this could be pioneer project for the recycling industry in Brunei," said Kui.
"There were of course many questions about how we would have the funds, equipment, expertise or marketing to pull off this project.
"But the bottom line was Brunei needed more of these solutions; we can keep organising clean ups, but if the (collected) waste just goes into Brunei's landfills then how does that solve the problem?"
By 2015, Syidah and Kui had bought a van, registered Environmental Evolution (EnEvo) as a business, and began collecting used paper across the country.
A year later they were joined by Kui's childhood friend and procurement specialist Frederick Wong – met with multiple suppliers across the region – and settled on a 21 tonne paper mill shipped from China to their industrial unit under Darussalam Enterprise at Serambangun, Tutong.
"We were targeting to start a factory that would have the capacity to blend up to three tonnes of (used) papers a day," said Syidah. "We calculated that if we started collecting by 2015, we would have enough paper by 2020 (to begin mass production)."
At 4pm on January 1, 2020 – a week after they struggled to get the machines up and running – the first line of jumbo toilet rolls in Brunei were produced. EnEvo was positioned for a breakthrough year, but it's already August – so why have you yet to hear about this pioneering project?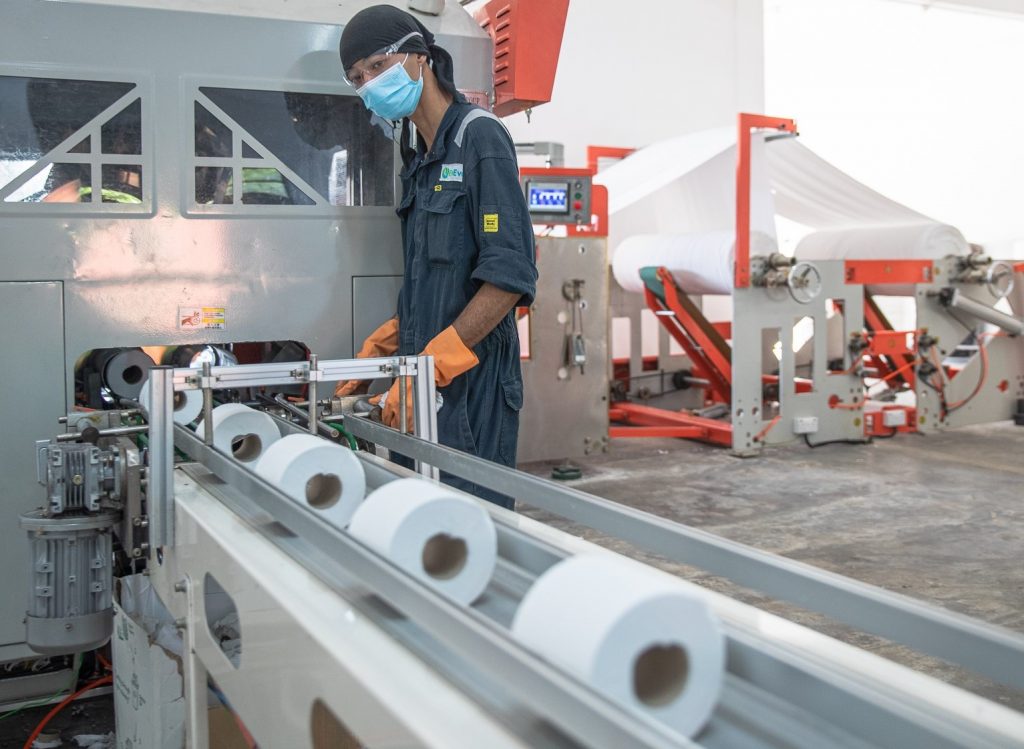 Closing the loop
According to statistics from the Department of Environment, Parks and Recreation (JASTRe), approximately 400 to 500 tonnes of waste are delivered to the Sg Paku landfill everyday, equivalent to 1.4kg of waste a day per person – 18% of which is paper waste.
There's not a complete picture of how much toilet tissue Brunei imports, but United Nations COMTRADE database lists Brunei as importing US$1.51 million and US$1.04 million in household and sanitary tissues from Indonesia and China respectively.
The majority of Brunei's recycling companies collect waste to be exported, but this approach subject to its own set of challenges, especially when major importers such as China have put forward their own bans on receiving specific types of waste including plastics and papers.
EnEvo's founders admit that recycling waste into new, widely-consumed items by society – referred to as 'closing the loop' – has turned out to be a costly endeavor with a view of long-term rather than short-term returns in mind.
The three partners had to network and pool together $500,000 in investment to outfit their factory and a further $300,000, part of which included a loan from Bank Usahawan, to operationalise production.
"Of course in business we need to think about ROI (return on investment) as well. We've calculated it (ROI) and it is doable, but still no one is taking up the challenge," said Kui.
"To be a sustainable society we ultimately need systems that close the loop; which just means that we have to find ways to reuse our waste, but the hard truth is that we cannot provide this platform for recycling, if we cannot find a way to generate income from the product as well," said Syidah.
In practice, closing the loop is a three step process that begins with collecting waste, manufacturing items from that waste and consumers buying these new items.
Since the recycling ecosystem in the sultanate is still in its infancy, EnEvo has to take up the majority of the three steps, beginning by placing their own bins at workplaces and schools for the paper to be discarded. And because their founding mission is strictly environmental, their toilet tissue uses no virgin pulp, relying solely on recycled papers.
"We can only use standard office papers; we cannot use glossy magazines, plastic-coated papers, newspapers or paper that is contaminated with food," said Syidah.
"This ensures our tissue is hygienic and maintains a high commercial quality that makes it attractive for consumers. We also accept shredded paper, but is more ideal that the papers are not shredded – because this affects the fiber composition (paper fibre is stronger when paper is not torn); so we offer organisations who may be recycling confidential documents the option to sign non-disclosure agreements with us which guarantees their information will not be misused."
At the factory, the waste paper is inspected and placed into a hydro pulper – a giant blender capable of turning up 200kg of paper into a fibrous slurry which is then channeled into four tanks which separately filter and clean the mixture of ink and other impurities.
The slurry is then rolled onto the paper mill's conveyor belt to become a sheet of tissue that's dried then rotated into a singly ply roll about 86cm in diameter.
The jumbo rolls are then wrapped and stored away to prevent the surrounding humidity from spoiling it, and then brought to the packaging area where two rolls are hoisted up and then rotated to create a single, two ply roll that's cut into small rolls and sealed in packs of 10s for consumers.
Pandemic slows breakthrough
At peak output, EnEvo is able to process three tonnes of waste paper in 24 hours, yielding slightly less than three tonnes of jumbo roll – equivalent to 3,000 packs of 10 regular toilet rolls.
Wong explains that the machines utilise energy more efficiently when kept in production, so EnEvo has daily shifts for its 10 staff – all local – to keep producing at six days a week.
Engineers from China-based Wangda Industrial – a leading manufacturers of tissue-making equipment whom EnEvo had purchased their machinery from arrived earlier this year to provide consultancy and training for their staff.
As EnEvo made preparations for their launch at the MSME Festival in March, the COVID-19 pandemic struck, causing events to be cancelled and forcing borders to close, leaving EnEvo without the full knowledge of how to operate.
"The engineers had left for Chinese New Year, but by the time of return, they couldn't come in," said Kui. "The staff hadn't completed the full training, and because we were trying to be cautious about the outbreak, we stopped producing for almost two months."
As border restrictions stretched on, the founding team could not wait for the experts to arrive as they risked losing their remaining knowledge and decided to resume operations after Hari Raya.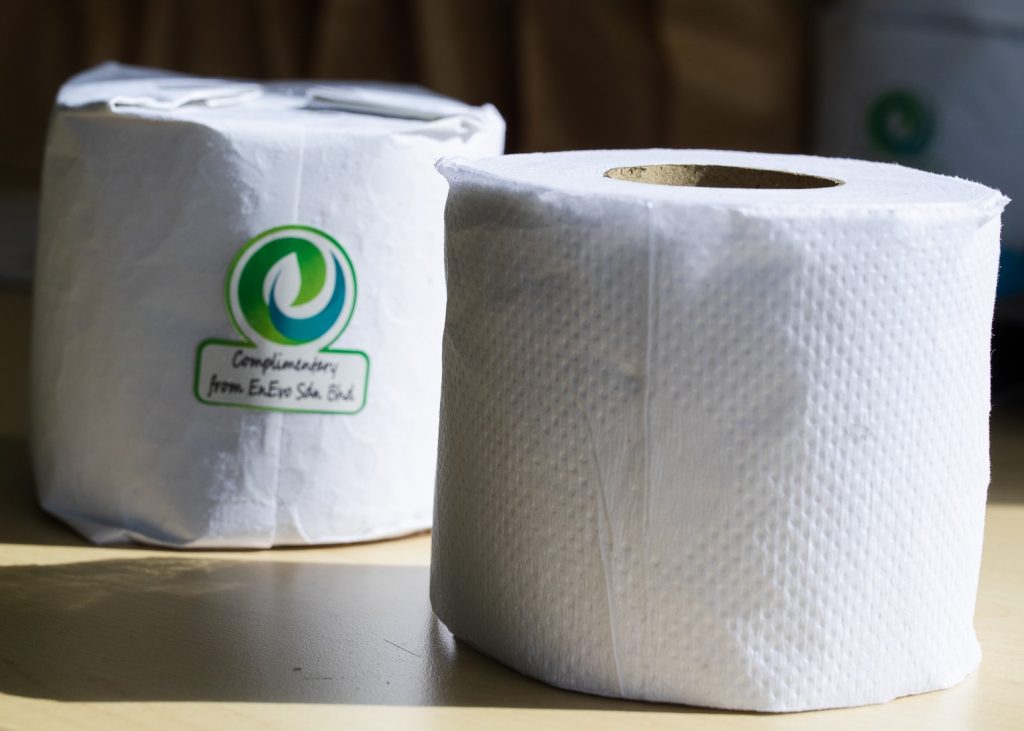 "We have managed to get production up to two tonnes (output) per day; once our staff gain more experience we hope to push closer to three tonnes," said Wong.
"There were many challenges in getting things back up, but we are troubleshooting on the go and remain in close contact (with Wangdan)."
Today, EnEvo works with two distributors to retail their toilet rolls to over 20 supermarkets, and has inked supply agreements with major cleaning operators including Rentokil while continuing to collect papers from over 40 organisations in both the government and private sector.
And yet the mainstream attention that is deserving of starting the country's first toilet paper operation continues to elude them. If it only a matter of exposure that is missing, then it's a safe bet that it won't be long before the nation is captivated by the story of three Bruneian youth building one of Brunei's biggest social enterprises.
"From the start to the end it too us about five years.. to get to this point it just shows that even if we don't give up along the way we can build up this culture to recycle and do our part to protect Brunei's environment," said Kui.
Watch: Inside EnEvo's factory
---
As of August 18, 2020, you can find EvEvo at the following locations:
ENVO-III-3