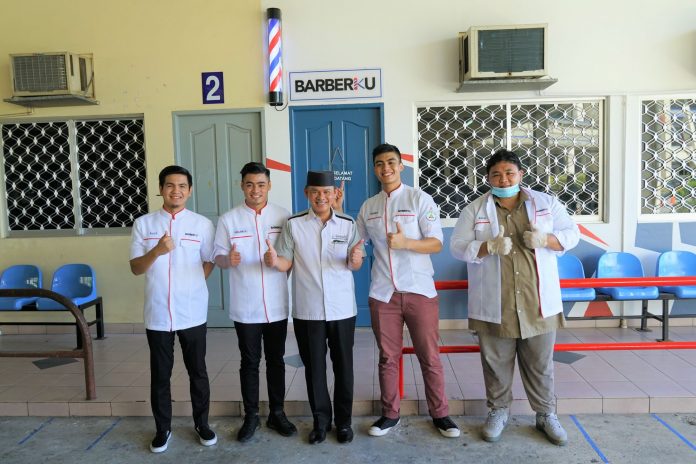 The four graduates of the Youth Development Centre's (YDC) first men's hair cutting course opened their own barbershop Barberku yesterday at the Hassanal Bolkiah National Stadium.
The Ministry of Culture, Youth and Sports (MCYS) supported Barberku by providing the graduates with an office room at the stadium and a micro grant to renovate the space into a barbershop, while also monitoring their progress across two years.
Rental has also been waived to help lower the cost for the graduates to begin their entrepreneurial journey after successfully completing the three month Street Art Haircut course taught by pioneering Bruneian barbershop Chaps and Rebel's founder Jae Ahmadkhan.
Assistant Director of YDC Fauziah Hj Md Salleh said YDC is committed to creating incubation programmes for graduates of their courses – which primarily focus on trade skills to gain employment – to enable Bruneian youth to transition more effectively into their new careers.
"YDC also hopes that with the success of these (graduating) youth it will help create more employment opportunities for other Bruneians to help resolve the issue of unemployment amongst youth in the country," said Fauziah in her remarks before the opening of Barberku.
The first cohort began their course in January and were supposed to complete training by March but the COVID-19 outbreak delayed part of the classes until the middle of the year.
YDC's hair cutting programme coordinator Noor Shahelia Abd Latif said the next intake will be kept to four to maximise the trainees engagement with their instructor, with Jae expected to continue on as their trainer.
Those graduating can also expect to be provided with assistance to start their own businesses or gain employment.
"We are in still in discussions (with stakeholders) on what the business or employment opportunities will be for the new cohort after they graduate, but it will definitely center around doing (professional) work for the course that they were studying," said Noor Shahelia.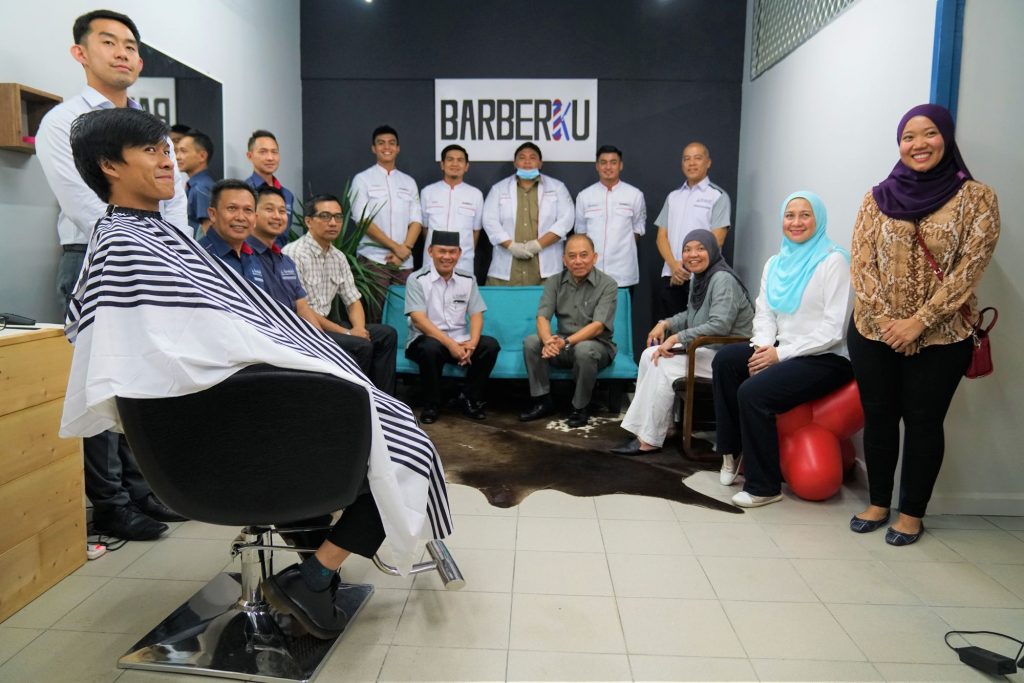 Barberku's founders – who are between 24 to 28-years-old – shared their excitement in starting a new profession after struggling to find stable employment.
Former construction worker Abd Mateen Hj Zainalabidin and Al-Azhar University Syariah graduate 'Abd Rauf Hj Ismail will be taking on the majority of the shifts at the barbershop, which will open seven days a week offering haircuts starting from $5 for more basic styles and up to $10 for more time-consuming fades.
"I registered for this course after learning about it from my wife's friend who works as a home-based barber," said Abd Mateen, whose last job was with aconstruction company that built Hengyi's PMB refinery.
"The course itself covers all the important basics of using the tools for cutting and shaving, as well as customer etiquette. Classes were twice a week, so we had time in between to practice our technique, mostly on friends and family."
Rauf says the group are self-motivated to learn more contemporary hair cuts and are confident they can execute detailed requests from customers.
"When the customer comes in we do our best to talk to them and understand what they want; we ask them to explain to us or show us pictures of the style they're going for."
---
Barberku opens from Monday to Thursday and Saturday from 12pm to 8pm, Fridays from 2pm to 8pm and Sundays from 8am to 5pm.