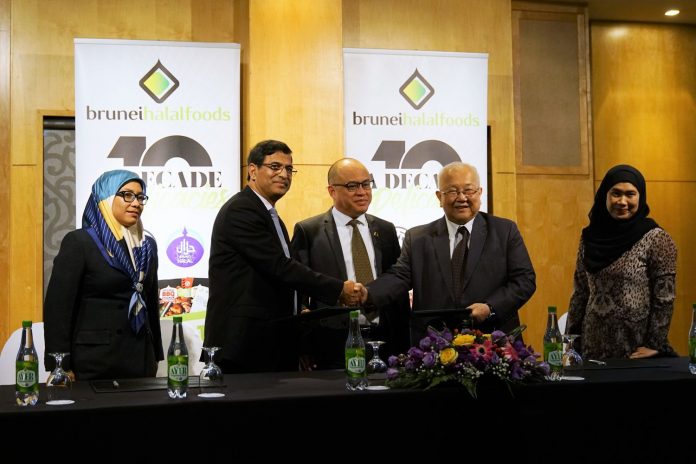 Ghanim International Corporation's bruneihalalfoods products will soon be available nationwide at over 500 retail outlets following a new distribution partnership with Hamitan Marketing.
The distributorship agreement is part of Ghanim's renewed push to increase consumption of local products within the country and reduce reliance on imports, following the COVID-19 pandemic which disrupted global supply chains and export markets.
"At the breakout of COVID-19, we saw our exports halted and witnessed the import of products into Brunei interrupted, thus opening up the opportunity for Brunei-made import substitution products to fill in the gaps. However we must do this hastily as Brunei has long relied on imports," said CEO of Ghanim Dr Nur Rahman at the official signing ceremony for Hamitan to distribute bruneihlalafoods locally earlier today at Radisson Hotel.
The CEO added they would also continue to work with their previous local distributor Malar Setia to achieve their long-term vision of having bruneihalalfoods products in every store in Brunei.
Bruneihalalfoods' range comprises mostly of packed and processed food and beverage (F&B) products, including a variety of crackers, bottled drinks, canned food, and frozen chicken, meat and pizza.
Ghanim has refocused their bruneihalalfoods range to be made locally since 2016, and has since partnered with 17 Brunei-based businesses – including micro, small and medium enterprises (MSMEs) – to manufacture over 80 products that are marketed under the bruneihalalfoods brand.
Ghanim's flagship local product has been their Mama's Recipe Blue Shrimp Crackers, which has been exported China and Singapore, with new markets in Japan and the Middle East in the pipeline.
Hamitan Marketing is one of Brunei's largest distributors and was set up in 2005 by Lau Kah Huon, who has over 40 years experience in distributing foreign products within the country.
Hamitan's portfolio of distribution includes products by Campbell, Loacker, Ferrero, Unicharm, and Energizer.