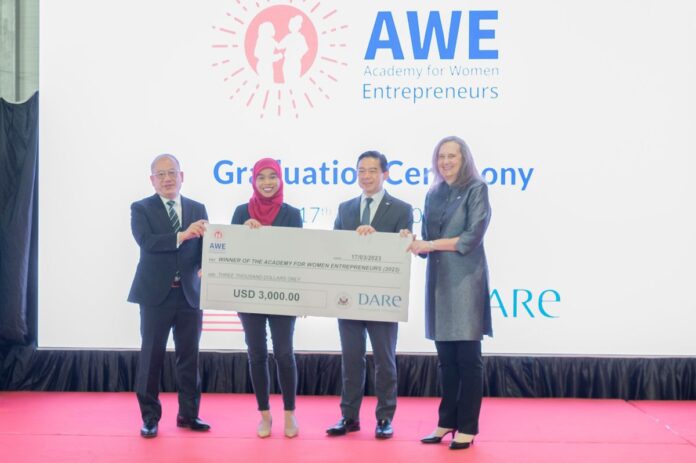 Garment printer BWN Design, digital invitation designer Happy Sunflower, and mirror signages supplier Miroirs Et were named the top three businesses in the second cohort of Brunei's Academy for Women's Entrepreneurs (AWE), with each receiving US$3,000 in seed funding.
Funded by the US Embassy in Brunei and facilitated by Darussalam Enterprise (DARe), the second cohort of AWE featured 23 businesses who were feted at their graduation ceremony on Friday at the Brunei MSME Festival in Bridex.
The six-month programme was conducted in a hybrid format with participants undergoing business modules on an online training platform called DreamBuilder, supported by in-person sessions by DARe.
To determine the top three, 17 participants pitched on February 16 to a judging panel consisting of US Embassy Public Affairs Officer Jeff Barrus; Lead Business Counsellor of LiveWIRE Brunei Afiq Mohammed; CEO of Nextacloud Agus Muslim; Founder of Roots Dilys Chai; and Founder of Tasanne Fast Food Jia Chee Lee.
US Ambassador to Brunei Caryn McClelland said participants were shortlisted from a pool of 164 applications, reflecting the ongoing interest and entrepreneurial drive of women in the country.
"Their innovative ideas and entrepreneurial spirit demonstrate why we believe so strongly in continuing this programme, which combines two of our key goals: empowering women and assisting Brunei in its economic diversification efforts through entrepreneurship," she added.
Winners to use seed funding to scale productivity
Co-founders of BWN Design Neena Hj Manan and Diyana Harney plan to use the seed funding to purchase a garment heat press machine to increase their quality and output.
With an office in Kiarong and their own production site, BWN Design has expanded into a team of six after beginning from home four years ago without any funding.
"AWE was the next step for us in learning about business, and it's provided us with a lot of tools that we have used to evaluate our own business and plan for what we can do to grow in the future," said Neena, whose company is also joining the MSME Festival as a vendor.
Though primarily a garment design and printing service that caters to groups especially corporates and schools, BWN Design also offers services in website design, graphic design, and marketing.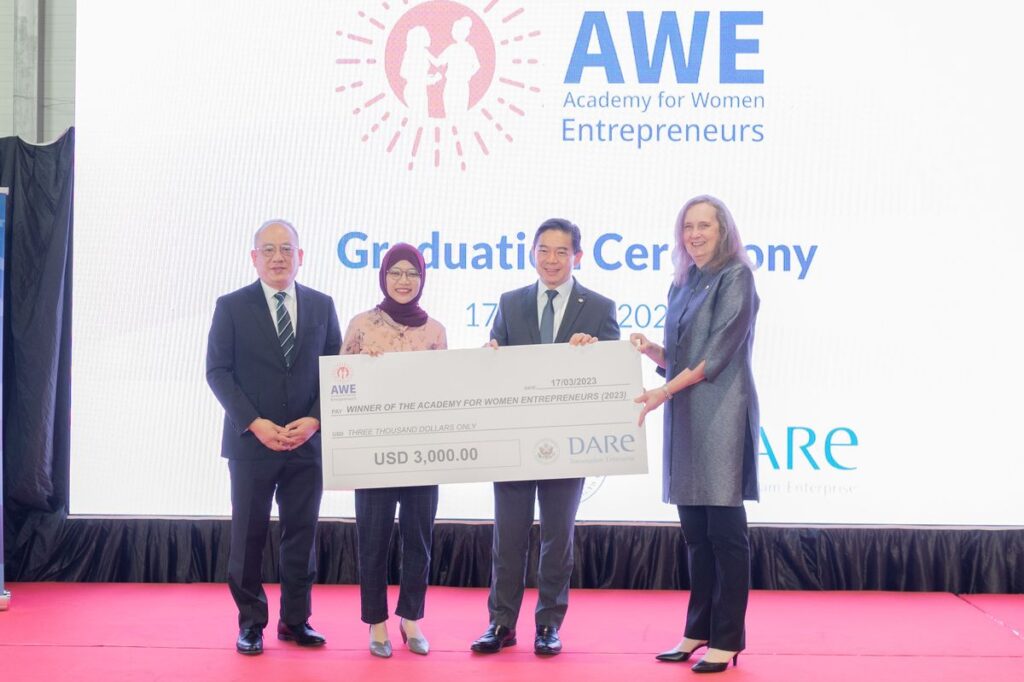 Happy Sunflower's founder Nabilah Ismail, whose service currently focuses on doing custom animated digital invitations, plans to use the funding to engage designers to create a stock, template-based collection that can be sold through a website.
"Normally we take three to seven days (to fulfill a custom order), but with a design collection we can complete customers' orders more quickly," said Nabilah, who also works full-time as a graphic designer.
Miroirs Et will use the funding to expand their inventory of mirror singages – which they either rent or sell – to be able to cater to more events.
Founder Nurul Syarinah, who is also a Master's in Management student at Universiti Brunei Darussalam, says their current limit is taking on about 260 events a year, which can be upped to over 300 with funding.
Miroirs' mirrors come with a stylized frame and stand, and are meant to act as decorative signages displaying wording for an event, typically weddings or other personal or corporate gatherings.
"These (wedding) signages are already popular in Brunei, sometimes made with wood or acrylics, but rarely done with mirrors," said Nurul, who capitalised on the mirror trend by setting up their business in 2021 after seeing it West Malaysia.
Meanwhile Acting CEO of DARe Daniel Leong encouraged participants to continue engaging with their ecosystem to grow their businesses further.
"We offer a suite of support that can cater to your business needs, whether you are looking for information, training, financing, space, market access, or promotion," he said. "We understand that the entrepreneurial journey is not easy, but we are here to support you."
Eight alumni from the first cohort of Brunei's AWE also joined the programme's first regional summit in Kuala Lumpur, Malaysia from March 6 to 9. AWE has been implemented in more than 80 countries with over 15,000 participants.
The programme in Brunei is open to female entrepreneurs based in the country between 18 to 40-years-old, who are in the early stages of starting and running a business and have limited business backgrounds or training.