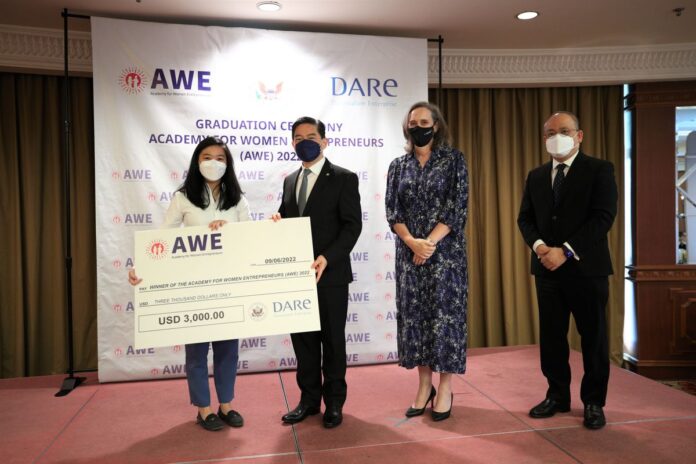 Belait-based Lane Microbakery & Coffee, children's toys and tools retailer My Darling Baby, and sustainable fashion brand Thea Seera were named the top three of Brunei's first Academy for Women Entrepreneurs (AWE) yesterday, each receiving US$ 3,000 in seed funding.
AWE was funded by the US Embassy in Brunei, as a global initiative of the US State Department's Bureau of Educational and Cultural Affairs as part of the White House-led Women's Global Development and Prosperity Initiative.
The embassy selected Darussalam Enterprise (DARe) as the implementing partner for the six-month training programme beginning in October last year in a hybrid format, primarily utilising an online learning platform called Dreambuilder, which covered 13 modules encompassing the fundamentals of operating and growing a business.
The top three were selected through a pitching session on May 20 before a judging panel as well as a business review.
Following the positive reception to AWE's implementation which saw 30 participants shortlisted from 186 applicants, the US Embassy is planning to host more cycles.
"This programme is a perfect fit for our embassy because it combines two of our key goals; empowering women and assisting Brunei in its economic diversification efforts through entrepreneurism," said the US Ambassador Caryn McClelland.
Meanwhile Acting CEO of DARe Daniel Leong said their organisation is committed to helping the graduates upon the programme's completion, especially in connecting them to their ecosystem which includes financing, market access, training, and space to help further drive their growth.
AWE has been implemented in 80 countries with 15,000 women undergoing the programme. In Brunei, AWE is open to businesswomen based in the country between 18 to 40-years-old who are in the early stage of their business with limited business background or training.
Providing tools and resources to help businesses grow
Graduates of AWE said the programme's content on developing their business plans was amongst the most relevant and valuable exercises for them. The gender specific nature of AWE also helped them forge new connections, while learning and practicing in a more comfortable space.
By understanding the fundamentals of business plan writing, participants were able to list out their own objectives and roadmaps to achieve them; helping them understand their business across key domains including financials, market analysis, operations, and sales.
Founder of Lane Microbakery Eunice Lo spent her first year in business from home, before opening a small café along Jln Pretty in Kuala Belait's town centre six months ago.
"The response to the business has been good, but personally I'm not from a business background, so even as I built my business, I've never written a business plan (until AWE)," said Eunice, who plans to use the seed funding to procure a larger dough mixer that's double of their current capacity.
"AWE also gave me the opportunity to learn about pitching for the first time. The advice and feedback has helped a lot."
For fashion designer Nathea Salleh, AWE serves as an opportunity to kickstart her brand Thea Seera after a hiatus of several years with a renewed business plan.
"When we first started we didn't prepare a business plan. The programme took us step-by-step, so it refreshed a lot of things, and through that we were able to solidify our new direction," said Nathea, who launched her first line under Thea in 2013.
Nathea hopes to churn out new ready-to-wear lines of women, focusing on sustainability with more timeless designs.