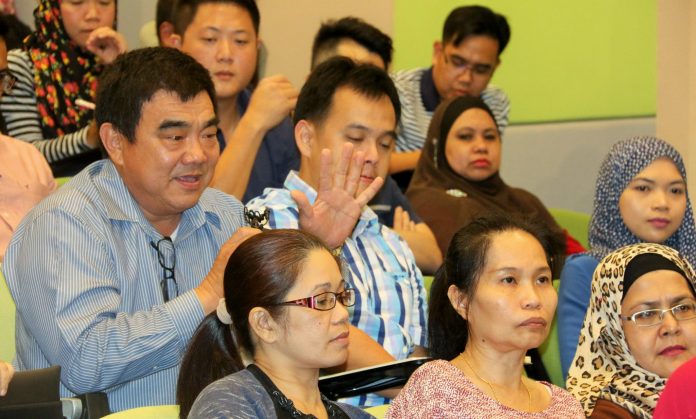 The Labour Department will process applications for Foreign Workers' License (LPA) within nine working days when the new system comes into effect on April 1.
Speaking at a town hall dialogue yesterday evening with the business community (pictured) at the Design and Technology building, the Commissioner of Labour Ajman Hj Meludin said applications for foreign workers placed after April 1 will fall under the LPA system – which will eventually be made online in its next phase.
"With LPA we have also consolidated what was previously two processes (labour quota and Bur 500/555) for foreign workers," said Ajman. "This has been designed to make the process smoother for local businesses."
LPA, first announced last year, effectively replaces the Lesen Pengambilan Pekerja Asing, colloquially referred to as the labour quota.
Businesses now looking to hire are encouraged to list their vacancies on JobCentre Brunei's – an online platform which registers local job seekers at no cost.
When no locals are available to fill a vacancy, after efforts have been made to source locally, companies can proceed to Labour to apply for an LPA.
The period businesses need to list a vacancy on JobCentre before proceeding with an LPA application is typically between two to four weeks; but the Senior Manpower Planning Advisor Marzalenie Omar clarified that this could be shorter, depending on the company's timeline.
To apply with Labour, companies will have to bring proof that they have registered and advertised on JobCentre, provide a list of local employees (if applicable) certified by Tabung Amanah Pekerja (TAP) as well as a certification or support from the relevant authority of their business activity.
Using the example of recruiting teachers, Marzalenie said the the Ministry of Education would be the relevant authority. If businesses are in doubt of the authority – they can contact the JobCentre directly.
The commissioner of labour also added that a mandatory ratio for locals to foreigners within a company workforce is being carefully studied, but has yet to be implemented.
"The ratio will (eventually) depend on the industry sector of the business," said Hj Ajmad in response to a question on ratios from a participant. "We have to balance the need to provide job opportunities for locals, but at the same time, not impede businesses (from the possible foreign employment they need). We do not want to rush to put out a ratio that will negatively affect businesses."
Meanwhile the Department of Immigration & National Registration (JIPK) has also committed to issuing the visa for foreign workers within three working days, after which they are required to take a medical test before being offered a contract. The applications for work pass and identity card application are made to JIPK after these steps have been taken.
JobCentre Brunei can be visited at www.jobcentrebrunei.gov.bn or their location at the former BINA building at the Beribi industrial site. The centre opens from Monday to Saturday, 8 to 11.45 in the morning and 2 to 4 in the afternoon. On Friday, they close at 11.30am before resuming at 2 to 4pm. They can be contacted at 2444123 or jobcentrebrunei@jpmb.gov.bn.
The Minister of Energy and Indusry at the Prime Minister's Office and Chairman of DARe Yang Berhormat Pehin Datu Singamanteri Colonel (Rtd) Dato Seri Setia (Dr) Awg Hj Md Yasmin Hj Umar also attended yesterday's dialogue, along with the Permanent Secretary at the Ministry of Home Affairs Abdul Mutalib bin Pehin Orang Kaya Seri Setia Dato Paduka Haji Mohammad Yusof.