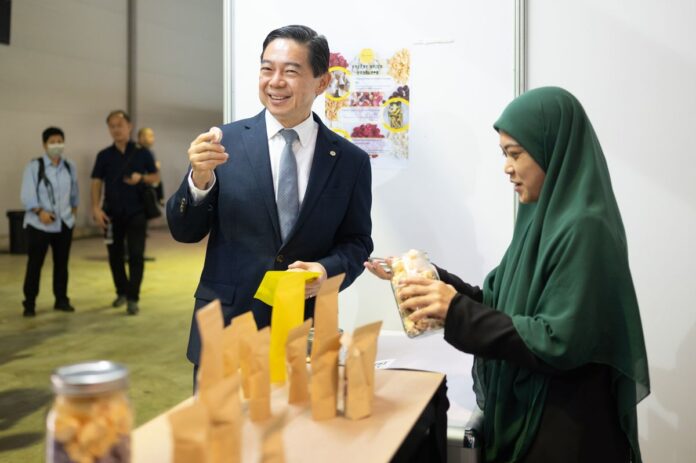 The ongoing Brunei MSME Festival is a platform for businesses to discover new market opportunities as they look to bounce back from the COVID-19 pandemic, said the Second Minister of Finance and Economy.
Returning at Bridex from March 16 to 19 after a three-year hiatus due to the pandemic, the festival by Darussalam Enterprise (DARe) features 211 exhibitors – primarily businesses with local products and services – who are looking to connect with the public as well as distributors and major retailers.
Aside from the vendor showcase open to the public, DARe has invited local and international retailers and distributors to do business matching with the exhibitors and other local producers.
The international buyers are Singapore's Mustafa Centre, Singapore's Kokobu Commonwealth Trade, Malaysia's eJazmine.com and the UAE's Al-Salah Al-Mubaraka Foodstuff Trading; while the local distributors and retailers are Ben Foods, Seri Nova, Ghanim, Malar Setia, and Teeyem Majeed.
At the festival's opening yesterday, YB Dato Seri Setia Dr Awang Hj Mohd Amin Liew Abdullah reiterated His Majesty the Sultan and Yang Di-Pertuan of Brunei Darussalam's call at 19th Legislative Council meeting for MSMEs to be bold in expanding overseas to add more value to the country's economy.
"At DARe we have helped many MSMEs to first of all penetrate the local markets (such as helping them sell at supermarkets)," said the minister on the sidelines of the event. "We are also helping them look at export markets; to link them up – it's very encouraging how MSMEs have grown (the product quality and diversity)."
He added that several local MSMEs have managed to export collectively through partnerships with Ghanim that leverage their bruneihalalfoods brand for greater economies of scale.
"We are trying to gather their products for them to deal with overseas buyers in larger quantities and more variety of products, as opposed to each of them going to the overseas buyers with limited products, which may not be enough," he said.
DARe also has an ongoing project with Ghanim to set up the country's biggest integrated F&B manufacturing plant, called the Brunei Food Industry Development Multipurpose Manufacturing and Processing Facility, which is expected to significantly bolster local production for domestic and international demand.
DARe's other initiatives to support local producers include the Bruneian Made initiative, which offers a dedicated product shelf at major supermarkets, as well as a recently opened concept store at The One in Batu Satu focusing on locally made products.
Local producers are also supported by more general services offered by DARe such as grants, standards certification consultancy, training and growth programmes, connections to overseas expos and the provision of factory space and industrial land.
'Become more resilient, innovative'
In his opening address, YB Dato Dr Hj Md Amin acknowledged that the pandemic has impacted the livelihood of MSMEs – who make up 97.2% of the active enterprises in the Sultanate.
To survive the pandemic's disruptions to supply chains, manpower, and cashflow, businesses have had to be both resilient and innovative, many by adopting varying degrees of digitalisation in their offerings or business models.
"It is timely for our MSMEs to come out of the pandemic stronger and become more resilient by instilling a more innovative culture in their business operations," he said.
"The critical importance of nurturing business growth for economic progress warrants us to collaborate more effectively, where multi-level efforts between the government and ecosystem builders like DARe, as well as the private sector including trade and business associations are essential to create an enabling environment for our businesses to flourish and grow."
The second MSME Festival carries the theme Dare to Innovate: Growth and Resilience through Innovation, with 20 seminars and a conference being held to equip businesses with the latest information on industry trends, regulatory processes and new opportunities.
Vendors are spread out across Bridex's Hall 1 and 2 and are grouped into six categories: food services, food manufacturing, handicraft, fashion and textiles, healthcare and beauty, home and lifestyle, and services.