Agritech startup Agrome won Brunei Shell Marketing's (BSM) first hackathon Disrupt earlier today with a pitch to set up convenience stores at fuel stations with locally sourced food produce made into healthy meals and drinks.
Agrome's FoodVille concept won $5,000, while tech startup Think Axis' Koloni – an IoT driven community hub at fuel stations providing retail and convenience services – won $3,000 for second place, while recyclable and low waste retail store Kaimana won third and $1,000.
32 groups took part in Disrupt, which invited Bruneians to propose new business opportunities that made use of BSM's ecosystem and tied into their recently launched digitalisation strategy – which covers the evolution of their mobile app, lubricant partner app, retail network, and supply and delivery.
BSM Managing Director Muhd Norshafiee Dato Paduka Hj Abd Jalil said that the hackathon was not a standalone competition as they are targeting new partnerships with local startups following Disrupt's completion.
"The ideas and talents we have seen have been very inspiring and encompasses many different issues ranging from social to economical to sustainability," he said in his opening remarks at the Disrupt prize presentation held at the PGGMB building.
"We see the bigger value of this hackathon where such collaborations and partnerships will enable new business partners to growth hack their way to market."
Agrome seeks retail expansion through FoodVille
With the launch of their online and offline store selling locally sourced produce, Agrome hopes to leverage on BSM's network of fuel stations to launch FoodVille – a convenience store selling healthier packed meals and fresh beverages using local ingredients.
FoodVille would have a drive-through window for drivers passing through the retail station and hopes to target commuters before and after work. Customers could also place their orders online for pick up and purchase fresh produce.
"FoodVille would allow us to further expand Agrome's value chain by helping increase distribution of produce from quality local farms who we are also training to get certified under the Brunei Good Agricultural Practice (GAP)," said Agrome founder Dr. Vanessa Teo. "We're hoping that we can trial the concept with BSM and offer fuel stations nutritious, high quality food that people can look forward to."
Koloni uses IoT to facilitate pick ups
Think Axis' latest solution Koloni hopes to install self-service kiosks at fuel stations where customers can purchase food and other basic necessities while also sending or receiving parcels.
Customers would access the kiosks through scanning QR codes with the Koloni mobile application that also enables users to manage their parcels and make cashless payments.
"Through Koloni we will be able to enable more e-commerce, both for local and foreign sellers, by facilitating easier pick up," said Think Axis co-founder Rahman Yoonus.
"For example, you can order from Zalora, put your address as your nearest fuel station, and you can drop by the fuel station to pick it up; since people frequent stations, you're able to maximise your time there."
If Koloni were to be deployed to multiple fuel stations – there are currently 36 across the country – users would be able to drop off parcels to be sent to other stations.
Think Axis has also developed an automated car plate recognition system that could further facilitate transactions by creating a user (account) profile on Koloni that syncs with their car.
Kaimana: Brunei's first store dedicated to low waste living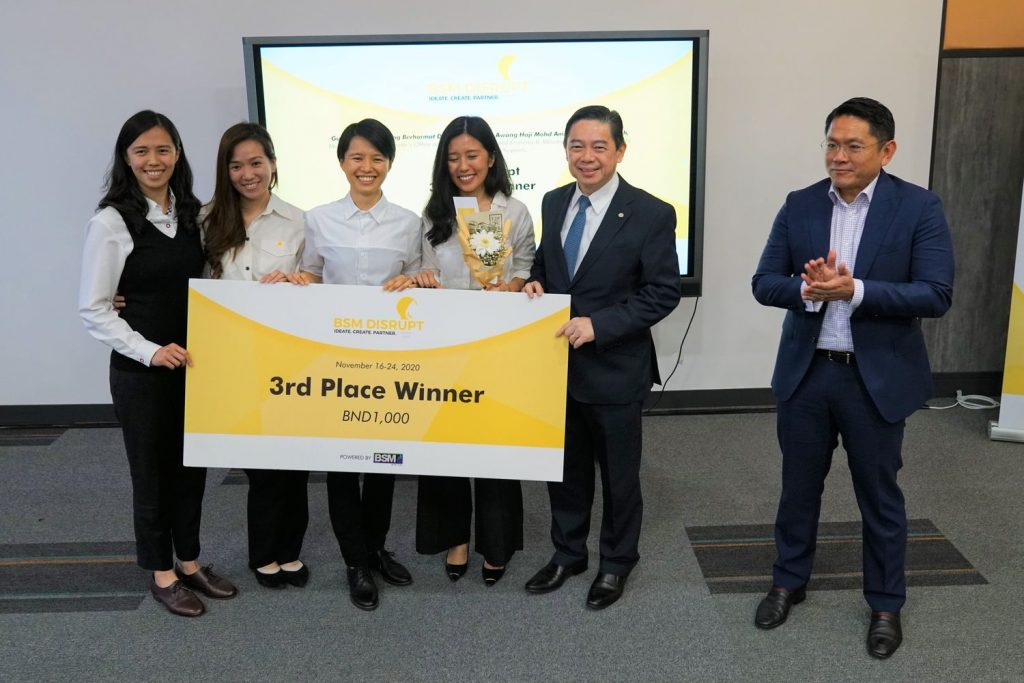 Founded by sisters Trisha and Tracy Lai, with their cousins Tiffany Lai and Denise Yong, Kaimana markets itself as Brunei's first dedicated store specialising in high quality products for low waste living.
Trisha, a Bruneian who recently returned from Vancouver, said her experience working abroad for 15 years lead her to discover low waste shopping and products which she hopes to replicate in Brunei, beginning with an online store.
Their catalogue includes amber jars which extend natural preservation by blocking UV rays, mason and mold jars, and plastic-free containers and bags made from silicone.
"Our mission is to remove as much single-use plastic from the waste stream," said Trisha. "We hope to launch a store by next year, and over the next two months we're going to be bringing in refillables like shampoos, lotions, and (other personal care) items."
Tiffany added that while the majority of their products are imported, they are looking to market low waste products made in Brunei, having recently struck up a partnership with local toilet tissue manufacturer EnEvo to supply their rolls with paper packaging instead of plastic.