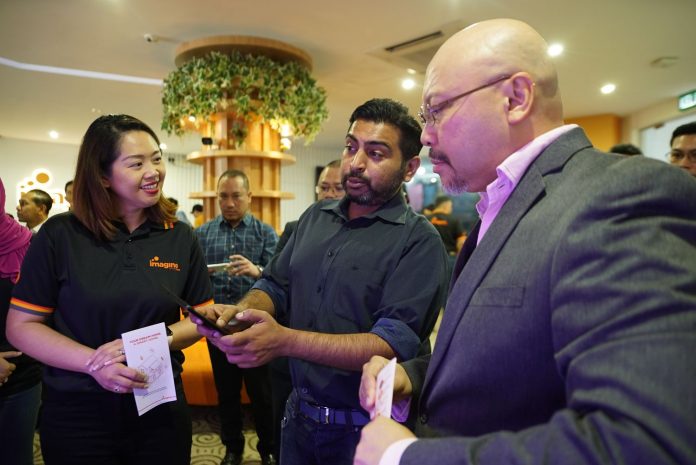 Smart solutions provider Smart Space has partnered with the telco imagine to market the first integrated smart home device bundles in Brunei.
As the telco with the largest subscribers of fiber-to-the-home network (FTTH) in the country, imagine hopes to pioneer smart home living beginning with their smart life bundle that offers six devices supplied by Smart Space including the voice controlled Alexa Echo Dot speakers, an indoor camera with motion detectors, security sensors for doors and remotely controlled lights.
imagine has tiered the pricing for the smart bundle for new and existing FTTH broadband customers; beginning at $260 for those on the 100GB monthly for 12 months contract and free for those on unlimited broadband or the 500GB monthly for 24 months contract.
At the launch of the bundles at imagine's Citis Square branch last Friday, their CEO Suzannawati Suharju said they share Smart Space's aim to dispel notions that smart home living is expensive and complicated.
"We're also very conscious that it has to be affordable; traditionally people think that it's expensive, (too) futuristic and not for (them), but we are here together with Smart Space to share (the) technology with everyone here," she said.
Smart Space has also engaged graduates from the Institute of Brunei Technical Education (IBTE) to give customers the option to have someone set up their smart bundle for them for as low as $30 at their homes, which can be controlled remotely through a mobile application.
imagine has set up a demo showcase for the smart home products at Citis Square, The Mall, and Supa Save in Seria which will also retail add-on smart devices for the bundles including window sensors and different lights.
Smart Space's founder Baldeep Singh Bhullar said the bundle and add-ons have been selected for their affordability and functionality in providing convenience to Brunei residents for daily activities which were identified by imagine through market research.
imagine said the smart home bundles are part of their wider initiative to help Bruneians embrace digitalisation in line with the country's aspirations of being a smart nation outlined under the Digital Economy Masterplan 2025.
Baldeep – who is a recent graduate of DARe's startup development programme accelerate – said that while mobile and internet use is high in Southeast Asia, the integration of smart devices into homes remains low, providing an opportunity which his startup hopes to address.
"Looking at markets like Australia, where more than 40% of their homes are smart homes in some capacity, and compare it to Southeast Asia, where it is only 3% to 4%; so there's a great growth potential in this market," he said.
"Especially now when people are spending more time at home, working from home and thinking what can I do to make my house more comfortable; the timing is right to bring more awareness on smart solutions in Brunei and the region."
Baldeep added that imagine's large customer base and marketing reach makes them an ideal partner to roll out smart home products that integrate wirelessly with internet connectivity.
Smart Space also continues to be open to residents and businesses looking to further customise their spaces with smart devices and solutions.