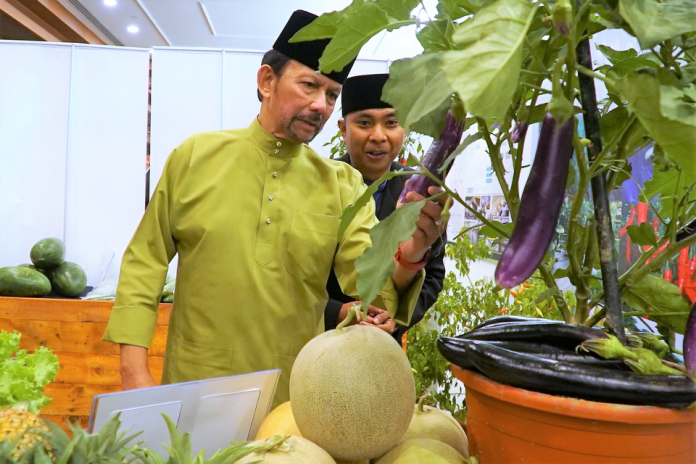 Brunei's gross agriculture output has increased by $56.65 million to $436.30 million last year on the back of growing amounts of livestock, with the government pledging to open up more farmland and support towards developing the industry further.
Statistics on the Sultanate's agricultural output were released yesterday at a Hari Raya celebration organised by the Sultan Haji Hassanal Bolkiah Foundation (YSHHB), with His Majesty the Sultan and Yang Di-Pertuan of Brunei Darussalam highlighting that more than 300 hectares of land had been developed by new farmers under a special pilot project introduced in 2016.
Nine initatives to boost agriculture
The farming pilot project under the Department of Agriculture and Agrifood (DAA) is one of nine initiatives developed by the Ministry of Primary Resources and Tourism (MPRT) to boost agricultural output to meet local needs as well as for export.
46 new businesses – 16 owned by local youth – have begun farming mostly vegetables and fruit under the pilot project, availing to heavily subsided land rental rates which DAA's Deputy Director Hj Rusali Hj Sapar said is amongst the cheapest in ASEAN.
"Most of the businesses farming under the pilot project are using lots below two hectares," he said. "In total there are over 7,000 hectares gazetted under KKP for agricultural use, so we are always inviting more aspiring farmers."
MPRT Minister Yang Berhormat Dato Seri Setia Hj Ali Apong said the farmer's lease term of two years under the pilot project would be extended as long as they show progress.
Annual rental rates for KKP start at $5 per hectare for vegetables and livestock and up to $25 for fruit farming, and is also open to foreigners with local partners. His Majesty added that privately-owned lands would not be taken or be replaced with an "unreasonable valuation" for agricultural use.
Increasing market access
Four of the nine other initiatives of MPRT seek to improve farmers' access to markets, through business matching, contract farming and acquiring international food safety standards to enable local produce to be exported.
DAA Senior Agriculture Officer Hirman Hj Abu said major retailers including Sim Kim Huat and Hua Ho have set up contracts with local farmers for supply, while larger farms such as Hua Ho's agricultural arm and Pertanian Tropikal Utama are beginning to work with smaller farms to plant produce they believe they can market.
"DAA began to facilitate contract farming and supply few years ago," he said. "We brought in the major retailers – who local farms could potentially sell to, as well as established (mother) farms who would be interested in providing the technical expertise to smaller farms and buy back their produce."
Self sufficiency in local varities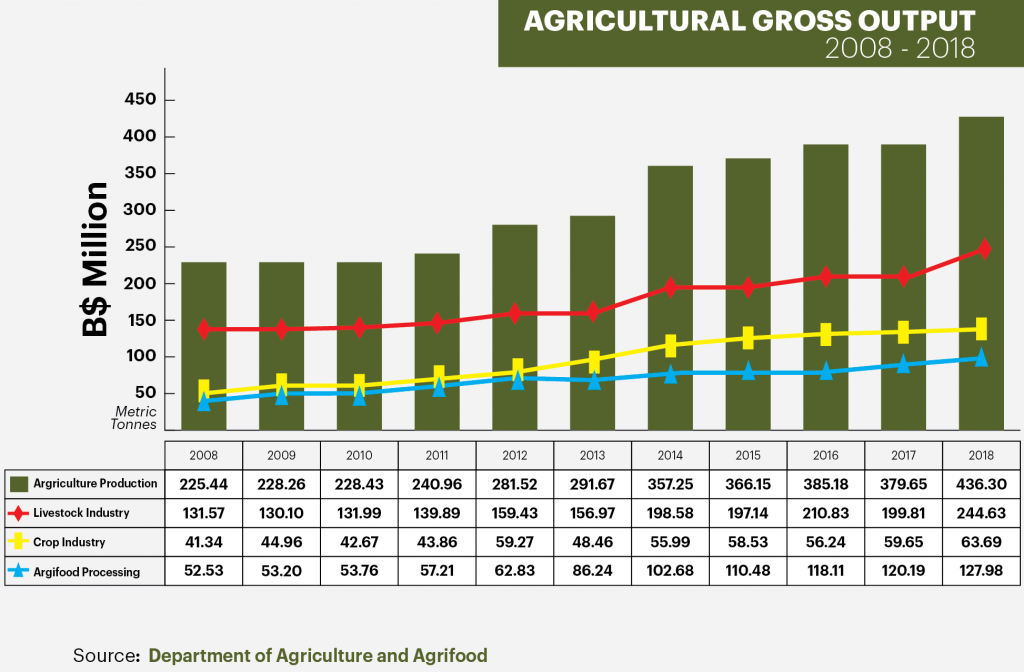 Unadjusted for inflation, Brunei's gross agricultural output last year is the highest recorded by DAA. The largest gain was seen in the livestock industry, driven largely by the poultry sector, which also includes locally produced feed for chicken.
Brunei is now self-sufficient in chicken meat and eggs, but imports still make up 53% of the vegetables and 63% fruits on the market. Local supply of cattle and sheep only makes up 29% of the local demand.
DAA's latest statistics however show that Brunei has made progress in being self-sufficient in several local varieties. In fruits, Brunei has over 96% self-sufficiency in young coconuts, calamansi, jackfruit and soursop. Brunei also has over 96% self-sufficiency in eight types of vegetables, including varieties of green beans, mustards, cucumbers, spinach and bitter gourd.
DAA officials said that they have earmarked several other local vegetables and fruits that the country is already halfway and has the potential to be fully self-sufficient in. These include chilies, eggplant, melons, bananas and papayas.
'Focus on development'
In his address, His Majesty also called on Bruneians to remain squarely focused on developing the country's economy to bring collective prosperity to society.
"For example, there are parties that claim to be moving forward and are prosperous yet many within their society live under difficult conditions, including homelessness," he said.
"In Brunei, we continue to live governed by laws and the constitution, where the rights of all are preserved and respected; unlike those who propagate rhetorics under the guise of human rights, while remaining silent against persecution and murder."