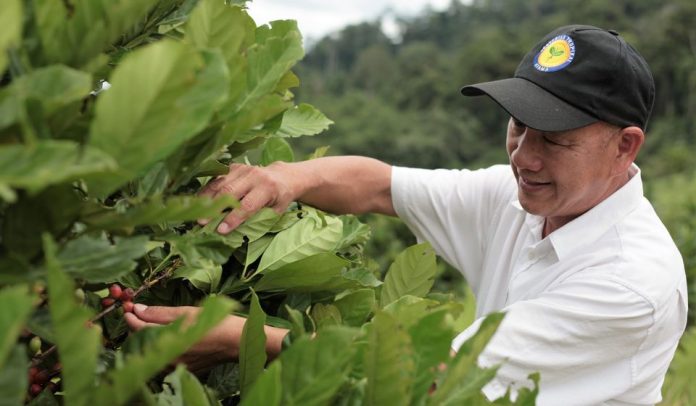 As officials crunched the final numbers of Brunei's agricultural produce in 2014, there was a startling reveal.
Labi, the most populous mukim of Belait's sparsely inhabited inner, rural south, had together with its district, surrendered its title as the Sultanate's largest producers of fruit to Brunei-Muara. National contribution had dropped by 24.9 per cent.
The year prior, Belait farmers collected 1,470 tonnes of fruit, about 38 per cent of total local produce, valued at $4.2 million. A year later production was 18 tonnes less, with retail value dropping to $3.6 million.
Belait's decline to national contribution was further accelerated by the progress of other districts; Brunei-Muara more than doubled its fruit production over the same period, while Tutong and Temburong also recorded progress.
While the decline that harvesting season was most prominent for fruits, Belait also lost ground in its share of national contribution for rice and miscellaneous crops – the only positive was a marginal increase of half a percent in the district's contribution to national vegetable production.
The farmers of Labi however, weren't necessarily caught by surprise. They had foreseen the possibility of such a drop; they have struggled to contend with the effects of Labi's dwindling population, triggered by an outflow of the younger generation migrating to Brunei's coastal towns.
There are perhaps few who know this issue – personally and economically – as well as Yong Khian Fook. A second generation farmer, Yong was already initiated to the fields as a kid, and by his teenage years, was already fully employed to his family's farm and small convenience store.
Today, Yong is 57, but still has a spring in his steps of a man 20 years younger, as he strides up the plains of his 19-hectare farm, which recently took on a new distinction – it's the site of Brunei's first commercial coffee plantation.
"In the 1990s Labi was well known for producing limau manis (a green skinned orange). Almost my whole farm used to plant it," said Yong, with 5,000 orange trees being his peak. "In the early 2000s a virus suddenly hit the crop nationwide, and a ban was placed on planting the tree. We had to cut all the (orange) trees and pulled the roots from the ground."
While Yong – and the rest of Labi farmers – reverted to planting other vegetables and fruits, the 57-year-old knew he needed a more valuable, robust and less perishable crop in the long term.
The search would last almost a decade, until Yong saw coffee bushes growing wildly at a section of the agricultural research station in Birau, Tutong. Curious, Yong asked if he could bring back 100 samples.
After planting the initial hundred in Labi, he scoured Borneo for other options, travelling as far as Pontianak, Indonesia to see what else was thriving organically in this climate and soil.
"Back when we were young we grew everything we needed because we didn't have the means to make a quick commute to the town," said Yong, whose grandfather Yong Chu Kit came to Labi from China in the 1900s to plant rubber. "We even grew coffee for personal use. To this day, I still remember roasting coffee (over a fire and a pan)."
By the end of 2012, Yong had planted 2,000 coffee trees (sometimes called shrubs or bush due to their relatively short height) but would have to wait three years before his first sample harvest, and an additional year before the first commercial pluckings.
But the uncertainty while waiting wasn't the only challenge. While Brunei's coffee consumption per individual ranks amongst the world's highest, it is entirely imported. As a result infrastructure for coffee production is limited – if not entirely absent. Yong would not be able to find other businesses to peel, roast and package his beans into a finished, ready-to-serve product.
He would have to do the entire value chain of his product, from A to Z, a daunting task for any farmer. Yong currently employs 16, 10 who are local and also has a branch that supplies farming items in Tungku. It may be consdirable operation for a Labi based enterprise – but minuscule compared to established industry players.
Yong is quietly driven and determined to bring back Labi to its agricultural prominence – and believes coffee can arrest the recent decline – but he remains honest that this venture into uncharted territory will undoubtedly be risky.
Recently the tide has shown signs of turning. Word of Yong's coffee is abuzz in Labi, and other farmers, even retired oil and gas executives, have contacted the 57-year-old to seek out collaboration and advice to start coffee plantations of their own.
In two days, Yong will commercially debut his coffee to these Chinese market – whom he hopes to export – at the 14th China-ASEAN expo, where it will be Brunei's turn to be the event's Country of Honour.
He now has 10,000 trees planted back home, taking up close to half of his farm, and if things go well, he's planning for almost all 19 hectares to be allocated for coffee, to cater to domestic and hopefully export markets.
"It's true that this is a risky venture because we don't quite know if it will work out," said Yong. "Nobody has taken up (planting commercial coffee) Brunei because there isn't an industry (or infrastructure) readily available in Brunei to process or accept what the farmer will harvest. There are other fruit trees that do take longer to bloom, but once ripe, farmers know the produce will be easily sold. With coffee, we have to take a chance."
Yong can be contacted at fook8333@gmail.com or +6738738333. PTU is located within the Rimba Horticulture Centre, along Jalan Tungku.