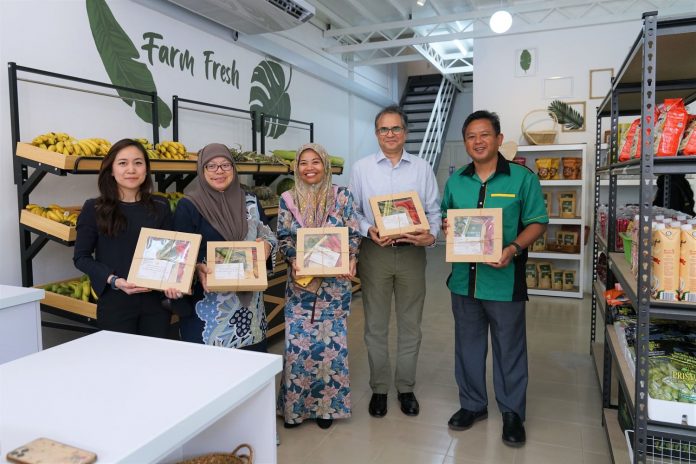 Brunei's first online marketplace for farmers, Agrome Market, launched their retail store at DARe's Beribi Industrial Site last Saturday to provide wider market access for local produce.
Agromemarket.com went live last April to help farmers better market their produce during the COVID-19 outbreak, reaching a peak of 50kg sales a day for fruits and vegetables from 40 local farmers selling up to 70 products.
Founder of Agrome Market, and its parent company Agrome IQ, Vanessa Teo said there are an increasing number of customers looking to visit and browse through their stock in person, as coronavirus restrictions ease but borders remain closed except for essential travel.
In addition to displaying the local produce found on their website, the retail store offers a standard selection of imported apples, oranges and grapes along with healthy snacks and drinks.
"Now that the outbreak (of new cases has slowed) we see more people coming out and preferring to pick up (online orders); wanting to see the selection in person and have a place to visit," said Teo.
"The shop also acts as our processing centre (for the website) so we do our quality checks (on produce) and packaging within the store."
The store also enables customers to buy smaller amounts, with the majority of produce on the website sold per kilogramme. Agrome Market is also planning to roll out meal kits which provide ingredients and an accompanying recipe for customers to cook.
Agrome Market's mezzanine floor will be offered as a co-working space as well as a training site for farmers going through the Brunei Good Agriculture Practice (GAP) certification – which Agrome IQ is the sole government-endorsed trainer for.
Teo said she hopes to replicate the store with separate branches across the country as the government seeks to increase productivity and consumption of local produce as well as the number of farms in Brunei that are GAP-certified.
Agrome IQ is an agritech startup and consultant offering a farm management software on mobile for growers to track and assign operational tasks. The business has received two rounds of six-figure investments and was a participant of DARe's first cycle of Accelerate.