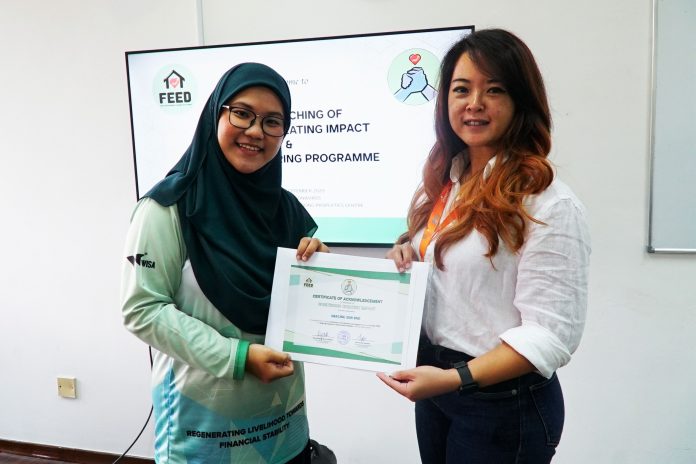 Social enterprise Family Empowerment and Economic Development (FEED) Management Services have set up a network for businesses to donate funds that will help train underprivileged Bruneians to be self-employed through a mentorship programme.
The Businesses Creating Impact (BCI) network has drawn at least nine established businesses including Imagine and D'Sunlit, who have enabled FEED's social empowerment programmes including their mentoring initiative which currently has 15 participants; seven of whom have begun to earn their own income by starting micro businesses.
FEED's Chief Marketing Officer Nur Diyana Sulaiman said the six months mentorship programme covers essential information needed for business management including planning, product development, marketing, and customer service.
"Our aim is to reduce the amount of welfare recipients in the country, by instilling in them an entrepreneurial mentality, of working harder to make ends meet, and giving them the tools to do so," said Nur Diyana at the launch of BCI at their office in Gadong Properties last month.
Participants are also guided to leverage their existing skills and resources in starting their businesses. Agriculture consultant Nurture Enterprise has helped farmer Mirnawatul Syahiidah Abdullah to increase productivity and open her own stall at the Tutong market, while another participant Mohd Alaihuddin Ahmad builds custom pet cages using PVC.
Nur Diyana added that BCI funds can also be channeled towards Corporate Social Responsibility (CSR) activities carried out by FEED on behalf of the donating parties.
"The BCI acts as a CSR platform. As an enterprise ourselves this is our core business, offering CSR facilitation for companies who wish to fulfill a CSR demand but are unable to execute," she said.
FEED has also set up a subsidiary Bakamas to offer home maintenance services including grass cutting and cleaning provided by participants of their programme.