In between an open view of traffic heading towards the Gadong-Kiulap roundabout and exposed brick walls – Dart Logistics' team of six are working hard, with less than 24 hours to go to their official launch.
CEO and founder Zul' Amali Idris says that Brunei's first ride booking app will go live at 8pm tomorrow with a simple launch at Progresif's corporate headquarters in Gadong – where Dart currently operates out of, in the telco's new Startup Lab which houses new and promising local businesses.
The application, now available for download from the Google Play store and the Apple App store, will debut exclusively for taxi booking first, with customers pin dropping their current or desired pick-up location and their intended drop off point, before submitting a request and the nearest taxi driver is able to respond.
Zul said the Taxi Drivers Association of Brunei Darussalam, which consists of over 50 drivers, are on board with the app – with taxi fares bound to the Land Transport Department's (JPD) set structure; which charges $3.50 for the first minute or kilometre, and 20 cents for every 250 metre or 15 seconds subsequently – whichever comes first.
The app's payment is through any Visa or Mastercard, both debit and credit cards, and is only deducted after the service is completed. An option for cash payment to the driver will be made available four to five weeks after Dart's launch.
"In the second phase, which is two to three months from now, we will roll out the ride sharing service for privately owned cars," said Zul, who is welcoming those interested in becoming drivers to register at www.dartbrunei.com. "Those with Class 3 driving licenses will go through a process with JPD where they take on a Class 12 license, which has been traditionally for taxi drivers, but will be open to those looking to be Dart drivers as well."
Dart drivers will have to be using cars less than seven years old and pass a roadworthy inspection, as part of JPD regulations. Those looking to drive specifically as a taxi driver will have to apply a permit with the Motor Transport Licensing Authority as well as obtaining the Class 12 driving license. Dart able to assist potential drivers in their application, with the overall process simplified and streamlined to take about two months.
The pricing algorithm that will determine the fare for private drivers is still in the process of being studied according to the CEO, who said the second phase will begin with exclusive ride booking – meaning customers book for a registered driver just for themselves – but another option for carpooling will be put up, which will be cheaper.
"We also have a built-in rating system for customers to rate drivers, and drivers to rate customers," said Zul, adding that drivers would be incentivized with rewards if they're able to maintain consistently high ratings. "We're aiming to show the world our Brunei hospitality."
The application, which started development nine months ago, is the founder's first start up, and while the concept of ride sharing is certainly not novel, accommodating the existing transportation network in Brunei while also advancing it within the legal framework has been challenging.
"The building of the application itself was outsourced to Bangkok, Thailand," said Zul, who is an architect by trade. The local team of six focus on marketing, back-end operations and functionality while simultaneously collecting data.
"Seeing the situation in the economy and shifts in lifestyles in Brunei we believe the time for Dart is right," Zul added. "People prefer the convenience of being driven or not having to search for parking, while those looking to make a side or extra income can also do so by being a driver. And if you look at the taxi industry here as well, they also now have a single, easy to use platform that they leverage on to look for customers."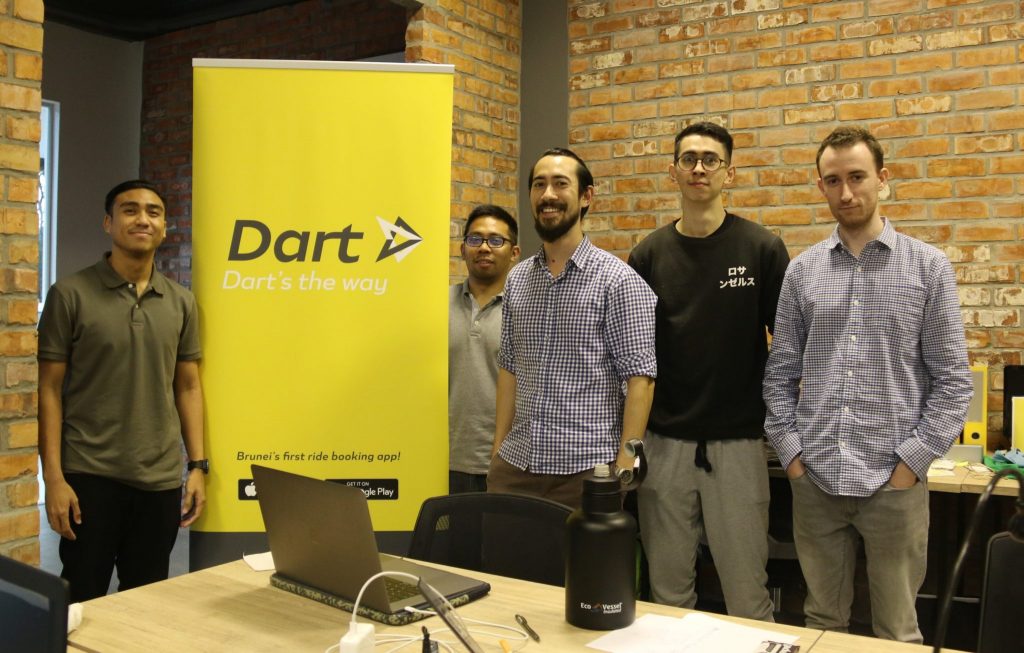 To stay up-to-date with Dart follow @dartbrunei on Instagram or visit www.dartbrunei.com. To search for the application on Google Play or the Apple Store enter Dart Brunei – there are two versions: Dart for the passenger and Dart Driver.