Pusat Belia's (Youth Centre) Shared Kitchen has recently been revamped to offer local F&B businesses an affordable commercial space to prepare their products.
The Youth and Sports Department collaborated with Darussalam Enterprise (DARe) last year to bring the kitchen up to commercial and safety standards, with Agribiz Group appointed to operate the facility 24/7 for micro, small and medium enterprises (MSMEs).
Founder of Agribiz Fadhlina Bakar said the introductory promotional packages – running until the end of 2019 – start as low as $1.80 an hour for 72 hours ($129.60), which covers the use of two stoves or ovens and includes free storage, use of utensils, lockers and consultation on applying for Halal certification.
The kitchen's central cooking area is approximately 7,500 feet by 10,375 feet, with eight stoves – four which utilize high-pressure burners – and eight ovens. The kitchen also has an accompanying store and changing rooms.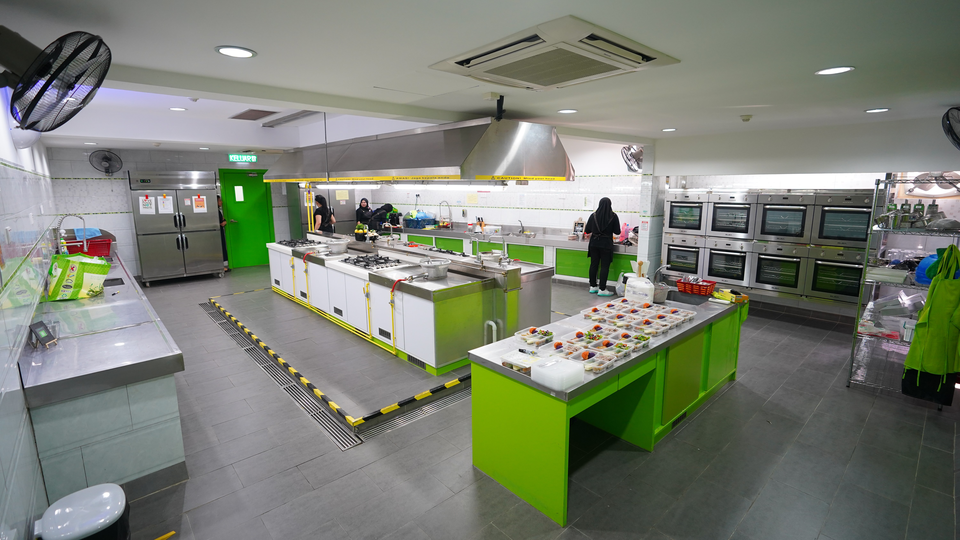 "The kitchen is available for use 24 hours, and its capacity is 15 people," said Fadhlina. "So each time slot can be shared (by multiple businesses) which allows us to keep the prices very affordable. However, businesses can also book the whole kitchen at a separate (higher) price."
The Youth Centre's Assistant Supervisor Ibrahim Hj Sabli said the revamped kitchen is part of the Ministry of Culture, Youth and Sports' (MCYS) efforts to provide more facilities for young local entrepreneurs, especially in enabling them to meet F&B regulations.
"Most home-based (food) businesses have difficulty in obtaining Halal (certification) unless they have a dedicated (separate) kitchen for their business operations," he said.
"By using the Shared Kitchen they are able to apply to achieve the certification, with the operator (Agribiz) guiding and facilitating their applications."
The Ministry of Religious Affairs (MoRA) made it a requirement for all F&B businesses serving Muslims to have Halal certification in 2017. MoRA later introduced exemptions for businesses – especially those that are home-based or operate food stalls – but they would need to be evaluated by MoRA first, who would then determine if the business is "legitimately unable" to meet Halal requirements.
However the exemptions for Halal certification are only considered temporary waivers and are subject to annual review. Fadhlina said that renting a central kitchen is one of the most affordable options for F&B businesses looking to scale their production and increase their credibility by achieving Halal certification.
Outside the promotional period, the standard rental rates for the Shared Kitchen are $10 an hour for individual slots, while the cheapest monthly package costs $200 for 72 hours ($2.77 an hour).
The Shared Kitchen was previously known as the Youth Kitchen and was primarily used by NGOs and charity groups for cooking. Ibrahim said MCYS also hosted culinary classes in the kitchen before the Youth Development Centre was set up in Salambigar.
Watch: Inside the Shared Kitchen