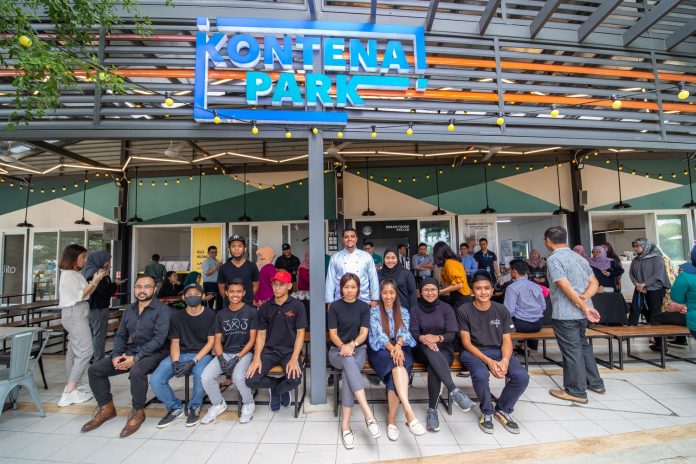 Darussalam Enterprise's (DARe) Kontena Park welcomed its third cycle of eight tenants earlier today who are hoping to use the facility to gain experience and establish themselves as homegrown food and beverage (F&B) brands.
The new tenants have signed on for a one-year tenancy during which they will receive dedicated business training, mentorship, promotional support and access to other DARe initiatives including matching grants.
DARe Executive Officer Khairul Azmi said a centralised point of sales solution has also been installed to monitor sales analytics to drive strategic marketing, product development, and improve customer experience.
"We will have a monthly review with each vendor to help them progress and we've also curated a set of modules specifically for their training and learning under DARe's Industry Business Academy (IBA)," said Khairul.
With a monthly rental of $350 for each vendor, Kontena Park is envisioned as a incubation space where F&B businesses – especially those based from home – can affordably expand to. By gaining experience operating in a commercial setting, tenants put themselves on track to expand to their own locations and potentially establish retail chains or franchises in the future.
Recent Universiti Brunei Darussalam (UBD) graduate Saiyidah Syazwani Mohiddin, who has turned her late father's laksa recipe into a home-based business, believes Kontena Park can be the launchpad to a future store.
"I strongly believe Kontena can be a good start for exposure, (to) gain experience for a real store scenario," said the founder of The Laksa & Latte. "Their incubation programmes provide IBA classes which is a big help to small home-based businesses; I have an education background in business but I may have not been equipped with the essential business knowledge for a real life situation."
Kontena Park's other tenants are middle-eastern cuisine Arabica Bistro; Seria kuey teow pioneers Tasanee Fast Food; car detailer-turned-café Znetic Waiting Lounge; rojak specialists Dream Foods; street food Munch Plate; Tu Wa Ga coffee and Moistjito's mocktails and burritos.
Located at the end of Spg 32-37 in Anggerek Desa, Kontena Park was first launched in 2017 with retail units in recycled shipping containers, before relaunching in 2019 with an all-new design.