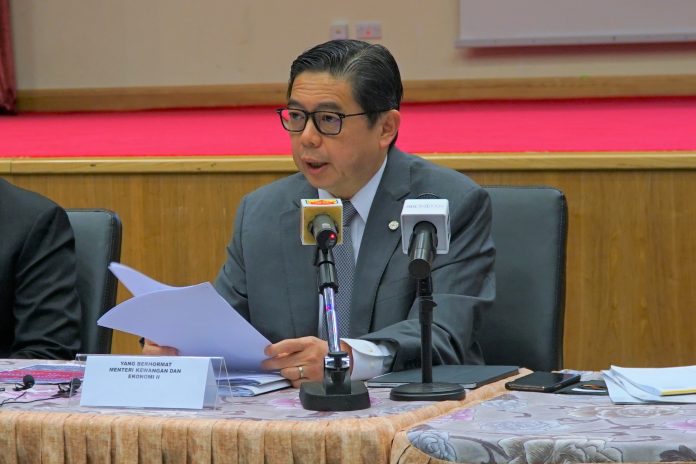 The Ministry of Finance and Economy (MoFE) is differing all business, personal and property loans in a new stimulus package that raises the total economic relief provided by the government amid the COVID-19 outbreak to $450 million.
Second Finance and Economy Minister YB Dato Seri Setia Dr Hj Mohd Amin Liew Abdullah announced the new deferments endorsed by the Autoriti Monetari Brunei Darussalam and the Brunei Association of Banks in a press conference this afternoon.
All deferments must be applied for by businesses or individuals directly to – and be approved by – their lending institution or bank between April 1 to December 30, 2020.
The deferments will be effective from the lender's date of approval until March 31, 2021. All deferments are for the principal amount borrowed, which means the interest or profit rate (for Islamic banks) still have to be paid.
There are four deferments or eligible delays:
1. Deferment on repayment for loans or financing for all business sectors.
2. Restructuring and deferment of repayments for personal loans and hire purchase facilities including car loans for up to ten years for businesses and working individuals, including the self-employed.
3. Delaying repayment of property/real estate loans for businesses and working individuals, including the self-employed.
4. Restructuring outstanding credit card debt into loans not longer than three years for private sector employees and the self-employed. However credit card limit will not be raised within these three years.
YB Dato Amin Liew said the deferments and the waiving of bank fees would cost the financial sector approximately $250 million. When factoring previous COVID-19 related economic relief measures – including deferred TAP/SCP payments, 25% salary contribution for MSME's Bruneian employees and sponsored training programmes for graduates, employees and businesses – the total government-led contribution is worth $450 million.
The minister emphasized that a key component of Brunei's economic stimulus was keeping and upskilling Bruneians within the workforce, and enabling graduates to enter the workforce with measures including the government-sponsored apprenticeship programme i-Ready, which has been extended to Level 5 Diploma and Level 2 to 5 TVET holders.
"We want to avoid increasing (local) unemployment as much as possible," said
YB Dato Amin Liew. "If someone becomes unemployed (because of the COVID-19 impact) and then receives (cash) handouts from the government, it will not be sustainable, as what happens after they are done spending? If they are kept in employment, they will continue to be productive and be able to contribute to society, and could even fill in positions held by foreigners who are leaving."
He also encouraged employees and businesses experiencing a decrease in commercial activity to consider investing their time into government-sponsored training which includes online business courses from Darussalam Enterprise (DARe) and IT or industry-specific workforce training by the Manpower Planning And Employment Council (MPEC).
For more information on loan deferment, the public can contact their banks or AMBD at +6732388388 or info@ambd.gov.bn.
Full statement from MoFE:
MOFE_SIARAN_MEDIA_30_03_2020_LANGKAH_LANGKAH_TAMBAHAN_BAGI_MEMBANTU