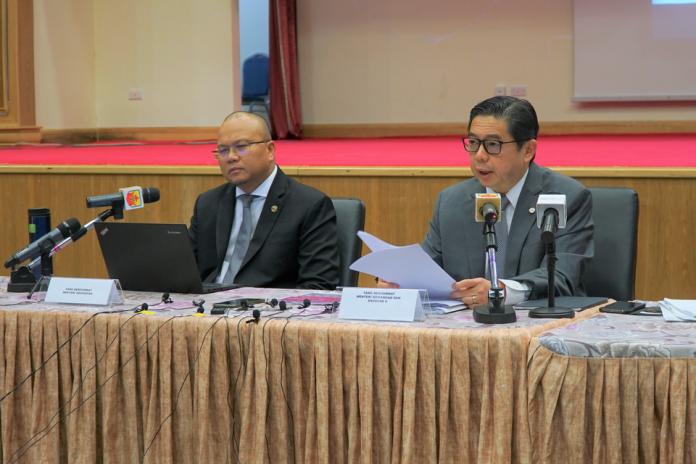 The Ministry of Finance and Economy (MoFE) has introduced a second set of interim measures centered around tax, utility and social security deductions and deferments to help Brunei's private sector amidst the COVID-19 outbreak.
Second Finance and Economy Minister YB Dato Seri Setia Dr Hj Mohd Amin Liew Abdullah announced the new measures on March 21, two days after he announced the first state-led economic remediation measure enabling businesses in select sectors to defer loan repayments for up six months with banks.
The minister also clarified that the deferring of loan repayments would be extended to the wider business community, subject to case review by the lending institutions.
"Businesses (outside the four sectors) that have been affected can approach their banks to have their repayments reviewed or restructured," said the minister.
The new measures effective April 1, 2020 for six months are:
A six-month deferment on Employees Trust Fund (TAP) and Supplementary Contributory Pension (SCP) for micro, small and medium enterprises (MSMEs) with employees earning less than $1,500. The government will continue monthly contributions to ensure that the annual dividend payments to employees are not affected. MSMEs need to apply for the deferment and are to repay the contributions within a year after the final month of deferment. MSMEs are defined as businesses with less than 100 employees.
The government will provide the full SCP contribution for the self-employed. The self-employed SCP scheme carries a survivorship benefit which includes a $400 monthly payout to dependents for up to 15 years – in addition to receiving the SCP already paid up – if the participant passes away before 60-years-old.
For the sectors of tourism, hospitality (including hotels and registered lodging houses), food and beverage as well as air and water transport: 30% discount on rental rates for government buildings for MSMEs, 50% discount on corporate tax for companies (private/public limited or sendirian berhad/berhad) for 2020 and 15% discount on water and electric bills.
Up to six months extension for i-Ready apprentices for trainees whose contracts are ending before September 2020.
Temporary exemption of customs and excise duties on personal hygiene products to help retailers and consumers manage prices amidst increasing demand. Pricing of essentials items will continue to be monitored and regulated under the Consumer Protection Order and Price Control Act.
Business matching by Darussalam Enterprise (DARe) for MSMEs to onboard e-commerce platforms to help market their services/products online more effectively to mitigate challenges in offline retail.
Full statement from MoFE:
MOFE_PRESS_RELEASE_21_03_2020_LANGKAH_LANGKAH_INTERIM_KEMENTERIAN-2