Darussalam Enterprise's (DARe) revamped Kontena Park officially opened in Anggerek Desa yesterday as an affordable incubation space for nine new local food and beverage (F&B) brands to gain exposure and experience operating within a commercial facility.
The re-designed Kontena Park is made up of eight, 6.1 metre square container units in a row which serve as the front service area, each with its own 6.5 metre square extension housing a certified kitchen in the rear. A new shaded seating area with fans has also been added, along with free WiFi for customers.
Kontena Park first opened in 2017.

The new kitchens are fitted with grease traps.
Executive Officer at DARe Khairul Azmi said the residing businesses had been offered a one year tenancy at a rental of $350 monthly, with a view of helping them ready their expansion for the wider market as homegrown F&B brands who could potentially establish retail chains or franchises.
"As an incubation space for locally-owned, locally-run F&B businesses, we will be helping out the tenants by monitoring sales, overall traffic, to see what strategies can be taken for improvement," said Khairul. "They will also have access to DARe's ecosystem which includes training programmes, workshops and financing."

Here's an introduction to the brands who've set up shop.
Paying homage to my mother's recipes: Star Anise
After setting up in Universiti Teknologi Brunei's canteen for a semester, Star Anise is ready to introduce their take on local favourites including fried noodles and nasi campur (mixed rice) to the wider market.
Founded by couple Abd Azim Rabbani Hj Abd Razak – a Universiti Brunei Darussalam (UBD) student – and Nurafilabibah Mohd Shafiee – a recent UBD graduate – Star Anise pays homage to their mother's extensive knowledge of Malay, Chinese and Indian cuisine.
"Azim loves to have my mom's cooking and was always suggesting that we turn this into a business. That's how we started, selling to cube stores," said Nurafilabibah. "There's so much variety (in her cooking). In creating the nasi campur menu (rice box series), we're serving different dishes every day."
Sweet and savoury crepes: The Toast Club
A hit at Tutong's Gerai Ramadhan in 2016 and a favourite at Sahur Saturday, the enterprising all-female team behind The Toast Club are now looking establish themselves beyond the pop-up scene.
"Our concept of serving on-the-go food was inspired from our travels abroad; crepes and (filled, thick) toast wasn't really popular yet here in Brunei, so we learned all the (preparations) online," said Umi Khairiyah Norzairi, who founded the business with her close group of friends while job hunting after graduating.
The Toast Club were one of last vendors to move into the first version of Kontena Park before it closed for renovations at the end of 2018. This time, they're returning with a wider range of sweet and savoury options and up-sized mocktails.
"We hope that this can be the start for us to gain more exposure and hopefully open more stores in the future," added Umi. "It's (Anggerek Desa Technology Park) the centre of startups so it great to be a part of a community that's in this together," added team member Nafisa Halim.
Making the most of local chillies: Eat's Hot
Many Bruneians enjoy their food spicy, says Ida Matnoor, the founder of Eat's Hot. However, there's yet to be Bruneian F&B business who's successfully built their brand identity around it.
"There are spicy restaurants (chains and franchises) and hot sauces that have been widely successful internationally," says Ida. "As a lover of spicy food, I definitely thought it was time we had a Brunei brand that made the most of local our chillies."
Ida began making deliveries for her homemade spicy chicken wings two years ago, before catching her first breakthrough by partnering with a bubble tea franchise last year to serve a wider menu including pasta at the Jerudong Fuel Station.
"Kontena Park is the next venture for Eat's Hot, hopefully, a stepping stone for us become a franchise one day," she added.
Cream cheese beverages: Home Flavours
The bubble tea market in Brunei may be saturated with dozens of options, but there's always room for a new brand to wedge their way in with a novel product.
Home Flavours' menu takes your standard bubble tea and coffee and infuses them with a cream cheese foam. It's proved to be a winning formula so far, with Kontena Park being the third small outlet in less than 18 months for the homegrown brand developed by Muhd Phillip Amri Chow.
"We did not expect it grow this quickly," said Sammy Isham, Philip's cousin, who operates their Kontena Park outlet. "We are (continuously) trying to come up with new combinations and offerings that the customers would like; the latest drinks include sakura (cherry blossom) and brown sugar pearls."
Elevating simple breadsticks: Chakoi Rindu
Wafaa Wajihah Mohd Rosmadini's grandmother did well for herself selling fried bread sticks known as cakoi in two options – plain or with kaya – near their house in Tutong back in the 1970s and 80s. Customers would often come to reminisce or rindu her cakoi, which is how Chakoi Rindu developed its name.
Today, most stalls selling cakoi will have options for peanut butter, chocolate and fruit jams. But in 2016, Wafaa and her father decided to take cakoi a step further, tweaking their dough recipe for a thicker breadstick, almost like a mini sandwich with options for meaty, savoury fillings.
"We have more than 20 sweet and savoury combinations now to cater to the taste of all cakoi lovers," said Wafaa. "When we (re)started the business we were focused on pop-up events and deliveries. Now we are pushing for small outlets and hopefully with DARe's help we can grow further."

Beribi's hidden gem now in Anggerek: Top Folk
A hidden foodie gem tucked away in the residential area of Kg Beribi has been a blue container cabin called Top Folk. In the mold of the more upmarket, better burger trend, Top Folks' patties are all handmade, seasoned and prepared fresh daily with wholesome ingredients.
Md Fakhri Md Ishak left his job as a continuity planner to start up Top Folk in 2015, and after almost five years, they're ready to scale with a new location and food truck.
"Running a business in the beginning can be exciting, especially with all the hype," said Md Fakhri. "But it's sustaining and growing the business over long periods that is the challenge; you have to be consistent while improving to stay relevant. For Top Folk this year will be really important because it's our first opportunity to open in a commercial space while also exploring events with our food truck."
Authentic Morrocan: Kofta Diva
Hjh Dewi Hairani Hj Thani learned the recipe for Kofta – a dish of meatballs soaked in a salsa sauce and topped with eggs – first hand from her Moroccan mother-in-law in 2012.
Her close friends encouraged her to begin selling the dish after she documented her cooking exploits on Instagram, and not long after the fledging takeout business known as Kofta Diva was born.
Dewi and her husband used their savings to set up small outlets in Rimba and Lambak, and needing a fast-moving menu, began serving thick-cut fries with various toppings for which her brand is best known for. More recently however, she's decided to close both takeout branches and renew their focus on serving Arabic cuisine and giant sharing platters, opening dine-in locations at Jerudong Park Food Court and Kontena Park.
"Alhamdullilah we expanded our menu options in Mediterranean cuisine, namely smoked nasi Arab (Arabic rice), Moroccan tacos, maghribi burger and falafel sandwich," said Dewi. "We want Bruneians to be able to enjoy foreign cuisines affordably while maintaining our consistency to develop our brand quality."
Artisan popsicles: Kyna
Part of a new wave of Bruneian ice cream brands emerging over the last three years, Kyna has been a vendor at Kontena Park since its inception.
Kyna began with Hj Muhd Khairul Yadiy Hj Damit and his wife Dk Siti Nur Amalina Pg Junaidi selling popsicles out of their cart at Bandarkuceria and touring pop-events across the country.
The couple's ingenuity in developing unique flavours from sea salt to blueberry cheesecake has been their biggest strength, and Yadiy says customers can expect a wider range of frozen desserts to try.
"We've started introducing a range of soft-serve (ice cream); starting with an ice cream version of boba milk tea, with pearls," said Yadiy, whose popsicles are also available at Krema. "Hopefully by being at Kontena (for a second stint) we can build up our financials (further) towards opening our own brick and mortar store in the future."
The musician making Mexican takeaway: Fuego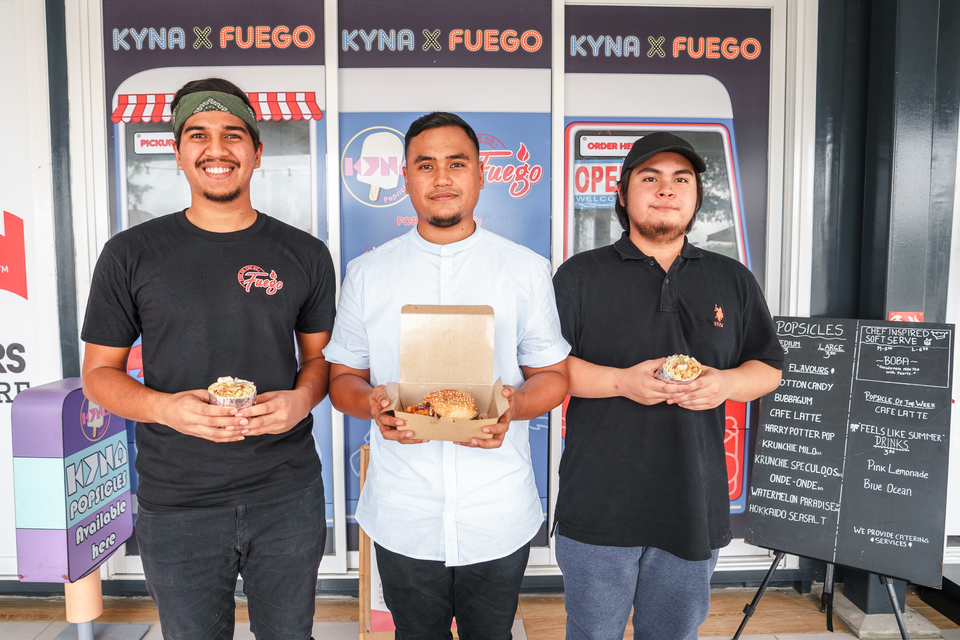 Nabil Iskandar is known to most as a budding music producer, but he's also been developing his craft in cooking since his time studying abroad in Malaysia. After returning to the Sultanate, he would frequently run into Kyna's founder Yadiy at pop-up sales events. Seeing their early success, he proposed a collaboration to serve savoury food to complement their desserts.
"Fuego has been around for two years now but we've mostly been limited to pop-ups, and having a permanent space to test ourselves is something we've been looking out for," said Nabil.
"We focus on selling food that's on the go – but still hearty. Mostly Mexican inspired cuisine; burritos, chicken and sandwiches with a (spicy) kick, so its a perfect pairing with Kyna's popsicles."