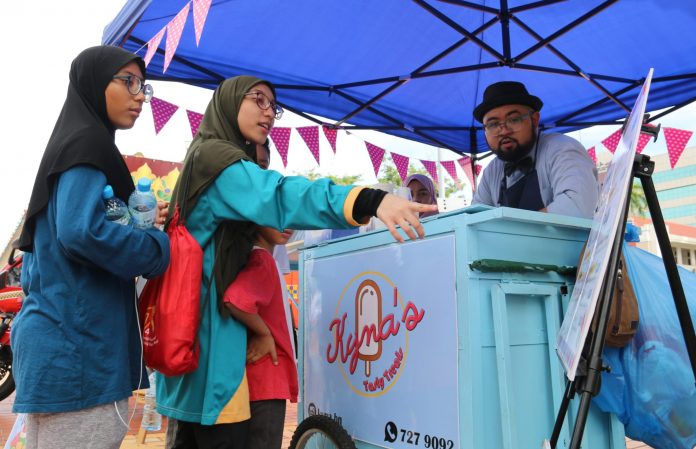 The sun has yet rise over the Sultan Omar Ali Saifuddien field in the capital as a handful of vendors begin setting up their tents. It's first come first serve we're told – and they're all eager position their booths to soak up the wave of public activity that's due in a few hours.
Married couple Hj Muhd Khairul Yadiy Hj Damit and Dk Siti Nur Amalina Pg Junaidi haul out a sky blue cart embellished with the logo Kyna's Popsicles from their van and roll it to the gates of the main entrance of the field.
"Thank God it's still free," says 28-year-old Yadiy to his wife, as he points to the prime spot. They haul a freezer, with some 500 popsicles, and begin to set up their tent.
Wearing dark blue aprons laced over light blue shirts that mimic the tone of their cart, the couple wait patiently as the sun begins to rise.
Runners, cyclists and kids jumping around in the morning heat are bound to get parched – and nothing will soothe the tastebuds quite like an ice-cold popsicle.
Watermelon, sea salt, butter beer, coconut, mango, rose, green tea and red tea are the eight flavours on sale yesterday and in just under four hours the popsicles – priced between $2 to $3 – are all sold out.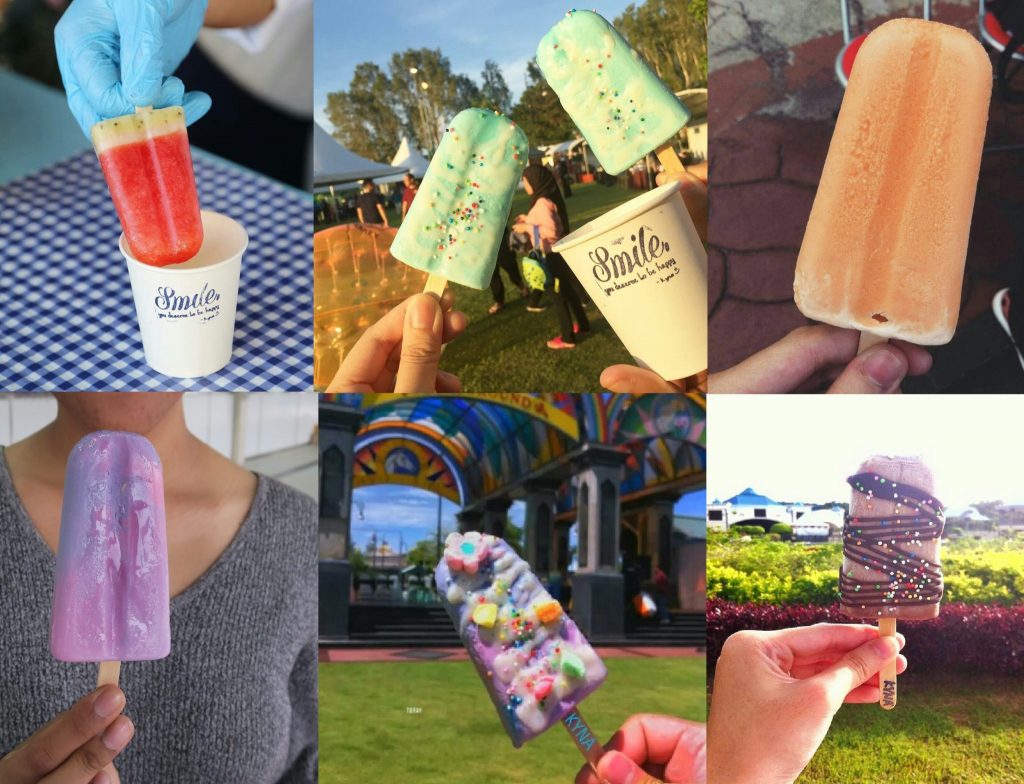 It's been five months since the Amal and Yadiy debuted Kyna's Popsicles at Bandarkuceria. With just over a thousand dollars, the couple have bought a freezer, molds and ingredients and got to work.
Adding a touch of the unconventional, the pair have come up with some unique flavours – which they're calling artisan popsicles.
To most, thoughts of popsicles are tinged with nostalgic memories, of a time when a simple treat –  little more than a frozen drink on a stick – was enough to make one smile.
"We're taking things a step further," Yadi says of his unusual mixtures and flavours. "We're developing flavours you'd never be able to get anywhere else in the country. Sea salt for example, is something you'd find in a Disney theme park. On top of that we also carry choices for the health conscious or dieters in mind; our watermelon and dragon fruit are purely fruit without added sugar."
Abroad, popsicles have made a comeback of sorts in small local parlours, catering to those looking for a lighter, lower calorie, icy dessert. The couple, who stumbled across such an establishment while visiting Melbourne, Australia last year, took up the manager's sentiment of catering to local taste.
"Why eat the standard (imported) ice cream," he told me. "It's all the same. And it isn't freshly made. We know what the local taste is."
Yadiy, who undertook a diploma and later a degree in Business Administration, was at the time teaching business classes at a private institution.
As he scoured textbooks and guides for teaching material for his students, he could not shake the thought that his lessons were hollow, nothing more than regurgitated principles that he had yet to personally put into practice. He might have had a little experience helping friends in business, but not running one on his own.
"I was essentially telling students: these are the principles of how you should plan, run and market a business," he said. "I was telling them, day in and out: these are the concepts that work. But how did I really know?"
After a few months touring pop-up events across Brunei and catering to private events, Kyna was able to partner with a Gadong night market vendor to share their space.
Amalina shares that they typically freeze their popsicles over two to three days, but there are fit for purpose commercial freezers that can do the job in just 20 minutes. Molds made of steel, as opposed to plastic, she adds, would also improve product consistency.
"We're making at least 500 popsicles at a minimum now," says Amalina. "To double or triple that, we have to get new equipment," her husbands adds.
A lot remains to be done, but if Kyna can continue to notch small wins, month upon month, the couple will slowly climb towards to their goal of opening their own dedicated store – an inconceivable pipe dream a year ago.
"One day I would like to teach again" says the 28-year-old. "But only if I have experience that's worth sharing. Right now I am learning – by doing."
To stay up to date with their latest updates follow @kyna.bn on Instagram or contact them directly +673 7279092 for bookings. Kyna is located at stall C37 of Pasar Pelbagai Barangan Gadong.