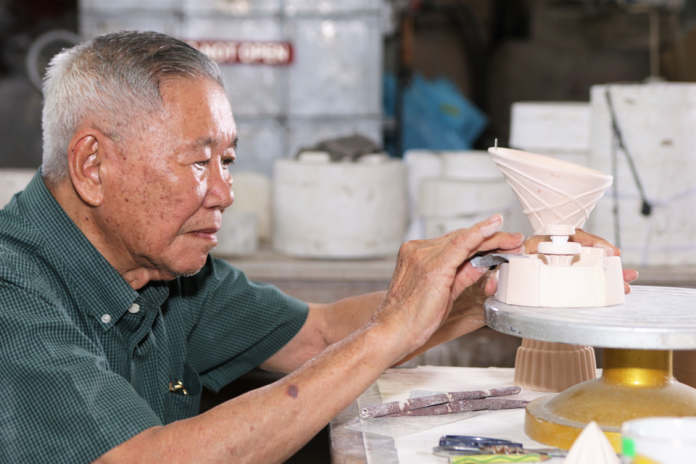 At 7.30am on a Monday in December, 30 minutes before our interview is scheduled, Hj Adnin Pehin Dato Hj Ibrahim, a pioneering Malay businessman in Brunei's oil and gas industry, exits his house at the end of Spg 318 in Jalan Mumong, Kuala Belait and makes his way to the front of his compound, home to the Sultanate's first commercial ceramic workshop.
Smartly dressed in a striped, dark green and white buttoned up short sleeve shirt with a Canon DSLR slung over his shoulder, the 86-year-old is amongst the first of his team of 12 to arrive.
"Welcome to Maha Seramik," he says spritely, as he welcomes us into his small, cabin-styled office. Pictures of major construction projects adorn the walls while business awards sit on shelves. But they're curiously interspaced with odd, colourful antiques and collectibles from vases to antlers.
"I love collecting all these arts and handicrafts," says Hj Adnin. "And I wanted to begin making them in Brunei. That's the reason why I got into the ceramic and souvenirs business."
Today, Maha Seramik is one of the few – if not only – remaining commercial producers of ceramic sculptures in Brunei. They've diversified into wood carving, t-shirt printing, embroidery and medals, but their operations – much like the details of Hj Adnin's entrepreneurial journey – have largely eluded the public spotlight.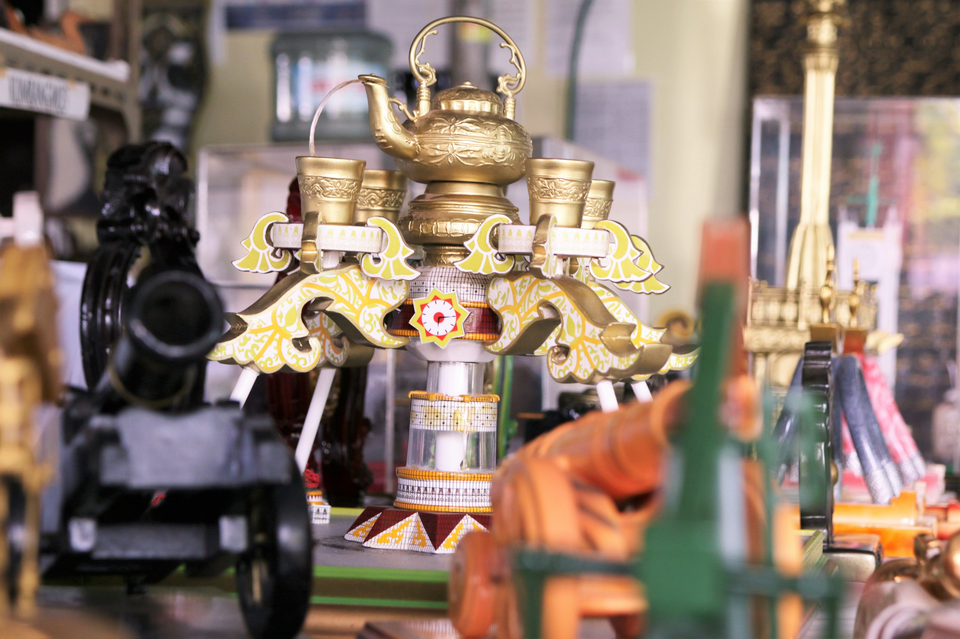 At 86, Hj Adnin wants that to change.
"Things have been slow at Maha Seramik," he said. "And that's my own fault; we haven't marketed who we are and what we do. But we have the tools, we have the skills and now we must make the push."
A craftsman at heart that began as a nurse and became a captain of industry; this is the story of Hj Adnin, told candidly for the first time.
33 years a nurse
The son of Pehin Datu Perdana Menteri Dato Laila Utama Hj Awg Ibrahim Mohammad Jaafar, Adnin was born in August 1932 and raised in Sumbiling with his three brothers, two who would go onto hold prominent positions in the government.
In 1959, Pehin Datu Hj Ibrahim – who began as a government clerk – was appointed as Brunei's first Menteri Besar or Chief Minister.
Following in his father's footsteps, Adnin too began his career from the ground up, studying nursing in Kuching before serving as assistant to Brunei's dentists in the 1950s. He would later be stationed in Belait where his interest in a burgeoning oil and gas industry was first stoked.
33 years after serving as a nurse, Adnin decided to retire early. He was now 50, but his natural curiosity and desire to self-improve meant that this was about to be the beginning – not the end – of his career.
Diligence and discipline
By the 80s, waves of companies were set up locally to cater to Brunei Shell Petroleum (BSP) but Hj Adnin recalls that they were predominantly owned by those of Chinese ethnicity.
They were not only shrewd, he said, but prudent and disciplined. And for the most part, maintained a humbleness that endeared them to their contract holders.
"To be honest there were hardly any bumiputra (owned businesses) around (catering to BSP)," said Hj Adnin. "The best way for me to learn was to join them (Chinese-owned businesses)."
Hj Adnin began working as an administrative assistant for a company called Chung Pah Hing who had an impressive track record with BSP in marine construction. They supplied manpower to weld, paint, maintain and do construction work for a marine fabrication yard.
Hj Adnin also tried his hand in several other businesses, including a restaurant called Bunga Anggerek, but it was a small distributorship that he took over from another businessman, retailing Berger Paints, that was the real beginning for the Adinin Group of Companies.
"We initially sold the paint, and over time, we became entrusted (by the buyers) to carry out the painting," said Hj Adnin. Around the same time, Hj Adnin's son Hj Musa – his third out of eight children – returned to Brunei after studying in Singapore.
A prosperous father-son partnership
As Brunei achieved independence in 1984, Adinin began strategically acquiring assets, mostly in hardware and petroleum services, from foreign companies that chose to leave the Sultanate.
Shortly after, Hj Musa and Adnin seized the opportunity to participate in a special programme by the Brunei government and BSP to develop local businesses.
"Our initial work with BSP began in estate maintenance," said Hj Adnin. "We looked after the BSP housing areas comprehensively – everything from repairs, to changing gas supply, to dealing with snakes encroaching."
The father-son duo would then progressively chart a series of firsts for a Bruneian company in oil and gas. Adinin Works & Engineering became the first local company to perform engineering, procurement and construction projects for BSP including an industrial gas terminal, offshore platforms, living quarters as well as the Anduki airfield.
Hj Musa's tenacity and his father's oversight drove the Adinin group to expand to some 20 companies covering travel, interior design and IT. More recently, they've built the Design and Technology building in Anggerek Desa, the flyover in Jalan Telanai/Gadong, a thousand houses under the Kg Tanah Jambu National Housing Scheme, while also managing to keep abreast regionally, opening the Mercure Hotel along Kota Kinabalu's waterfront.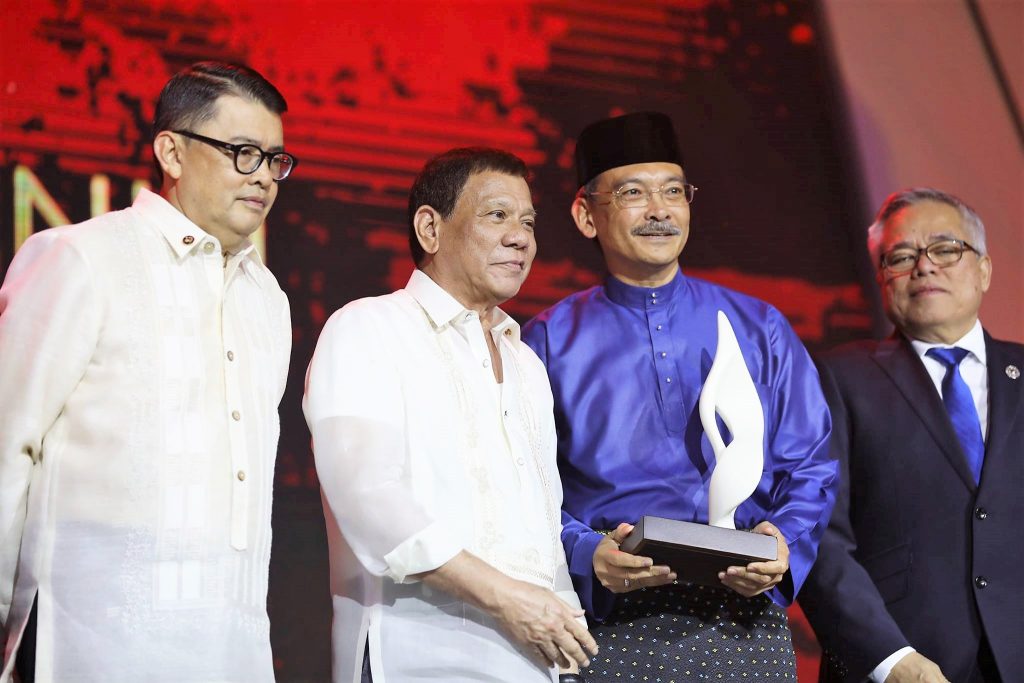 Adnin's personal takeaway to the group's trailblazing expansion is deceivingly simple: it's all about managing your revenue strategically.
"I don't believe that the challenge is technical (competence)," says Adnin. "If it's technical (staff or resources), you can always hire or acquire. What determines whether a company survives comes down to how they manage their revenue when it first starts to come in.
"When you're starting out, you don't have many chances (or room to lose). A lot of businesses fail, fail because when the money first comes in they lose sight.
"They don't separate (properly) and before they know it they're behind on paying the dues that matter. And then, there aren't enough funds to roll back into the business to grow it. To be frank, when we started out there were few Malay-owned businesses (in oil and gas) and I believe it was because they faced this problem. You must be disciplined financially."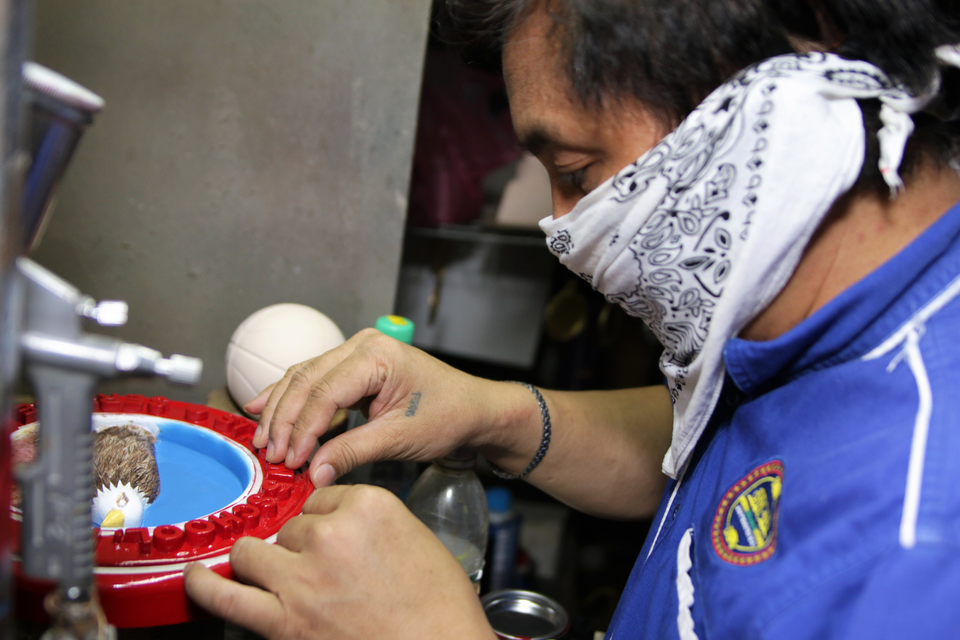 A lifelong pursuit
In the middle 1990s, Hj Adnin relinquished his role as Managing Director of the group to his son Hj Musa and began serving as chairman.
With a little more time on his hands, Hj Adnin began looking at his collection of different Brunei artifacts and collectibles that he bought abroad during his business travels.
"All these items, they capture a piece of our culture," said Hj Adnin. "To set up a brass or copper smithing operation would be too expensive, so I began to travel the region to see what other materials would be a good fit to begin manufacturing in Brunei."
He eventually settled on ceramics, paying USD 20,000 to bring in a consultant from Cebu, Philippines to oversee the setting up of the operation on a piece of land in front of the house he's lived in since 1988.
Maha Seramik's ceramic sculptures are made primarily from clay that's mixed and poured into specially designed moulds and left dry. They're then "cooked" in a klin, which functions like an oven. Once hardened, the objects are then filed for smoothness and consistency, glazed to give it a shimmering sheen, heated again before being painted on.
In 2009, Adnin invested $100,000 to kickstart Maha Seramik, entering an entirely new line of business at the age of 77. He merged it with another company he owned personally, Hanz Signcrafts & Advertising. The company operates independently from the Adinin Group.
He attempted to market their products by opening a storefront in Gadong shortly after but failed to sustain it. Today, Maha Seramik deals directly with customers – typically government agencies and large businesses – who place orders as gifts or souvenirs for VVIPs and visitors to Brunei.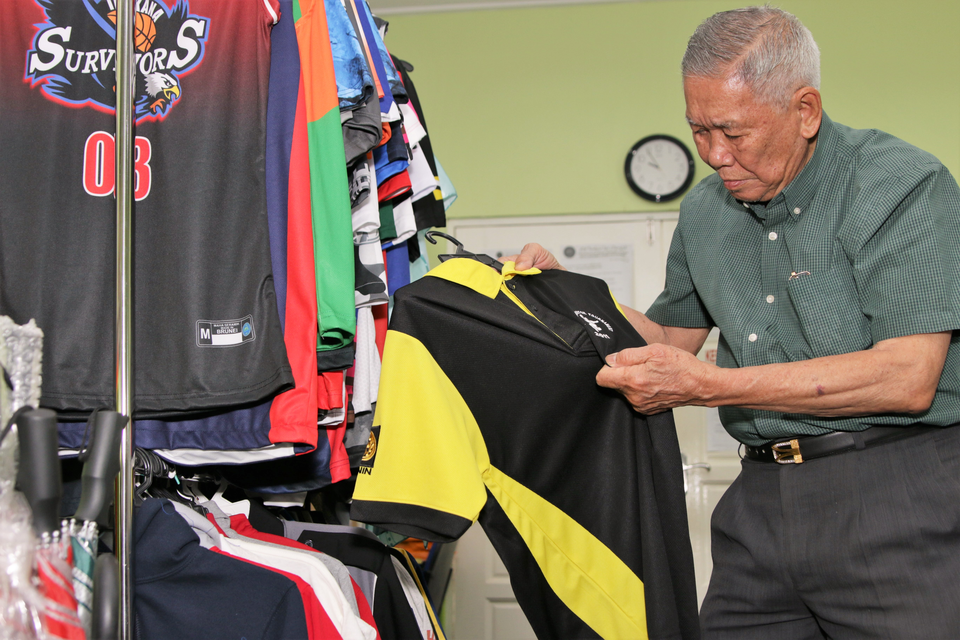 Adnin's proud of the craftsmanship – but he's far from satisfied with the business' progress.
"We're looking for more opportunities to connect with businesses (shops) who we can supply (our wares) to as well as market to the general public," he said.
At 86, Adnin is still putting together a strategy for Maha Seramik to break into the wider market, and shares that he still actively continues his duties as Adinin's chairman diligently, acting on behalf on Musa whenever he is outstation.
In his most iconic piece on aging, acclaimed Welsh poet Dylan Thomas writes to his elderly father: Old age should burn and rave at close of day.
He insists: Do not go gently into that good night.
It's an invocation to live boldly, to fight idleness towards the very end. For Adnin, a man who began building one of Brunei's biggest companies when he was already 50-years-old, it's entirely within his identity to fulfill the poem, down to its final line.
Rage, rage against the dying of the light.
Watch: Inside Brunei's only commercial ceramic sculpting factory
Maha Seramik is located at No. 22, Lot 577, Spg 318, Jln Singa Menteri, Kuala Belait. To learn more visit their Facebook and Instagram. To inquire or place an order contact +6733337675, +6732450832 or maha_seramik@adinin.com.