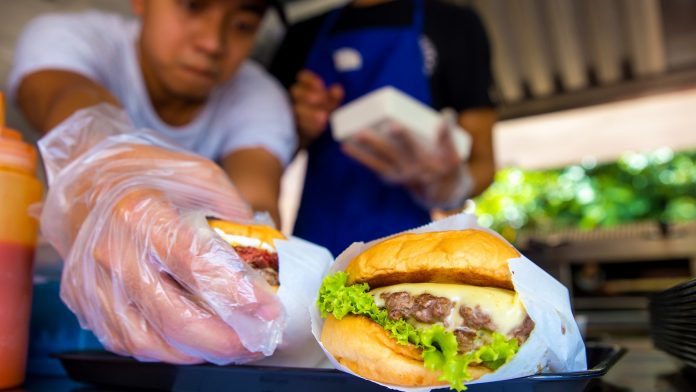 Of the hundreds, if not thousands of home-based eateries that sprouted across the country in the wake of the downturn in oil and gas prices in 2015 – most will find it hard to name 10 that they still frequent in 2018.
A few, the very cream of the crop have made the transition to a storefront, while others – self-starters who began businesses because they were unemployed, eventually found professional jobs. Other home businesses struggled to continue the momentum, displaced by more home businesses in an increasingly saturated market competing for the same consumer pie.
Md Fakhri Md Ishak is a little different. He was already working full-time as a business continuity planner at a bank and his position wasn't under threat. When he began to seriously plan starting his own business selling burgers in 2015, he was already married and was expecting his first child.
The 30-year-old wasn't looking to being a silent partner just providing investment either – he wanted to be on the front lines, crafting the recipes, moulding – and then flipping the burgers, as well as serving them to customers.
"I had to convince my wife that I was doing the right thing," said Md Fakhri, a business administration graduate, as he carefully laid out the costs, potential pitfalls and revenue streams. "I had a full on presentation and a business plan; I showed her the numbers and everything."
The burgers he was planning to serve were inspired by his time studying in the UK and were in the Better Burger mould; handcrafted patties with wholesome ingredients and seasoning. He had been practicing since returning in 2011, and when his wife – then fiance – was back in 2013, his burgers became a family staple.
With his wife and family's blessings, Fakhri bought and furbished a container, turning it to a kitchen, and parked it in the backyard of their home in Beribi. His cousin, Farid, then still a university student, became his assistant.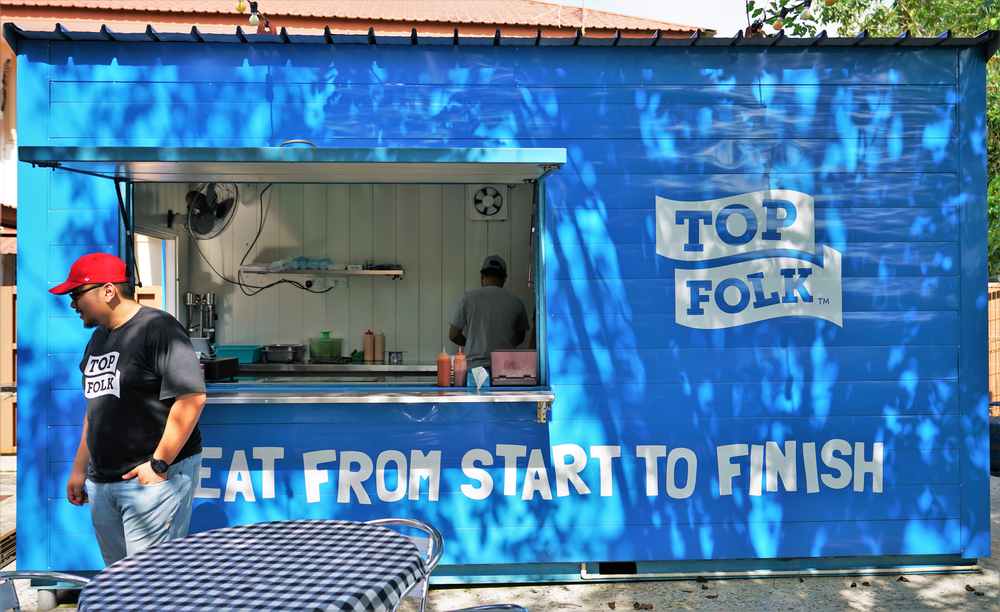 Top Folk opened its doors in August of 2015 with just two items beef burgers and cheeseburgers, priced at $3.50 to $5, with an optional side of fries.
The pictures of the burgers – and the bright blue container they were being cooked and served from – were a hit on social media, a fresh break from the standard burger fare Bruneians were accustomed to, and even garnered mainstream media coverage.
"That first year was our breakthrough year," said Md Fakhri. "But by the second year, early 2017, our sales started to plateau at around 300 burgers (a month) and were trying to maintain and not have it spiraling down."
Md Fakhri revamped the menu, adding more variety and upmarket options, including the Beribi burger – a cheeseburger with corned beef, egg and their signature top sauce for $7.50 (pictured main L) as well as vegetarian options.
The revamp pushed sales upwards of 500 burgers a month, and now Md Fakhri is searching for a viable commercial space.
Top Folk has implemented set opening hours six days a week, moving from fluctuating, short opening periods more typical of home businesses, signed up for food deliveries through Food Panda and are focused on being consistent in the management of the business overall – as Md Fakhri looks to solidify the business beyond just a trending social media page.
"We are starting to attract customers at all times of the day," said Md Fakhri. "Before, we were only open according to set, short periods, which might've affected us. Now people know that, if it's not Friday we're open from 12pm onwards."
Top Folk is located at No 4, Simpang 456-25 in Kampung Beribi and opens from 12pm to 9pm every day except Friday. Follow @topfolk on Facebook and @topfolkeatery on Instagram for the latest updates.