Located at the very end of the Anggerek Desa Technology Park, lies a set of seven containers that have been recycled into shops, opening up the opportunity for local businesses to take their first crack at running a storefront.
Opened at the end of May, Kontena Park is a Darussalam Enterprise initiative to offer new businesses an affordable site to test and develop products in a real market setting, with Big Begawan (BWN) Cookout – a popular grassroots event management – given the reigns to manage the site which sells food and beverages as well as other retail merchadise.
"Kontena is that chance for businesses to start and have that experience in running a storefront for the first time," said founder of Big BWN Cookout, Noorhafizah Hj Rashid. "They can get exposure and more prospects for new potential customers."
Big BWN has hosted quite a few pop-up events at Kontena, but if you're just stopping by any regular day, here's what's on offer.
CHEF KEBAB (MUABAGA)
Product: Kebabs, Burgers
Backstory: Mastura Mustapa started her home-based food business in 2015, taking orders or joining pop-up events. Her business expanded from just kebabs to burgers with homemade patties and sauces. Her scrambled egg and beef burgers are amongst one of the popular items on her menu.
Price range: $2 for beef/chicken/mix kebabs, $2.50 – $3.80 for a standard burger, $5.50 –  $6 for premium burgers with double homemade patties.
BIG BOI'S CHILL & GRILL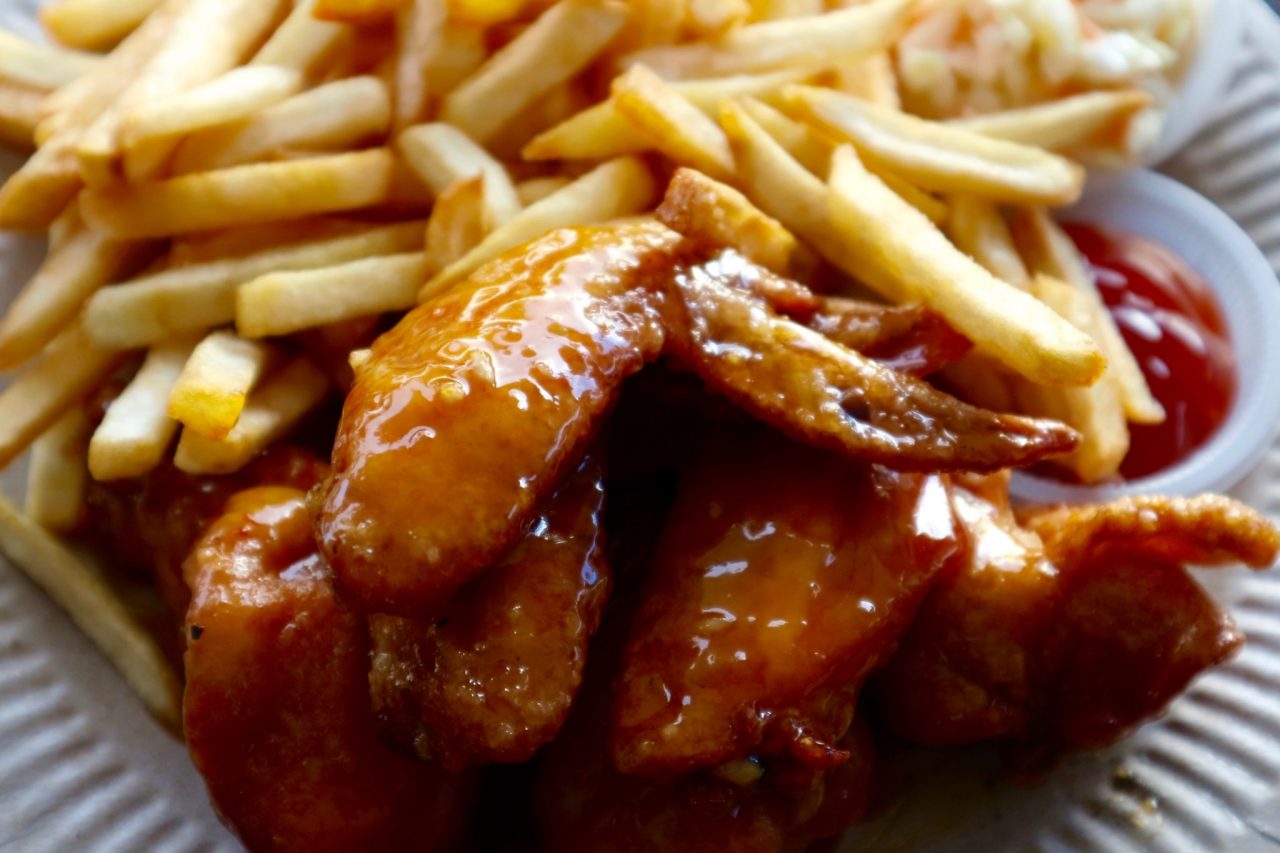 Product: Wings, Chilli Fries, Indo Mie
Backstory: Tour guide-turned-chef, Big Boi's Chill & Grill is Burhanuddin Mohd Salleh's first venture into the world of street food. Teaming up with his partner, Norazlan Hj Ladi, Big Boi's Chill & Grill maximises on local favourites such as wings, fries and Indo Mie. During the mornings, Burhanuddin's mother will sell her nasi katok, which usually finishes by afternoon by popular demand. Their popular dish, the honey garlic wings, is Burhanuddin's specialty and showcases his love for the live cookout atmosphere.
Price range: $1 for nasi katok, $2 for fries or indo mie, $3 for chilli fries, $6 for wings with indo mie and a side of fries.
HYBRID.BN
Product: Brewed Coffee
Backstory: Husband and wife duo Pg Khairul Sapyri Pg Hj Hassan and Bibi Azlina Ishak's difference in their caffeine appreciation led them to sell a variety of coffees. Pg Khairul Sapyri concocted the Vanilla Coffee, Coconut Coffee and Lemon Coffee, aimed at those more sensitive to caffeine. Then, there's the Deathwish Coffee, claiming to be the strongest coffee in the world.
Price range: $2 – $5 for the Deathwish coffee, lattes, tenom coffee, iced coffees, $6 – $12 for Iced Deathwish coffee in varying sizes, $3.50 – $6.50 for the signature Hybrid.BN Lemon Coffee, Vanilla Coffee and Coconut Coffee in varying sizes.
KYNA POPSICLES
Product: Artisan popsicles
Backstory: Bringing back simple nostalgic desserts from the past, husband and wife duo, Hj Muhd Khairul Yadiy Hj Damit and Dk Siti Nur Amalina Pg Junaidi, freeze popsicles of a variety of flavours ranging from usual favourites of chocolate and green tea, fruity essences of mango and coconut to unusual yet interesting flavours such as butterbeer and seasalt.
Price range: $2 – $3 per stick
ANAMEMENTO
Product: Canvas Prints
Backstory: Hainnah Shaminan and Ridhwan Ibrahim are in the business of canvas printing. Those interested in printing their cherished pictures into canvases to hang them on walls, give them as gifts or use them during special occasions can visit their store to make reservations. Their canvases are made to order and made from high quality fade-resistant and scratch-resistant material.
Price range: $15 for a 6 inch by 8 inch print up to a 40 inch by 60 inch print for $360.
BUTIK DELIMA
Product: Shawls/Perfumes/Prayer mats
Backstory: Bibina Hamid, the owner of Butik Delima, began her own hijab line called Bee Scarves last December. Her brand ranges from shawls and instant double loop shawls which she showcases and sells in the store. Being a stockist for Naelofar Hijab, Butik Delima also sells Naelofar products ranging from its scrunchies and perfumes to its shawls and prayer mats.
Price range: $20 – $48 per shawl, varying in material, sizes and measurements.
SURAYA HOUSE OF HIJAB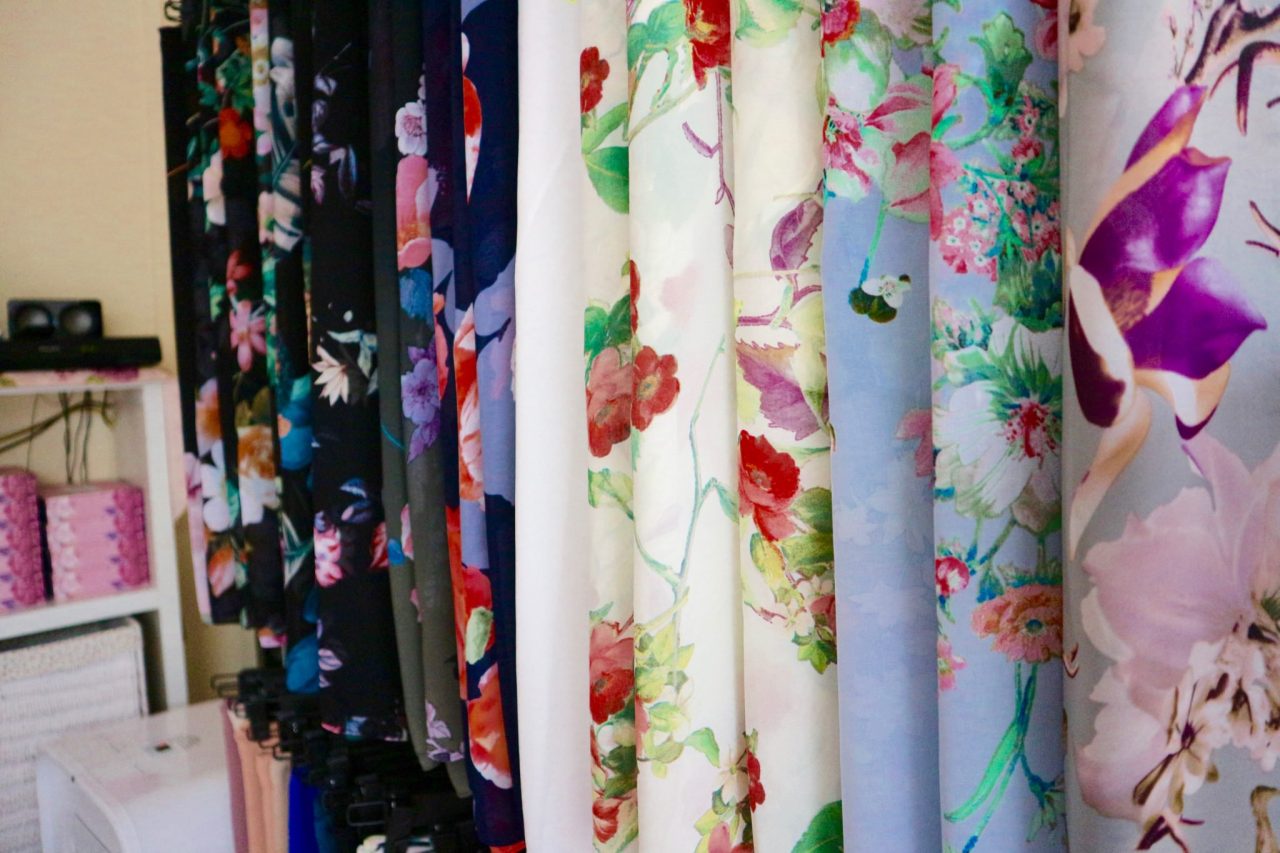 Product: Shawls
Backstory: Beginning her business career in March 2016, Zarina Jahali started selling scarves from various Malaysian brands as an online seller. She progressed to renting cubes and joining expos to expand her business. She found that the Marshmallow scarves was the most popular amongst other brands and is now selling Marshmallow scarves exclusively at her store in Kontena Park.
Price range: $18 – $69 per piece, varying in material, sizes and measurements.
Kotena Park is located at the end of Spg. 32-37, Kg Anggerek Desa, (same junction as the Brunei Darussalam Metereological Department). Kontena Park is open from Mondays – Thursdays from 10AM to 10PM, Fridays from 2PM to 10PM, Saturdays from 4PM to 12PM and Sundays from 4PM to 10PM.