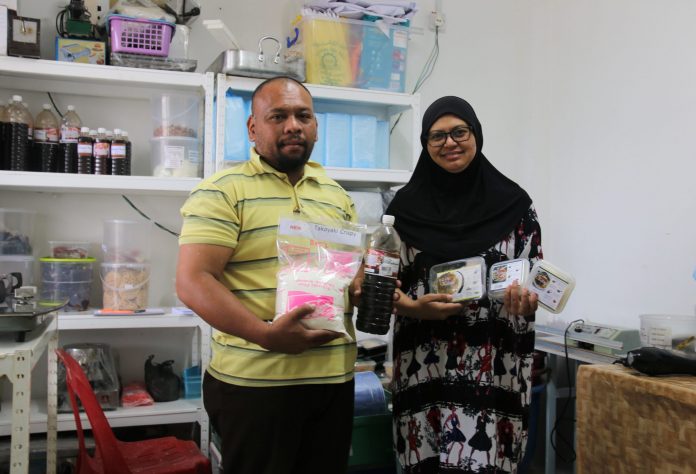 Sani Bajini and Haimisah Mahli aren't complete strangers to business – they've been running a modest store, Syanisah Enterprise, out of the Mall's arcade of shops, selling imported clothes and small food and beverage machines for close to 10 years.
Over those years, business has gotten increasingly competitive – especially in the realm of reselling. Anticipating a slowdown four years ago, the couple brainstormed to develop their own product.
They began experimenting with a localized version of the popular Japanese snack Takoyaki (pictured below) – a round ball of dough mixed with diced or minced seafood and topped off with a signature sauce.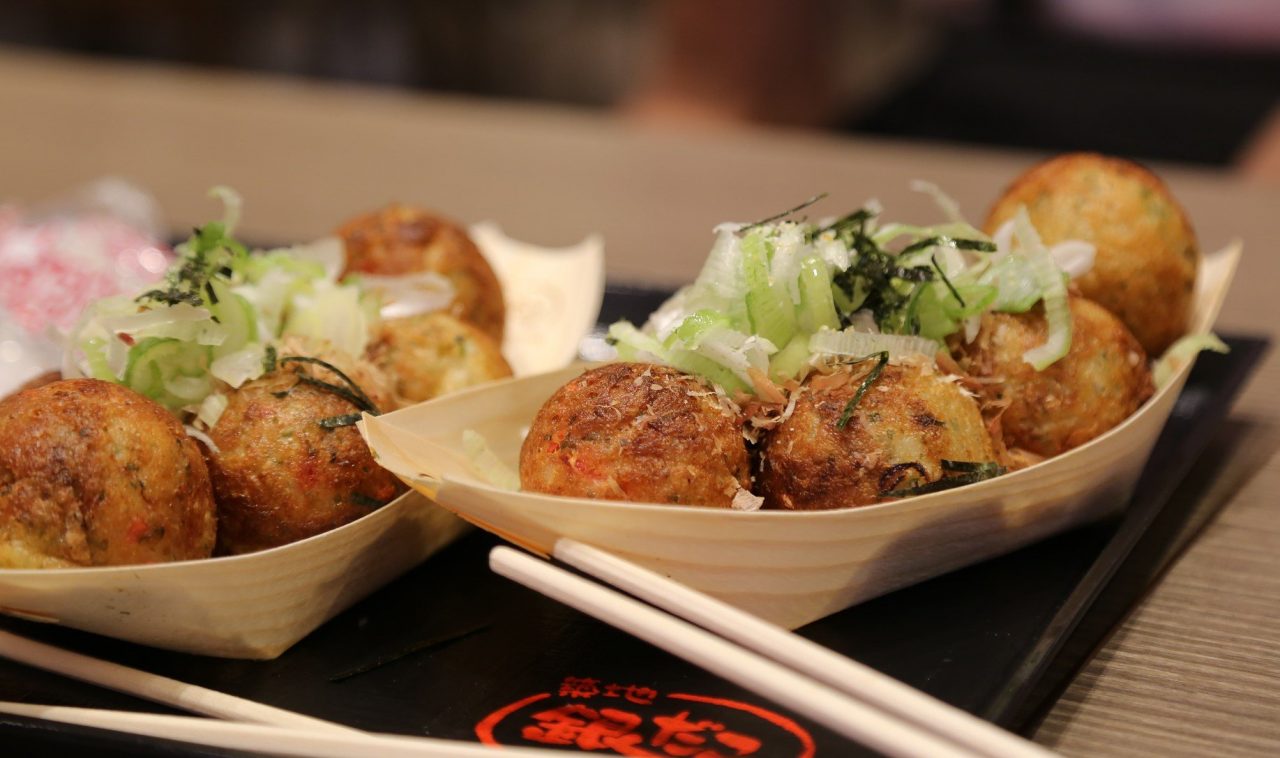 Haimisah managed to formulate her own Takoyaki flour and its accompanying sauce, and began approaching small convenience stores around their home at the time in Lambak.
A few picked up her product; eventually, the couple even got their flour into Sim Kim Huat – but sales rarely nudged past one tonne annually.
"We figured we needed another food product, one that would be more marketable and appeal to more Bruneians," said Haimisah, who moved from Sarawak to Brunei 17 years ago, where she met her husband Sani. "And when it comes to common foods, instant noodles are definitely a hot selling item. No matter where you go, you can always find them."
Haimisah, whose mother is from Kuching, Sarawak, regularly cooks Laksa – a spicy soup of curry, coconut milk and seafood served with rice noodles (bihun), as well as the richly spiced beef broth Soto and egg noodles tossed in a sweet and savoury sauce known as Kolo Mee. But while there are plenty of restaraunts and eateries serving these dishes in the Sultanate, only one company – aside from Syanisah's Enterprise – has turned it into an instant noodle product.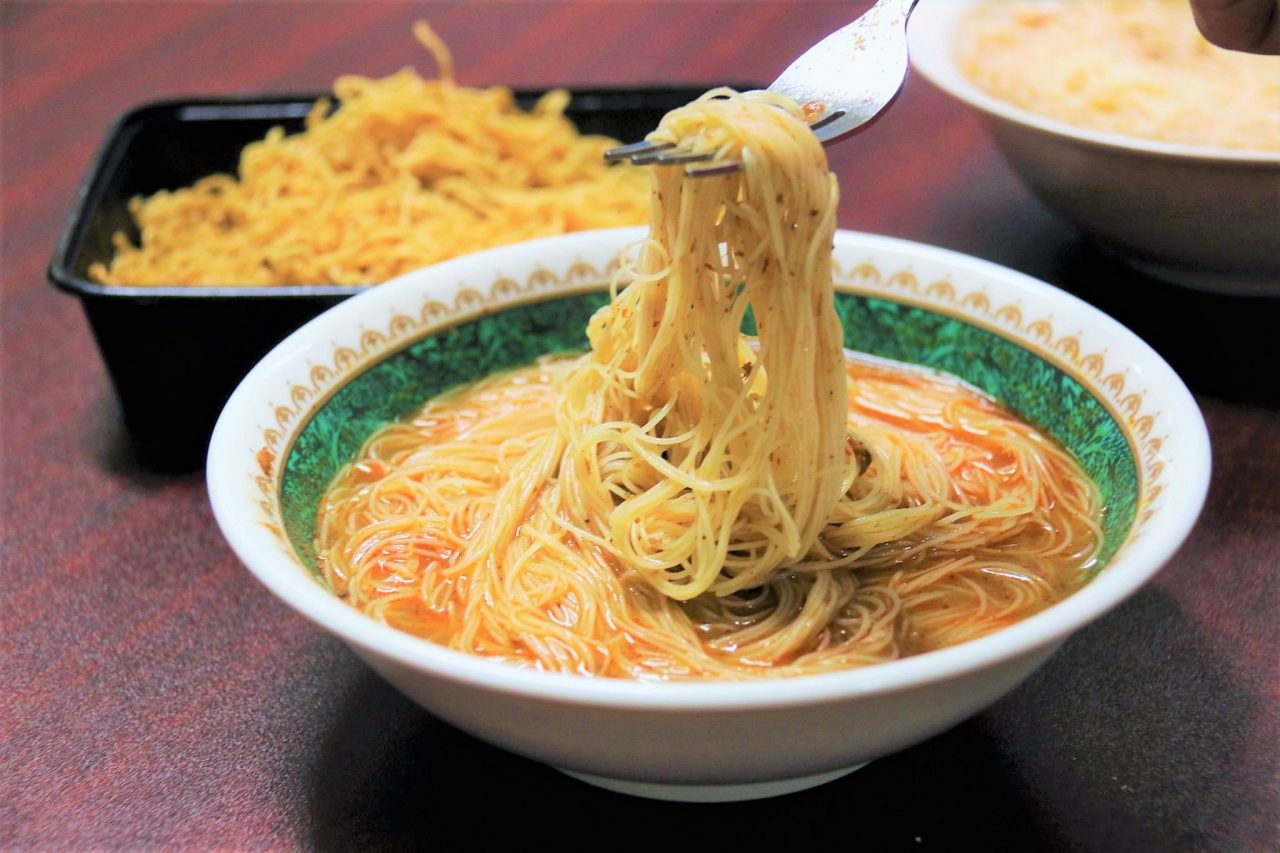 Haimisah partnered with a friend to make the egg noodles, while the instant bihun was bought from stores. Her husband also assists with logistics and has been her go-to taster, but in terms of developing seasoning and the overall product – Haimisah has virtually been her noodle-making enterprise's sole employee so far.
"The tricky part was getting the seasoning right. We had to get the concentration right to be able to have the right taste, as we turned it into a powder and paste."
They were initially able to get the word out on their product through their store at the Mall, as well as selling out from their house last year. The product was initially sold in a clear, sealed plastic bag, but was upgraded to a microwaveable plastic container (pictured above) that customers could easily fill with water and pop in the microwave for three minutes to cook.
Few mini marts also took the noodles onto their shelves in small amounts, but the situation only began to tip after the couple joined the first Made in Brunei Market Fair at Bridex last May.
With enthusiastic responses from the public on their instant noodles, they generated momentum and attention that eventually saw them negotiating with One Station Supermarket in Mentiri, and led to their noodles debuting last Saturday.
On a retro wooden cart, Syanisah's instant noodles, priced at $1.80 for the Kolo Mee, $1.50 for the Soto and $1.50 for the Laksa, will now be put to the test.
"The price is competitive compared to the other cup noodles since our serving size is about two to three times the size of a normal cup noodles," she said. "For the Soto and Laksa, it's real simple. Just add water and pop in the microwave. For the Kolo Mee, you microwave the noodles first (in water), drain and then add the seasoning."
The couple are now buzy making preparations to join a 100 strong delegation of Brunei micro, small and medium enterprises at the China-ASEAN Expo in Nanning, China next month, where the Sultanate will take on the mantle of the Country of Honour.
"We were very surprised when we found out we were selected," said Haimisah, as she does inventory for the 3,000 packs of noodles she will bring for the expo taking place between September 12 to 15. "We are still a small business and have a very long way to go in developing, marketing and mass producing our product. But we will do our best to make Brunei proud."
Syanisah's Enterprise also known as Butik Syanisah, is located at MA 17 and 18 on the 2nd Floor of the Mall's Arcade in Gadong. You can also find her products at One Station is located at Simpang 187, Kg Mentiri, which opens from 9am to 10pm daily.
To learn more follow @butiksyanisah on Instagram and Butik Syanisah on Facebook. To get in touch directly contact +6738198277.