Along the coastal village of Kg Penabai in Tutong, most known for its close proximity to the Seri Kenangan beach, lies the small factory of Syarikat Kayu Manis Babu.
The three-door, straight-line bungalow housing a rest room, wet kitchen and dry kitchen is operating near full capacity most days a week, churning out at least 2,000 packets of pandan chicken a month while simultaneously fulfilling catering orders for 30 to 300 persons.
At the helm is its sole proprietor Siti Mardiana Hj Mohd, who has spent the past five years building up the production and distribution of her signature frozen pandan chicken – now selling in 31 stores across Brunei's four districts.
Her progress has earned small business accolades, coming in third at the LiveWIRE Brunei's Business Awards and winning the best business plan at the Youth Development Centre's entrepreneurship programme Lights On.
But few know of the 39-year-old's humble beginnings and entrepreneurial journey; from working as a hotel clerk – being unemployed – then finally carving out a niche as arguably the most popular frozen chicken pandan producer in the country today.
Pandan chicken is most often credited as originating from Thailand. Chicken is diced, then marinated with garlic, soy sauce and other common Asian spices, then wrapped in pandan leaf and cooked by steaming or frying.
Mardianah lightheartedly admits that she herself isn't an expert in Thai cuisine, and initially began preparing the dish for her brother, and then later for family gatherings.
"At gatherings, people would really enjoy it and then began asking if they could order it from me," said Mardianah. "Then I began selling pandan chicken in trays for catering from home in 2015. Not long after that customers began asking if they could have a frozen version so they could cook it on their own time."
After committing to transition from selling home cooked food to manufacturing a frozen product, Mardianah would borrow $30,000 from her parents to build a small factory in her home compound in 2017.
She began applying for halal certification, and was accredited two years later. Mardianah would go through 13 recipe revisions and three packaging changes while slowly building up their distribution network over five years.
"The biggest change is monitoring quality and consistency with standard operating procedures (SOP). When you're just selling home cooked food to a few people, there's less risk (liability) than when supplying thousands of packets to shops," said Mardianah.
"With the help of Department of Agriculture and Agrifood, I improved and standardised lot of my processes. Even for things that appear trivial like the pandan leaf – for us we have to source, wash, store and inspect in specific steps to ensure there's no contamination, so that we're confident in saying our product is safe to be stored and consumed long after it leaves our factory."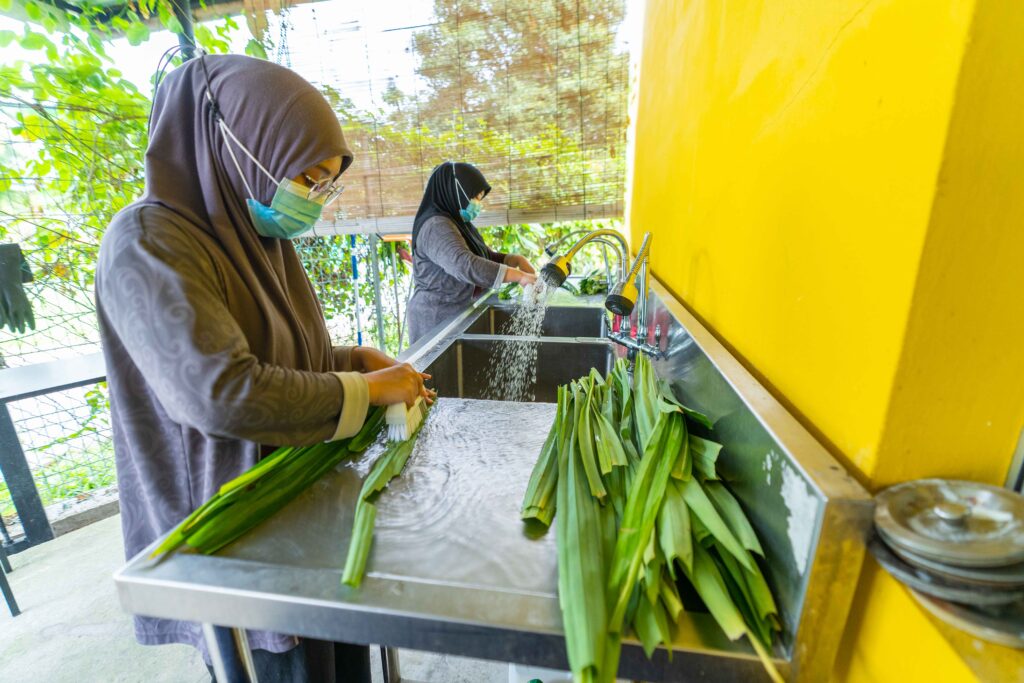 As a small operation with just one to three employees, the future direction of Syarikat Kayu Manis Babu falls squarely on Mardianah.
Despite supplying to over 30 stores – and admitting their small factory is nearly at maximum capacity balancing both manufacturing and catering orders – the 39-year-old is not content to just maintain their current level of revenue.
At the recent Consumer Fair, they sold out 3,000 packets in under four days, and have started supply to the Bruneian Made Hub outlet at new shopping mall The One in Batu Satu.
Mardianah is now looking to enter a manufacturing agreement with Ghanim's Brunei Food Industry Development Multipurpose Manufacturing and Processing Facility (BFID) whose international accreditation, advanced machinery and distribution network may enable their pandan chicken to achieve true economies of scale.
"If we can leverage on their (BFID) capability we can really focus on expansion rather than just maintaining or making small increments (in production). We can also potentially explore creating new products, which I have been working on for some time now," she added.
For all the stories that pit entrepreneurs as beings with seemingly unwavering will and determination from day one, Mardianah says that this wasn't the case with her, describing landing on the current path she's on as a destination that's taken more than 10 years to arrive to.
"My real only experience in F&B was helping my grandmother's business making seafood and potato crackers in the 2000s. It was a small home business but we wanted to grow it into something more," she said.
Then a housewife, Mardianah met with different agencies to see how to develop and market their crackers commercially.
However not much headway was made, and Mardianah would eventually take up a job with the Rizqun International Hotel, where she would spend five years at taking on different roles starting with being a clerk.
Mardianah resigned after being unable to take unpaid leave to look after her brother while her parents were away on pilgrimage.
Being unemployed, she visited the Youth Development Centre, which offers several vocational courses for people looking to upskill into new careers or start their own businesses.
She ended up enrolling to a course for software design application AutoCAD, hoping to find a job in building and construction sector, around the same time when she began making her first plate of pandan chicken.
The rest is history, but of which we can still say is very much in the making.
"Although my husband has been working and been supportive in helping my business, I've always wanted to do my own part in helping the family. Alhamdullilah, we are in a better position now than before. But there is much more to be done, not just in getting our pandan chicken more out there locally, but hopefully internationally too."