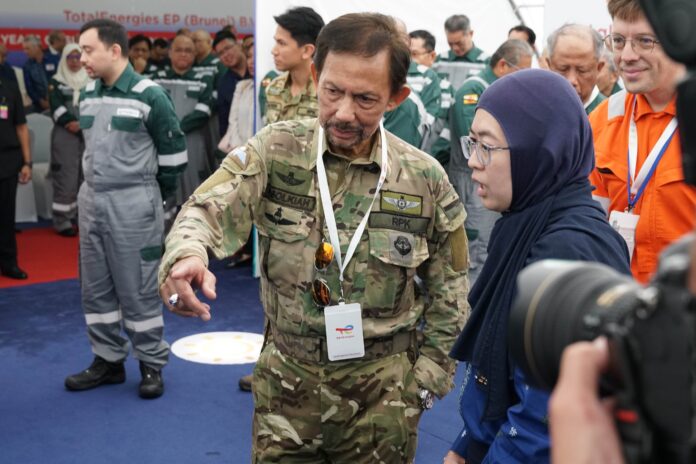 TotalEnergies marked their 35th anniversary of operations in Brunei by welcoming His Majesty the Sultan and Yang Di-Pertuan of Brunei Darussalam to their Onshore Processing Plant (OPP) in Lumut.
His Majesty was accompanied by His Royal Highnesses Prince 'Abdul Malik and Prince 'Abdul Mateen.
Prior to visiting the OPP and its central control room, His Majesty officiated the anniversary event by signing a plaque, followed by meeting the first batch of TotalEnergies Brunei scholars who guided the monarch through an exhibition chronicling TotalEnergies' operations and outlook in Brunei.
TotalEnergies' operation in Brunei – officially Total EP (Brunei) B.V – currently produces natural gas and condensates from three offshore platforms at the Maharaja Lela Jamalul Alam Field (MLJ) located on Block B.
The gas is received at the OPP and sent to the Brunei LNG plant nearby.
Total EP (Brunei) B.V has a 37.5% stake in MLJ and operates with partners Shell Deepwater Borneo Limited and Brunei Energy Services and Trading who have stakes of 35% and 27.5% respectively.
MLJ was discovered in 1989, with commercial gas production beginning 10 years later. In 2017, a third MLJ platform was installed in the south region of the block – marking the deepest, high-pressure, high-temperature wells drilled in Brunei.
The third MLJ platform jacket was fabricated in Brunei, involving 60 Bruneian youth from the Energy Industry Competency Framework.
In his opening address, Total EP (Brunei) B.V General Manager Jerome Saniez also shared that since its first production in 1999, no lost time incidents have been recorded. 91% of its 73-person workforce are Bruneians, with six out of its eight-member executive committee being locals.
Saniez added that TotalEnergies has implemented several scholarships, local apprenticeships, and overseas work placements for Bruneians. These include a six-year scholarship programme for participants to undertake a petroleum-related undergraduate degree, followed by a master's degree from French universities.
"TotalEnergies in Brunei envisions to continue having many more years of successful operations in the country and to be a partner of choice for multi-energies," he said.
"This aligns with Wawasan 2035 (and the) Brunei Darussalam Economic Blueprint, where future projects and activities of TotalEnergies will contribute to people development and employment, economic growth as well as the protection of the environment."
TotalEnergies previously had another subsidiary in Brunei, Total E&P Deep Offshore Borneo B.V. (TEPDOB), which was acquired by Shell in 2019 for US$300 million. TEPDOB had a 86.95% interest in Block CA1, located 100km off Brunei's coast.