Recycled toilet paper manufacturer EnEvo, Augmented reality (AR) and Virtual Reality (VR) developer Rumine, and composting specialist PITCHR won the open, startup, and higher institution categories respectively at the Shell LiveWIRE Brunei Business Awards 2021.
All three businesses took home $5,000, while the first and second runner ups in the three categories won $3,500 and $1,500 respectively. The annual awards, now in its 14th edition, was hosted virtually on November 24, with the aim of recognising outstanding businesses, especially those from LiveWIRE Brunei's ecosystem.
One of Brunei's leading delivery services, ONZ Group, took the runner up in the open category, followed by frozen pandan chicken producer Syarikat Kayu Manis Babu as the second runner up.
In the startup category, educational technology provider Mindtrex Academy was the runner up, with creative agency One Media as second runner up.
Pesticide free farm Fresh Pumpkin took runner up in the higher institution category with biodiesel producer RecOil taking second runner up.
A total of $30,000 in prizes were awarded this year. 35 registrants and 27 entries were recorded: 17 from the startup category, with another five in the higher institution category, and four from the open category.
LiveWIRE Brunei Chairman and BSP ICV Manager Hjh Rosita Hassan said the recipients reflect the five sectors which the organisation is prioritising developing: digitalisation, smart manufacturing, energy transition, waste management, and agrotechhnology.
"For the last two years participation in these five areas have been encouraging," said Hjh Rosita, who commended businesses for striving to survive Brunei's second COVID-19 wave.
"Some have swiftly switched to alternative business models leveraging on the power of e-commerce to offer solutions to customers who have to stay at home during the pandemic period. This ingenuity and show of resilience are admirable traits."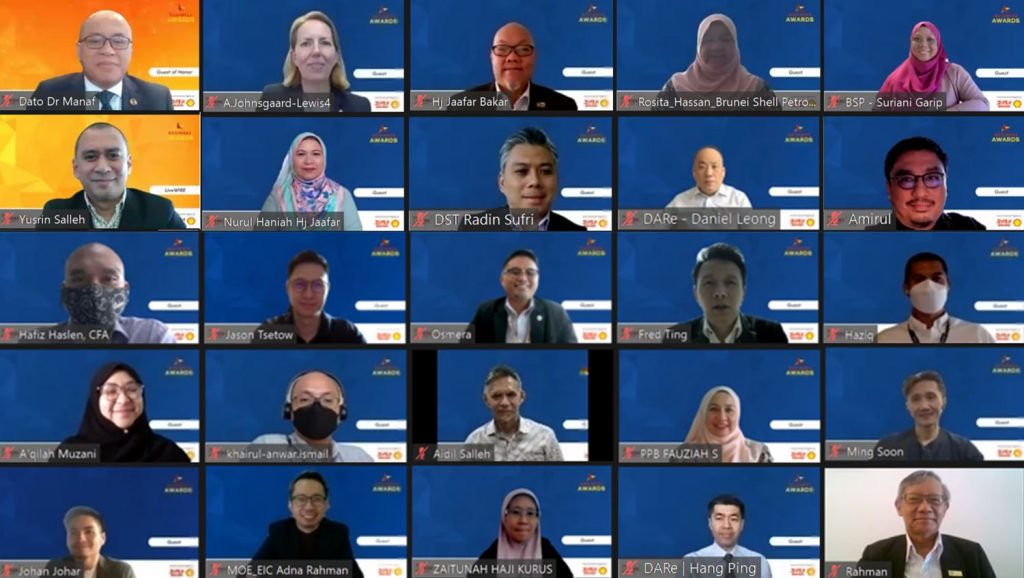 LiveWIRE Brunei marks 20th anniversary with iCASHFLOW and alumni e-book
As part of their 20th anniversary, Hjh Rosita announced two LiveWIRE projects for the community to freely access: a mobile application that helps businesses manage their finances called iCASHFLOW.bn and an e-book profiling successful alumni of their programmes.
The iCASHFLOW.bn operates through a dashboard that can generate visual reports and update your cashflow by offering record keeping capability by storing financial documents including invoices and receipts. The app has both Malay and English capability, and is available on the Apple App store and Google Play.
Meanwhile the alumni e-book, which was previously printed as alumni merchandise, has been updated to include new companies and programmes under LiveWIRE.
Hjh Rosita added that LiveWIRE has secured partnerships with Brunei's leading higher institutions to jointly create entrepreneurship-related programmes. These include Unversiti Brunei Darussalam, Universiti Islam Sultan Sharif Ali, Politeknik Brunei, and the Institute of Brunei Technical Education, with Universiti Teknologi Brunei to be announced soon.
"With the establishment of the Brunei Innovation Lab next year, we aim to mobilise the innovation ecosystem and therefore accelerate the development of techpreneurs in relevant technology domains," added Hjh Rosita.
Brunei Shell Petroleum (BSP) implemented Shell's LiveWIRE programme in the sultanate in 2001 as a flagship social investment programme to help strengthen the country's economy by supporting entrepreneurship, innovation, and meaningful employment.
LiveWIRE Brunei began with three programmes, which they've now expanded to 14, that have collectively engaged more than 18,000 entrepreneurs. The organisation now has more than 6,000 alumni who operate businesses in different sectors including automotive, F&B, education, advertising, fashion, and logistics.