Brunei's first parcel delivery mobile application ONZ has hit an all-time high of a thousand daily deliveries during the ongoing second COVID-19 wave through increased consumer demand and fulfilling deliveries for major retail businesses.
ONZ founder Azri Jumat said the surge is mainly due to the government's partial lockdown announced on August 7 and 9 which mandated the closure of recreational, entertainment and learning establishments and limited leaving home for essential work and the purchase of daily necessities.
The increased distancing requirements initially drove up orders made by residents directly through the app, but in the following weeks, growth has been driven by ONZ agreeing to do deliveries for merchants including First Emporium supermarket and Netcom.
ONZ's mobile app, which has recorded over 10,000 downloads on the Apple App Store and Google Play, allows its over 7,200 users to place orders for parcels to be picked up and delivered to all districts. The startup has a network of 206 drivers or "runners" who are capable of fulfilling orders 24 hours a day.
Businesses can use the app to send items to customers; either as an individual user or by signing on as a merchant for $300 a year which entitles them to discounted delivery rates and a centralized dashboard that enables them to schedule and track deliveries in large volumes.
The current version of the ONZ app is simplified for the user to list the pick up and drop off point for a parcel; it does not offer a marketplace for users to browse and purchase products and services. Therefore businesses using ONZ use their own sales and ordering channels, with ONZ fulfilling delivery.
"Since we are only the logistics partner, we do not take any commission of a business' order or sale; we only charge the delivery fee," said Azri.
Using First Emporium as an example, Azri explained that the supermarket advertises their catalogue online for users to browse. Users then message their order to First Emporium's hotline, who then respond with the price and delivery fee for the user to confirm and pay via bank transfer.
The supermarket then notifies ONZ to pick up and deliver the order. Each driver takes up to 10 separate orders. Customers can either pay the delivery fee directly to the runner or to the vendor.
With surging demand, ONZ has also revised its guidelines for each order's size to be a maximum of 20kg or fitting with boxes or bags equal to a half metre. In spite of these guidelines, Azri clarified that orders are generally not weighed unless they are unusually large.
"The guidelines (of 20kg) are mostly to account for the driver's income; a driver can normally take up to 10 orders, but if he can only take one order (because it is unusually large) then the rate has to be be adjusted," he said.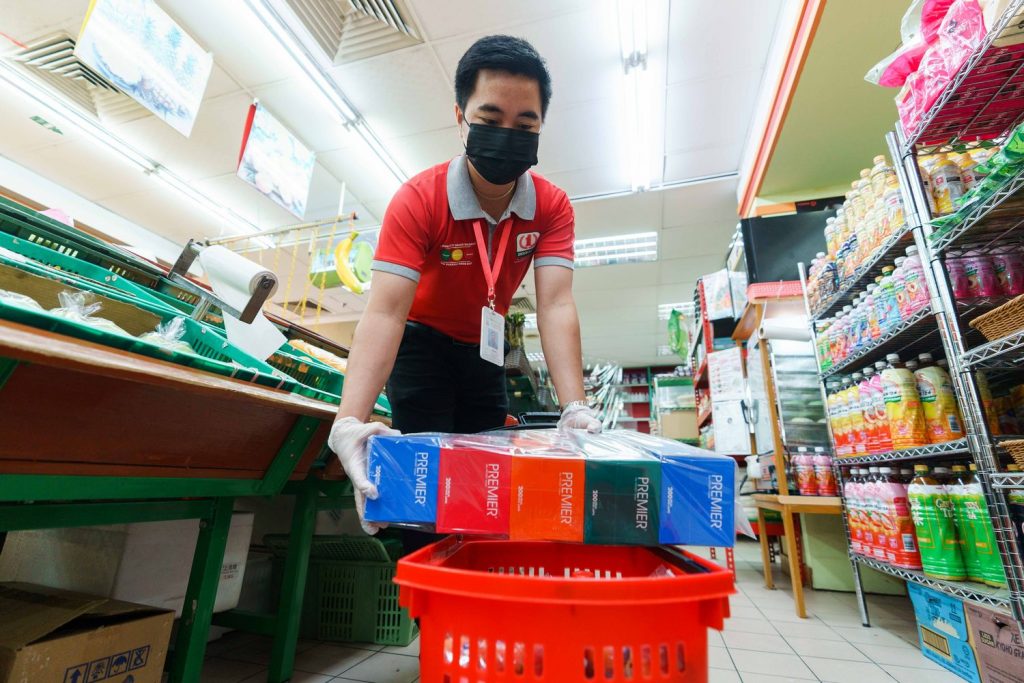 Orders bigger than 20kg will be charged $2 for every additional 20kg or half metre box. These additional fees are pocketed fully by the runner, with ONZ taking 15% of the main delivery fee.
"Recognising not only the increased demand but the risk as well to be a runner, we have increased the runner's commission on the delivery fee from 80% to 85% for the pandemic period," he added.
ONZ has also increased its insurance coverage on each order from $500 to $5,000.
Orders for moving house or transporting larger items such as furniture, fridges and washing machines are fulfilled separately by a transporting company appointed by ONZ, at a separate rate of $60 within district and $70 to $80 for inter-district, which provides the customer with full use of a pick up or truck box with a 16-foot bed.
ONZ updating app to offer marketplace; onboard 1,000 merchants
Azri is planning to roll out a new version of ONZ this October which will offer a mobile marketplace for merchants to list products and services for customers to browse and pay for digitally using credit and debit cards.
This will put ONZ in direct competition with other popular local delivery applications, most of which are focused on food delivery.
ONZ currently has 40 merchants, but the 43-year-old Azri – a former military personnel turned entrepreneur – is ambitiously targeting onboarding a thousand businesses onto their marketplace, which will eventually offer warehouse storage.
"To make the online payment seamless through the app we will integrate an online payment gateway using Pocket and Alipay," he said. "The marketplace will have no commission fees. We will only take 5% off each merchant's transaction if they use our payment gateway, but if they choose to use their own methods (bank transfer), then there is no fee."
Azri, who is also an incubatee of Darussalam Enterprise's (DARe) iCentre, hopes to work with the national business body and the Authority for Info-communications Technology Industry (AITI) to achieve their targets and advertise their services to more businesses.
"DARe has helped us connect with market opportunities including First Emporium," he added. "But it is up to us to be able to pitch and convince the vendors."