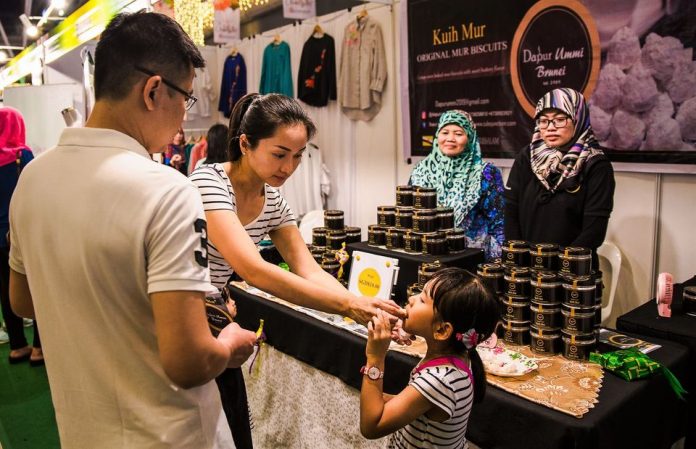 At the back of a wooden stilt house along Kg Ayer in 1989 was when Hjh Ipah Saripah Hj Sirojudin had her first lesson making balls of buttery, melt-in-your-mouth biscuits commonly known as Kuih Mur.
Hjh Ipah had arrived in the Sultanate four years prior from Bandung, Indonesia to marry a Bruneian – Hj Matassim – whose mother was now teaching her the recipes of local staples, from mains to desserts, in the form she describes as rasa asli – a taste that claims to have remained true to the generation it's passed down from.
It might have taken close to 30 years but that same recipe has now found itself outside Brunei for the first time, in round containers containing 30 balls a piece at the Tampines Hari Raya Bazaar in Singapore.
Siti Muna Munirah Mudim, Hjh Ipah's 22-year-old daughter, is walking around with a tray of samples, that many a passer by have to be invited to try before being convinced.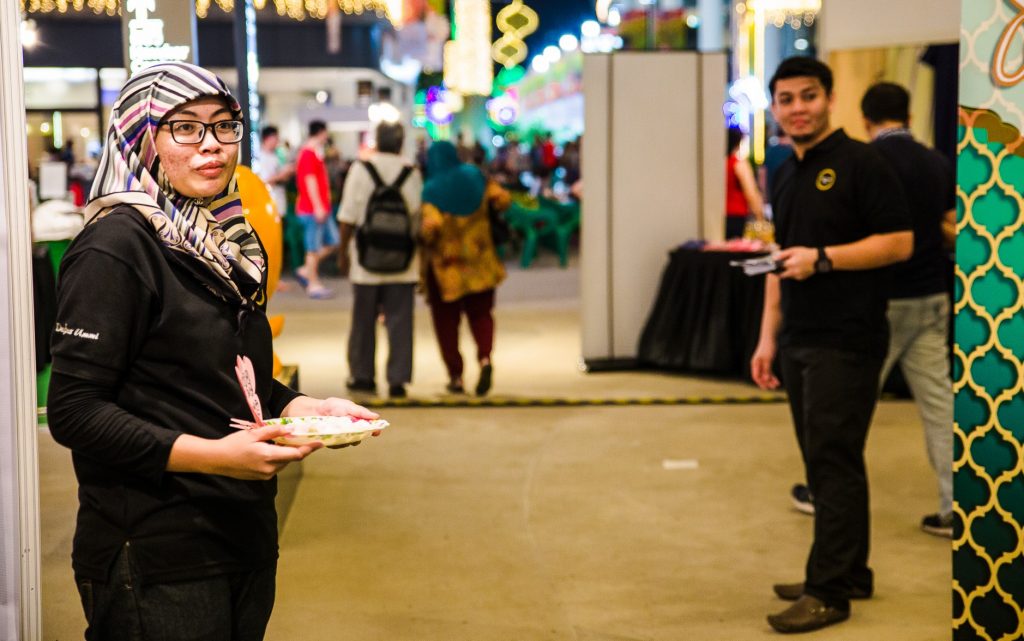 Perhaps it's because kuih mur doesn't sport the bright colours characteristic of many other local cakes and biscuits. At first glance it appears rather plain, nothing more than cream-coloured balls covered in white, powdery icing.
But after a bite, it quickly crumbles and dissolves on the tongue, leaving a full, milky-sweet flavour. A smile of surprise follows, and now a bystander has been converted into a customer. By 10pm, on their first of seven days at the bazaar, more than 100 containers – each priced at $10 – have been sold.
For Bruneians, kuih mur is a staple of the Hari Raya festivities, where it is usually enjoyed on the tables of living rooms during open houses, a tradition where friends, family and the surrounding community are warmly invited – into a normally private family residence – for food, drink and conversation.
The closest equivalent in neighbouring Malaysia and Singapore would be kuih makmur, which carries a similar texture, but with a peanut-based centre.
"We believe that we have the authentic asli recipe," says Muna. "It's a little different to the kuih mur you'll find in the supermarkets. It holds together a lot better; it doesn't break as easy, compared to what you'll find in supermarkets, and the taste smoother and fuller."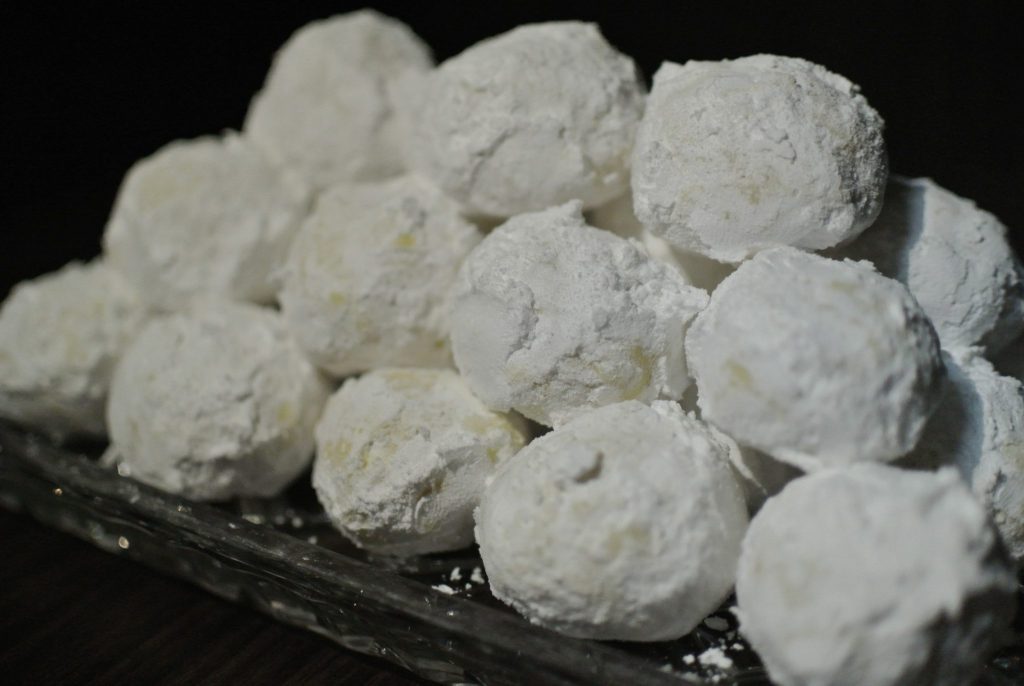 Hjh Ipah, throughout the 90's, would personally prepare the kuih for the household in time for Hari Raya, but at the behest of close family and friends, would also make batches for them.
"Over time, I started to have thoughts of making it into a business," said Hjh Ipah. "But I didn't have the expertise and I didn't really know what the channels were to start."
In 2011, she took the first step in registering the business as Dapur Ummi – translated as Mother's Kitchen – and began to take on increasing orders, some 400 to 500 containers every Hari Raya.
When it wasn't the festivities, she would cook other popular local dishes, including pais daging – a unique form of smoked beef and ayam masak merah – chicken that's cooked with a sweet, tomato based sauce. But it wasn't until 2014, when her daughter Muna – who had finished A-Levels and decided she wanted to go into business full-time – did the Dapur Ummi start to reach a wide audience.
Muna set up social media accounts on Facebook and Instagram for Dapur Ummi, gaining thousands of followers in the process. They would receive orders through messages online, which were later delivered, picked up from their house in Rimba or handed over at a set meeting point of the customer's preference.
"Things were starting to pick up," said Muna. "The response from customers was very encouraging. But we didn't have much of a focus. We were selling everything, a wide variety of food."
Earlier this year, they met with Cube Junction – an online marketplace that mentors and houses local companies with ambitions of a regional reach – at the suggestion of a relative who worked at the company.
Cube Junction's CEO, impressed by the product's quality, suggested that their packaging – a plain plastic container with a red top – be replaced with a smaller container wrapped with a slickly designed sticker, and also referred them the necessary steps they needed to get for Halal certification and nutrition labeling.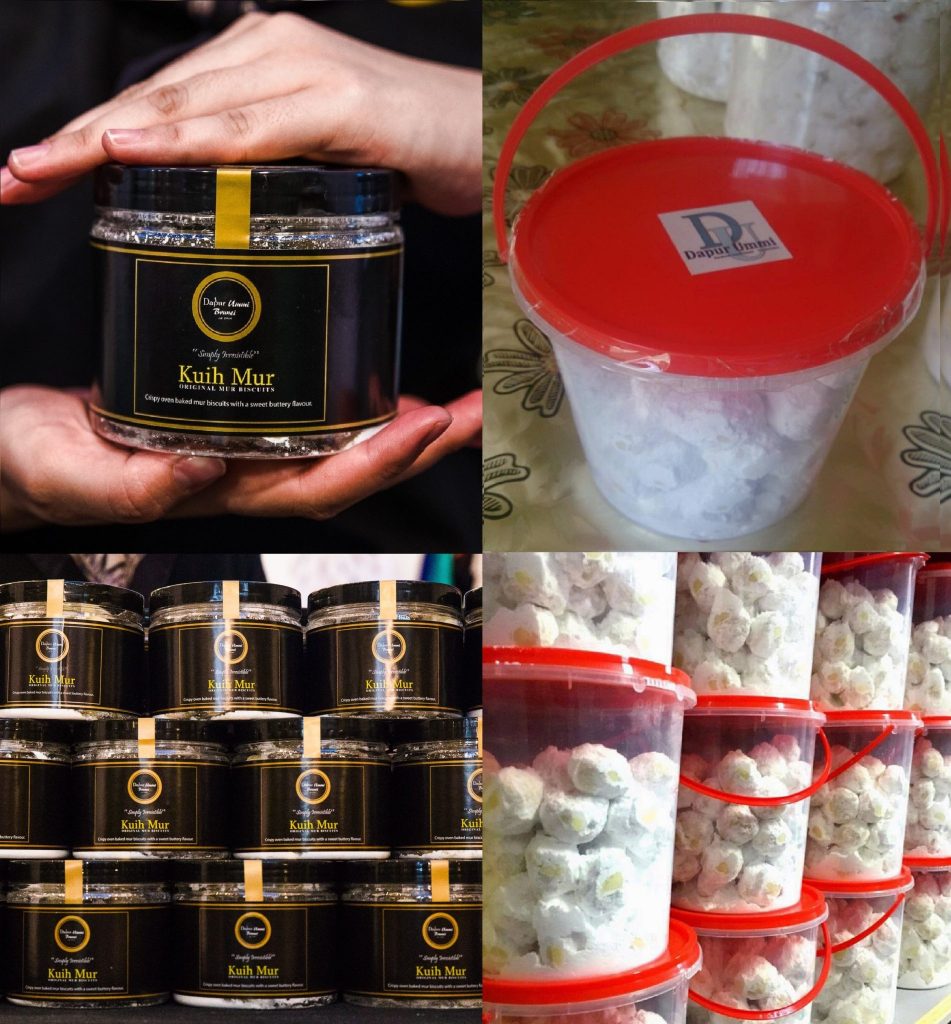 "Once we get the certifications we'll be able to start approaching the supermarkets to sell kuih mur year round," said Muna. But the mother-daughter duo, while undoubtedly proud of their heritage and recipes, continued to harbor doubt at the back of their mind – especially when it came to putting out the business in the public eye.
"We believed that expos, especially ones overseas, were only for big, established companies," said Muna. "Companies with factories and many employees. Dapur Ummi is just me and my mother. But I've been reading more of the stories of local businesses and how many like us have been brave enough to take a chance to get their name out there. That really gave me and my mother the confidence, that even though we're small, if we get ourselves out there, we have the chance to grow this business much more."
After arriving on Friday, Hjh Ipah, Muna and her two elder brothers, head straight to Tampines. As they begin to set up for their public debut the following day, a few visitors stop by to inquire, and just like that, Dapur Ummi records their first sale.
"This bazaar is a real test to see if our products can sell in a foreign market," said Hjh Ipah. "And so far we have been really humbled by the response."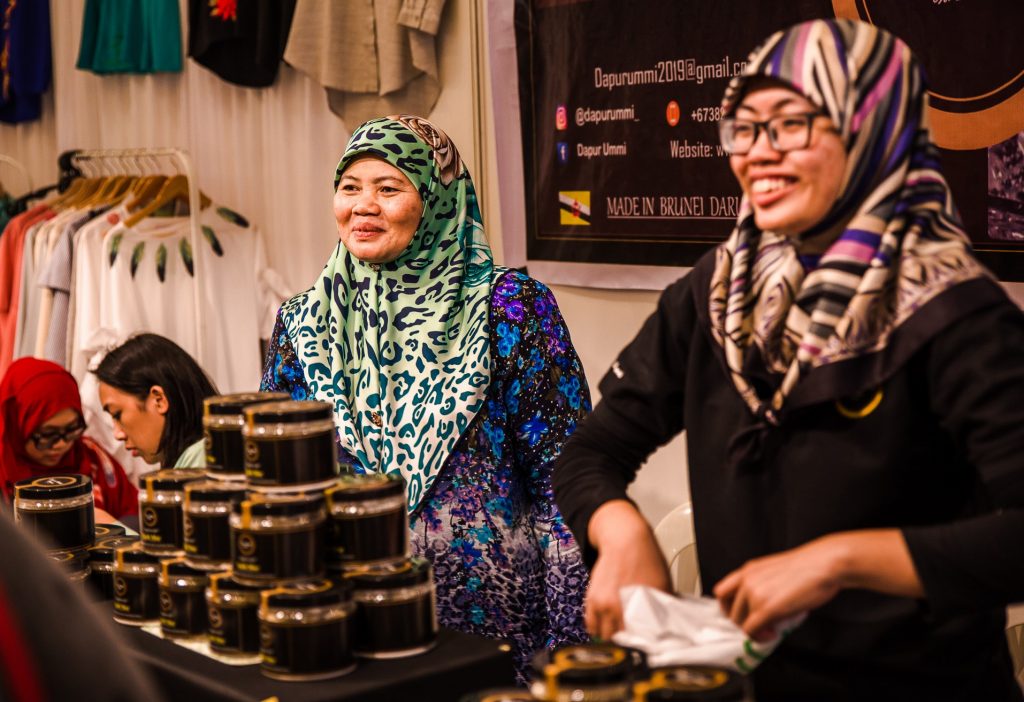 Dapur Ummi will be at Our Tampines Hub's Level 1, Singapore until June 16. Follow @dapurummi__(that's double underscore) on Instagram or Dapur Ummi Brunei on Facebook for the latest updates. To place an order contact +6738258813 or buy online at www.cubejunction.com