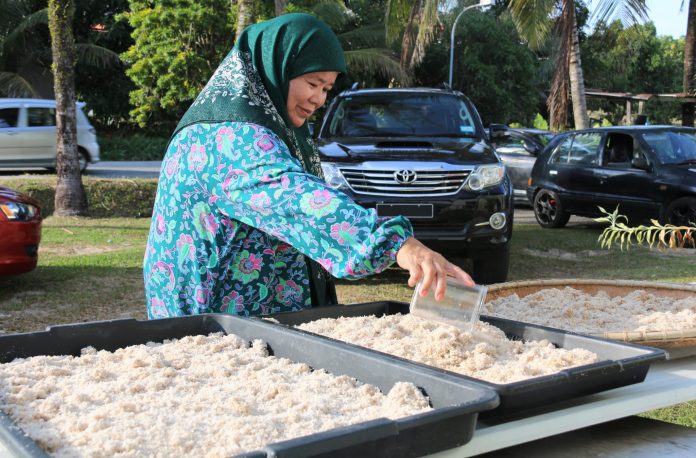 In a nondescript house along Simpang 637-84 in STKRJ Lambak Kiri, Salmah Ahmad (pictured) and her cousin, Halimah Hj Tuah, are laying out trays of grated coconut to dry in the sun.
Depending on the heat, the process takes one to three days, before it's brought inside, mixed with powdered rice and stirred continuously on a hot stove for three hours.
The final product – sesagun – is unfortunately foreign to most millenials, and you'd be hard pressed to find it on the shelves of everyday items in a Bruneian household.
It seems that sesagun's fate is resigned to Brunei's history books – where some say it was brought by Java settlers arriving to the Sultanate in the 1500s. Or can it make a comeback?
Salmah however, isn't pondering or concerned with orchestrating a grand revival for this former Bruneian favourite. For the 65-year-old single mother, who has been the family breadwinner since she split with her husband 20 years ago, it's about making ends meet.
"When I retired from Pusat Al-Islah (Brunei's drug rehabilitation centre) in 2007, I needed to find a way to still earn income to continue paying for my house," said Salmah, who previously taught drug users cooking and other household skills. "At the time, I had been selling here and there, mostly personal orders from family and friends."
After registering Syarikat Dayang Samah @ Salmah dan Anak-Anak, things were off to a good start. Having shown potential, Salmah received a $2,000 grant from the Brunei Economic Development Board in 2009, which she used to by a frezeer and mixer, and not long after a $3,000, interest free loan from the Community Development Department (JAPEM).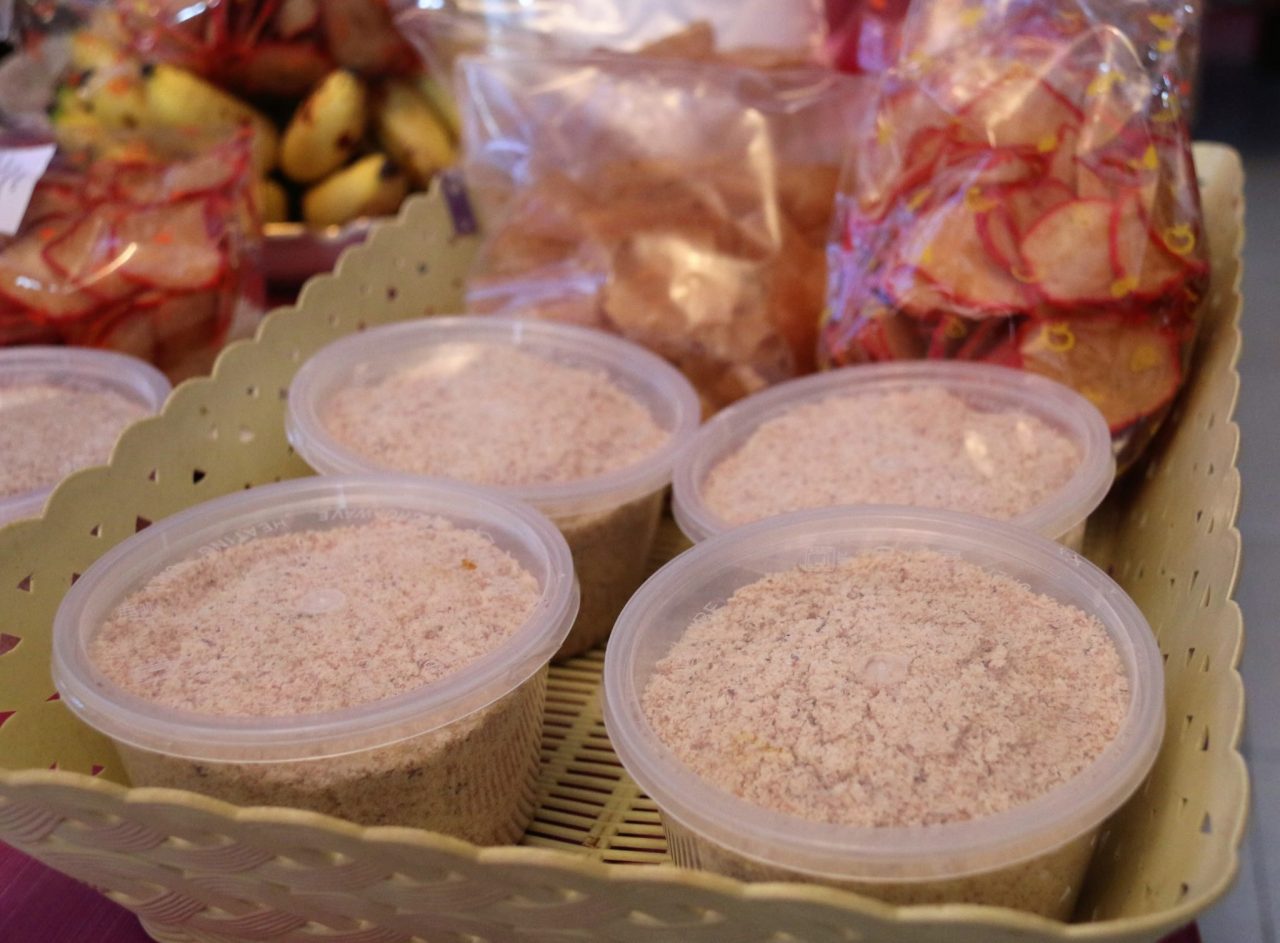 Over the years however, the equipment broke down, and today, the majority of the work is done manually, with Salmah's two sons who live with her helping her out.
Production of sesagun eventually evened out to be a segantang of rice, about 2.8 kilogrammes, and 10 coconuts a week; enough for about 50 packs. Recently however, it's tripled.
"We usually follow sales events with JAPEM, the Department of Agriculture and Agrifood and this year we even had the chance to join the first Made in Brunei Market (MIBMF) fair at Bridex," said the 65-year-old who has seven kids, five who live with their own families. "But what made the biggest difference was when we suddenly started getting orders after my nephew's friend posted a message online."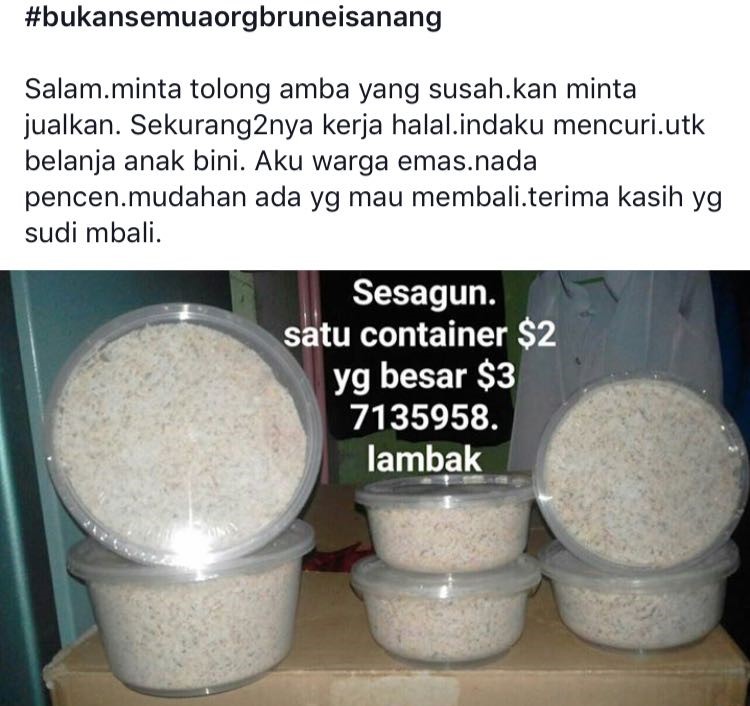 The outpour of support has allowed Salmah to increase production to about 150 packs a week, sometimes more.
"Alhamdulilah it was quite unexpected; we are now cooking batches using 10kg of rice and about 30 to 40 coconuts," she said. "Hopefully we can satisfy the customers to keep coming back so we can maintain this demand."
With MIBMF serving as a primer leading up to the 14th China-ASEAN expo in Nanning, China next month – where more than a 100 Brunei companies have been shortlisted to attend – it seemed that Salmah's humble sesagun might even make it overseas for the very first time.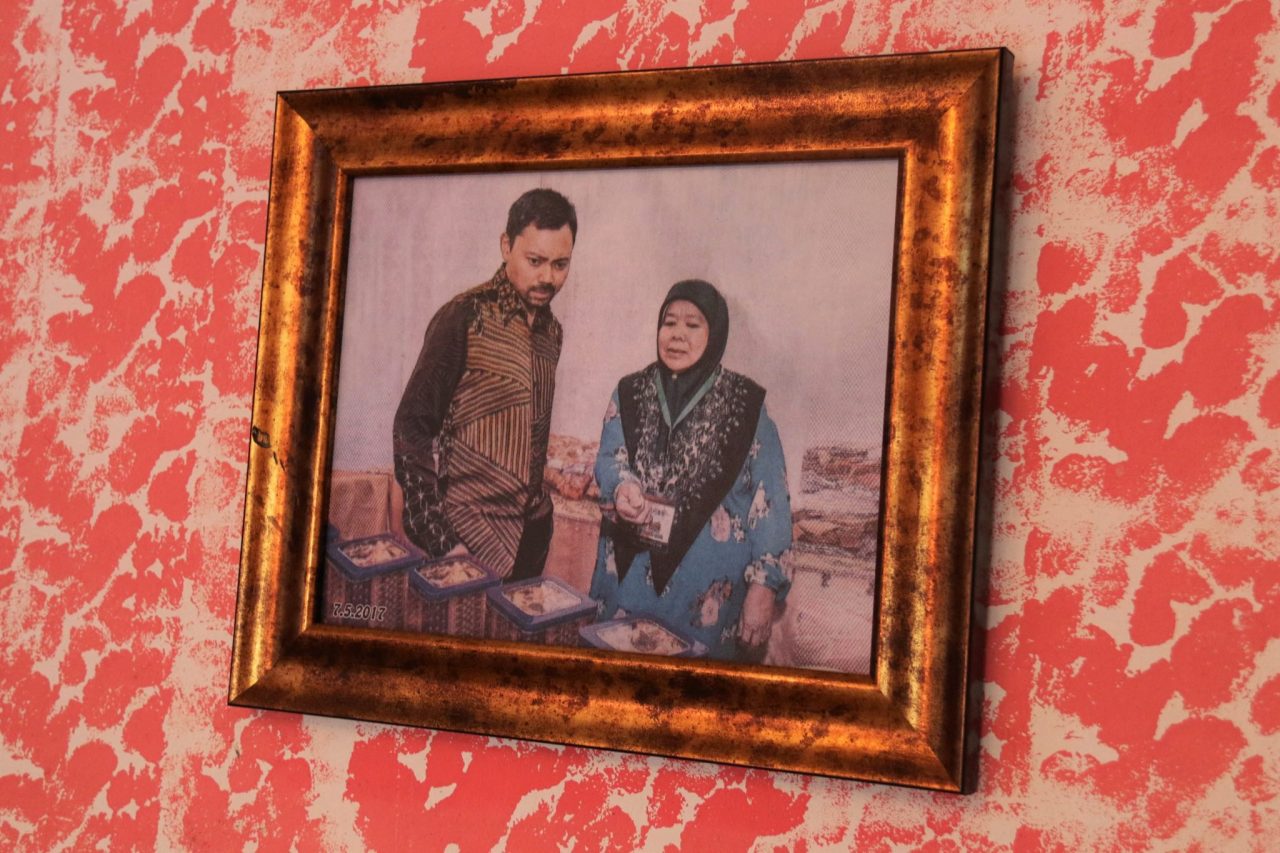 However her products still need to undergo tests for halal, nutritional value and shelf life. Given the short time frame and the costs associated with certifications and travel, Salmah has decided to pull out.
"We will try again, hopefully next year, where we can plan better," said Salmah, who has about $14,000 left to pay on her house, which she'll clear in just over eight years if she keeps up monthly repayments of $140.
"Right now, I have to focus on making sure that I have enough to cover the house. I also believe there's still plenty of opportunities for us to sell to customers in Brunei that we haven't tapped into yet."
To buy Salmah's sesagun and other products you can contact her directly at +6738619450 or her son at +6738934884. The pick up point, typically Salmah's house is Number 29, Spg 637-84 (the house right after Spg 637-84-85), STKRJ Lambak Kiri, Mukim Berakas.