The first spot in Kontena Park's row of eight units is home to one of its top performing businesses in the establishment's four year history.
While the staff shortages that recently made national headlines continue to be a real issue facing restaurants nationwide, the 24-year-old duo behind Moistjito face no such problem with their roster of 17 Bruneians, almost all whom are students and graduates of Universiti Brunei Darussalam (UBD).
Founders Sheikh Md Aiman Hj Sheikh Md and Md Nasrun Nizar Saifulbahri exercise creativity in developing Moistjito's offerings, but their overall menu is straightforward: eight options of mocktails, complemented by burrito and tacos, with a base of chicken or beef.
On any given day, Moistjito's team – made up primarily of part-timers – are boisterous as they prepare customers' orders, and jovial in skits for their growing TikTok following.
As the founding duo puts it, they're simply having fun. From the outside, this freewheeling operation challenges traditional notions of engineered success. Is Moistjito just an anomaly or an example of the new generation of Brunei F&B?
Balancing business and studies
Aiman and Nasrun first met on UBD's student council in 2015. Part of their duties in improving the overall university experience was to organise events and activities, which includes providing opportunities for students to gain experience doing business for the first time.
The duo gained perspective on what drew crowds and what sold best. After noticing that mocktails did particularly well at outdoor events, a lightbulb went off in Aiman's head. He was familiar with their preparation – his mother's mocktail mojitos were always popular at family functions, so why could he not do the same as a business?
In 2017, Moistjito sold out at their first event, Sahur Saturday. Organised by Big Begawan, the Ramadhan-only evening pop-up market was the perfect fit.
"It was a crowd puller and full of emerging local F&B businesses so we fit right in," said Nasrun. "We were one of the few vendors that night selling (cold) drinks so we got an unexpected response."
"Thinking back, our drinks (at our first event) were nothing compared to what they are today," added Aiman. "But that first bit of encouragement we got from that event really helped pushed us to begin this journey."
Apart from the year they spent doing their student attachment in Thailand, Nasrun and Aiman made a commitment to be a regular presence on the local pop-scene while continuing to balance their studies until they graduated in 2019.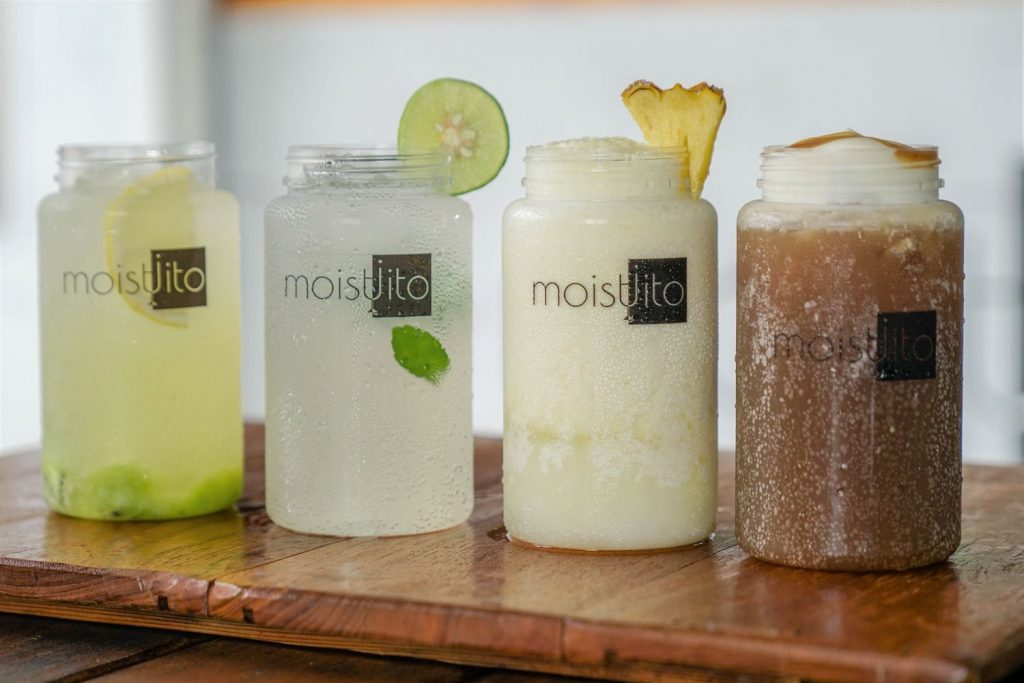 An early start at Kontena Park
While keeping Moistjito active through pop ups, Aiman and Nasrun would both take up office desk jobs after graduating.
Nasrun lasted a little longer than Aiman, who decided he would rather be on his feet, in the kitchen, gaining experience one step at a time as he inched towards his dream of running his own F&B outlet one day.
"I started working at Top Folk, Kontena Park in August (2020), where I got the opportunity not only to serve on the frontline but work the kitchen as well," said Aiman.
"I also got a feel of what being at Kontena Park was like. Top Folk is a pioneering local business (of better burgers) in their own right and they really helped mentor me in eventually applying here as well."
Darussalam Enterprise (DARe) – who own and manage Kontena Park – envision it as a F&B retail incubation space where homegrown businesses can gain experience operating under an affordable rental rate of $350 monthly.
Businesses are grouped into cycles lasting up to 12 months, after which they are expected to graduate from Kontena Park to their own spaces, making way for a new crop of businesses.
Top Folk – as the the top performing business of Kontena Park's second cycle – was then the ideal training ground for Aiman, who subsequently put in an application for Moistjito to be a part of the third cycle.
Moistjito did not make the initial cut, but were given the opportunity on short notice to take up the first unit after other shortlisted businesses pulled out. They accepted without hesitation, and have since followed through on their potential, rising to the highest percentile of revenue.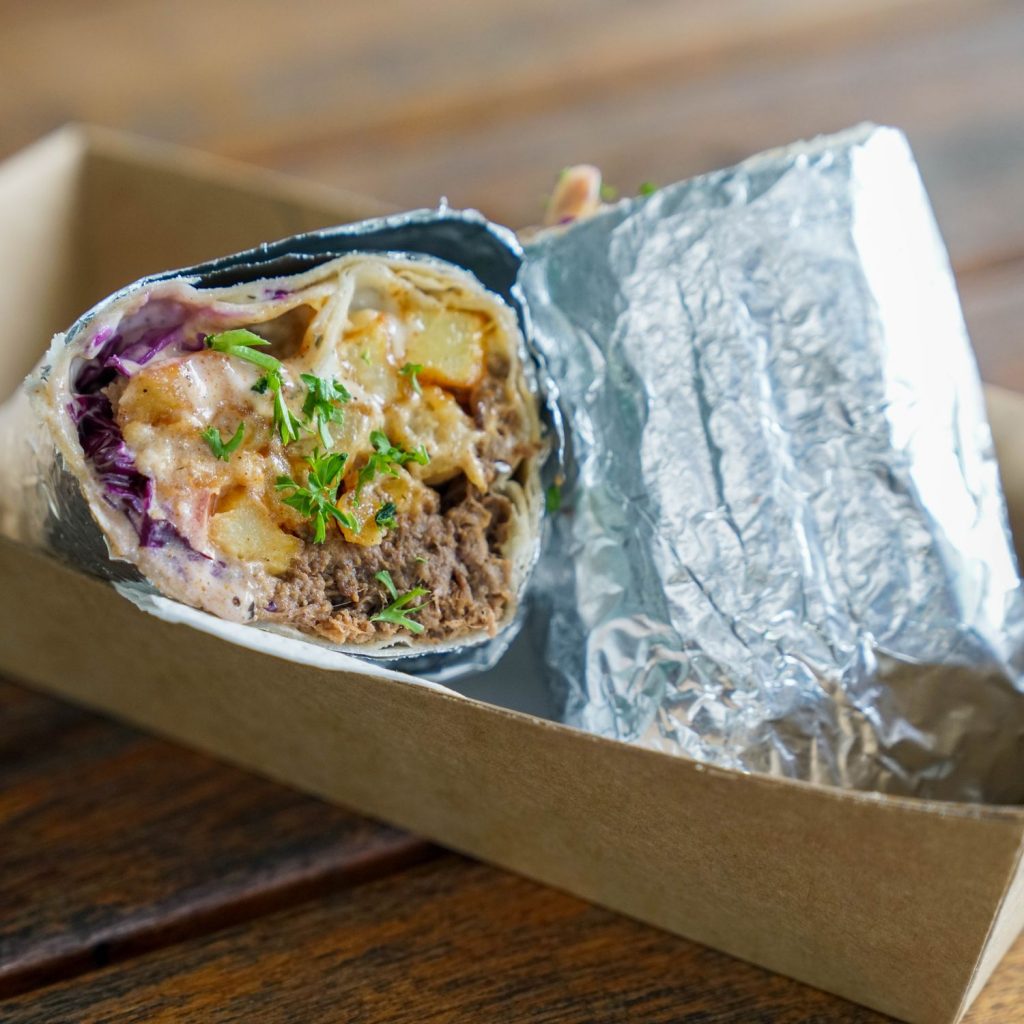 Success is engineered, just not traditionally
Local news reports of staff shortages plaguing restaurants lamented that establishments that have relied on foreign workers were struggling to replace them when they left the country for personal or contract reasons, partly due to travel restrictions in place with the ongoing global COVID-19 pandemic.
At $17 for a full-day's work, Moistjito's starting salary for kitchen and frontline staff is fairly standard. It's not hard to find establishments with better starting pay, so Moistjito's ability to have a relatively large and productive workforce clearly isn't about the size of the paycheck they offer.
You could argue that Moistjito's founders are lucky to have a large group of friends they can rely on to be their staff, but this conclusion is unfairly dismissive. After all, most seasoned business people would argue that friends and business do not always mix, and most HR professionals would cringe at hiring based off personal connections.
So what exactly makes Moistjito tick? Some of the answers can be found in their shrewd acceptance and understanding of Brunei's evolving socio-economic fabric and newfound ways of working.
At first glance, Moistjito's workforce is very large; almost unnecessarily so. Their Kontena Park outlet could survive on three to four people. But since the majority are part-timers who are paid daily and seek flexibility in working days and hours, Aiman and Nasrun need to keep their overall pool of employees high.
The founders also accept – and subsequently do not stress over – the reality that local employees treat entry-level jobs as transitory while waiting for opportunities for better paying corporate or government positions, or as grounds to gain experience to start their own businesses down the line.
"We really expanded (our workforce) to 19 (including the founders) with the opening of Kontena Park, because we want to be consistently operating (the outlet) while also having the capability to do catering and still doing pop up events which helped us gain a following in the first place," said Aiman.
"We also keep the numbers high because people may switch or leave. Today, people see jobs as a chance to try something new, not just because it's something they studied in school," added Nasrun.
"People also want flexibility; sometimes people choose shifts because they want to work alongside their friends or certain people, and that's okay with us. Some people prefer to work events, some like (making) drinks, other prefer preparing the food. When we're hiring, we listen – what do they like to do?"
Nasrun, who oversees HR-related matters, can then be painted as understanding, but it's also unfair to stretch that explanation to mean that their overall operation is free wheeling. The founders are always on site to help and ensure everything runs smoothly, setting standards for service delivery that must be maintained throughout.
"Some people think of our generation as care-free, but the truth is we need to be more careful than ever. The reality is everything today is made public online; any bad service or incident can go viral and can effectively end a business overnight. This is something we are always aware and we try to do our best to avoid," said Aiman.
"It's not just the quality of food, or the service we provide. Our content online must be engaging without offending people."
Moistjito's founders are still keen to test new waters however, committing the majority of their limited monthly marketing budget to outsource content creation for their TikTok account that they set up earlier in March.
While established local brands and marketers are still deliberating whether TikTok is too casual, fringe or niche – or whether engagement on the platform converts to sales at all, Moistjito is already reaping the reward being by being a first-mover.
Their TikTok audience now exceeds their Instagram following, and in the month following their account opening, they recorded their highest post-opening sales to date.
It's too early to tell if Moistjito's HR approach of operating a full-time business with part-timers sourced from their extended social and university circle will be sustainable in a the long-term.
For the time being, the founders believe they are simply making the most of the resources and connections that a small startup can have – everything from their company logo, stock photos to their TikTok content has all been created by former students from UBD.