Brunei businesses are invited to join the upcoming ASEAN Business Roundtables, ASEAN Business and Investment Summit (ABIS), and the ASEAN Business Awards (ABA) which are being hosted this year in the Sultanate as part of the country's ASEAN chairmanship.
Brunei's ASEAN Business Advisory Council (ASEAN-BAC) – the country's private sector representative to ASEAN – will be organizing the three events. The ABIS and ABA will be held at the International Convention Centre (ICC) on October 25 and November 10 respectively.
The roundtables, which serves as a prelude to the the bigger ABIS and ABA, will take a deeper dive into fintech and digital skills in August and September. These events were officially unveiled by Brunei's ASEAN-BAC yesterday at the ICC.
His Majesty the Sultan and Yang Di-Pertuan of Brunei Darussalam along with other heads of state from ASEAN and its partners are anticipated to join ABIS, which is billed as ASEAN's most important business event of the year, bridging both the private and public sector for strategic dialogue.
This year's ABIS carries the theme 'Building Our Sustainable Digital Future' in light of the challenges posed by the ongoing COVID-19 pandemic, tying into the wider strategic thrusts under Brunei's ASEAN chairmanship of recovery, digitalisation, and sustainability.
All the events will be done in a hybrid format – with local attendees at ICC and the majority of foreign participants joining virtually.
Minister at the Prime Minister's Office and Minister of Finance and Economy II YB Dato Seri Setia Dr. Awang Hj Mohd Amin Liew said Brunei as ASEAN Economic Community Chair has put forward 13 priority deliverables to help further economic integration in response to the challenges posed by the pandemic under the ASEAN Comprehensive Recovery Framework.
"Bringing together leaders of ASEAN, business, and civil society to discuss the key issues facing us all helps us crystallize our thinking on what needs to be done to build back stronger together," said the minister during his keynote address.
Greater participation for Brunei businesses sought for ABA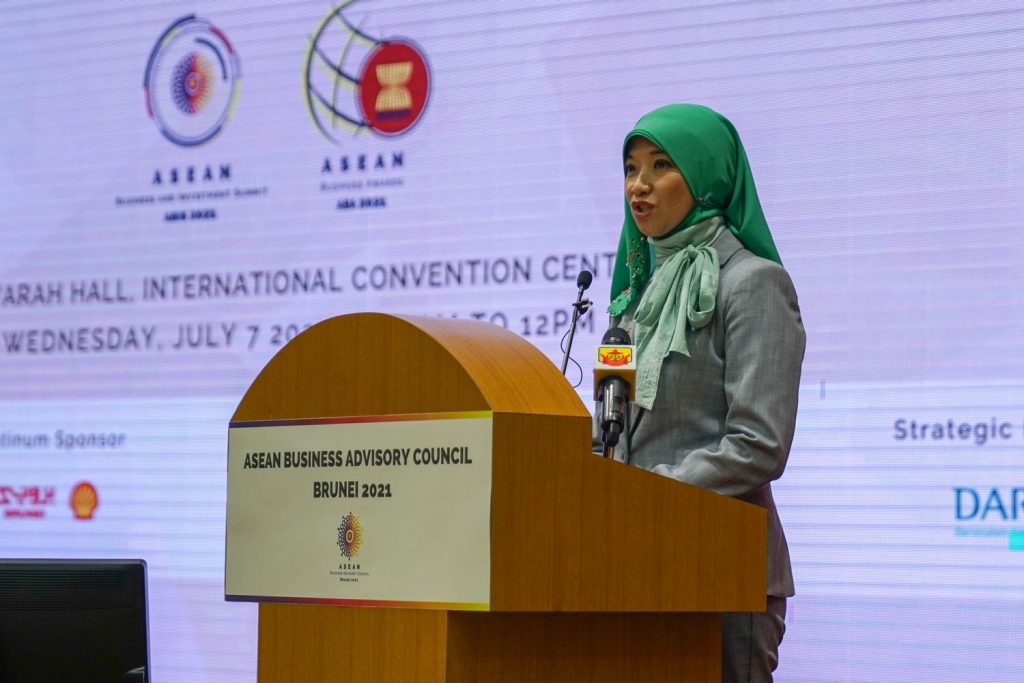 ASEAN-BAC Chair YB Siti Rozaimeriyanty DSLJ Hj Abd Rahman (pictured) and Darussalam Enterprise (DARe) CEO Javed Ahmad urged Brunei businesses to nominate and apply for ABA when the categories are announced later this year.
As a strategic partner for ABA, DARe will be developing award categories as well as managing the application and judging process, which will comprise officially appointed representatives from each ASEAN member state.
Brunei last hosted ABA in 2013, and while there have been several notable local recipients including this year's ABA Chair Hj Musa Hj Adinin, Poni Group, and Al-Huffaz Management, annual applications for the award have been relatively limited.
"We want to ensure that we have a large participation from Brunei," said Javed. "Generally we had smaller participation but working with SMEs you realize that whilst we have a small population, in some areas we do punch above our weight.
"The business awards are really important to recognize the hard work being contributed by business leaders within the country who also can represent (Brunei) at the ASEAN level," he added.
YB Siti Rozaimeriyanty added that the ABA will also feature a new category this year – the Brunei Special Awards – that will recognise businesses with social and community impact.
"Brunei has a lot of social enterprises as well, and what they actually have done in terms of community. We want to be able to emphasize (and recognise) the different strengths in Brunei (businesses)," she said.
She added that ASEAN-BAC will provide support for businesses with their applications.
ABA was launched by ASEAN-BAC in 2007 to recognise enterprises that have excelled in a particular area and contributed to the development of the region's economies, especially in integrating with neighboring nations under the ASEAN Economic Community (AEC).
To find out more about the events, email the organising committee at aseanbac2021events@creativobrunei.com