By the early 1970s, Brunei had launched the world's first large scale liquefied natural gas plant and was on track to have its biggest oil boom to date. Over in the quaint, costal oil town of Seria, Lee Poh – a father of 12 – was at a crossroads.
His odd end jobs over the years did not earn enough for his growing family. After several unsuccessful attempts at business, he took a calculated risk to draw out his savings to import a small kuey teow machine from Singapore.
Setting up the machine at home, Lee, together with his wife, stuck with three ingredients to churn out the first batch of their now famous flat white noodles in 1972 that they would cook at their roadside food stall.
Rice, soaked overnight in water, was then ground into a puree; which was then boiled and laid out as a sheet. Once the sheet was cut, vegetable oil was added to keep the noodles loose.
Lee used rice instead of rice flour, with no additives, preservatives or seasoning. The result was a distinctly thinner noodle – both in width and thickness – which most Bruneians now recognise today as Seria Kuey Teow.
The origins of Seria Kuey Teow to this day have been undocumented; limited to oral history that's often muddied further by word of mouth.
For the first time, the granddaughter of the late Lee, Jia Chee, tells her family's journey. From roadside foodstall to Mee Sungai; this is the story behind Seria Kuey Teow.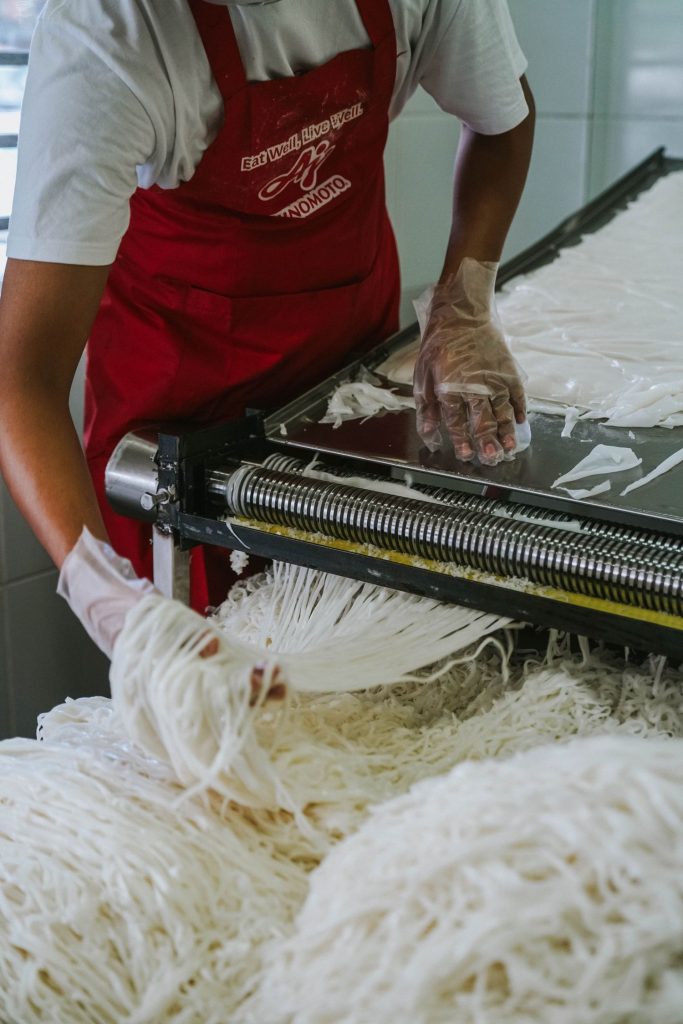 Seria Kuey Teow in the capital: the birth of Mee Sungai
The destination that pops up after googling Seria Kuey Teow is Tasanne Fast Food in Menglait, Gadong.
Online food guides point to unit G22 of Kompleks Sri Selera Seria, commonly referred to as the Seria Food Court.
Both are operated by Lee's sons: Teck Ming leads the Seria operation, while Teck Haw oversees Tasanne, named after his Thai wife who joins him at their shop everyday.
Tasanne Fast Food makes their kuey teow in house as per the Lee family's original recipe, so many have chosen to call it Seria Kuey Teow, but owing to their location next to Sungai Kedayan, others prefer to call it Mee Sungai.
Teck Haw and Tasanne continue to be a constant presence at their three-unit kopitiam since its launch in 1992, their contrasting personalities complementing their operations: Tasanne's affability is anchored by Teck Haw's more stoic-like character.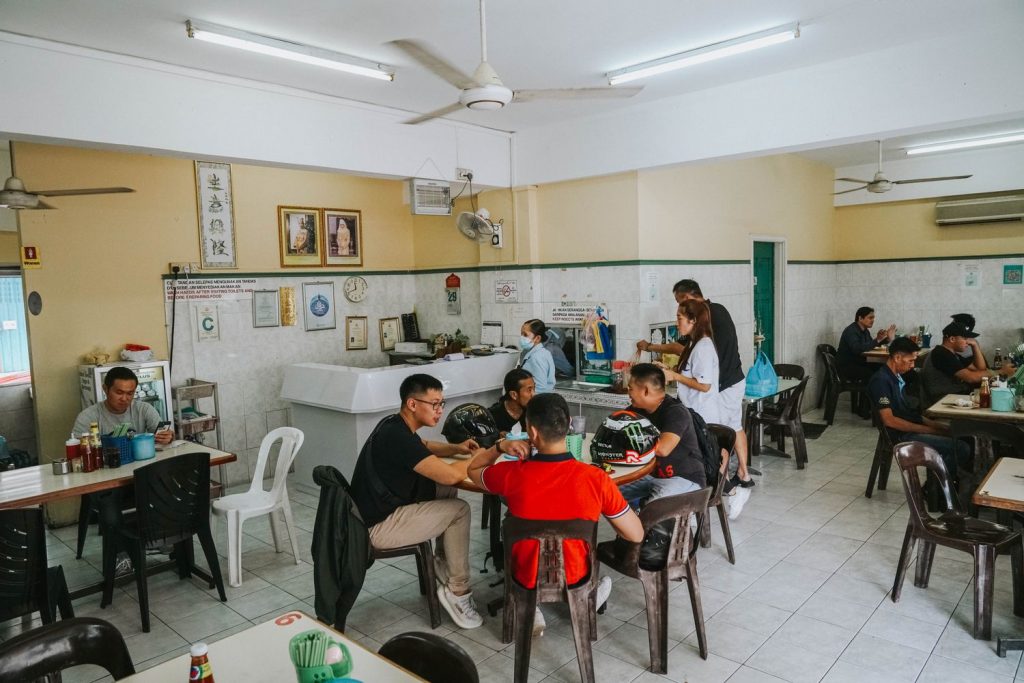 It was Teck Haw's tenacity and entrepreneurial drive that saw him bring his father's recipe to the capital. Growing up with 12 siblings – several who were folded into the business operations – Teck Haw knew opportunities to expand the business in Seria, despite the oil and gas boom, would be limited.
When he married his wife, a tour guide from Bangkok, in 1985, Teck Haw was determined to carve out his own path for his future family. Three years later, he began the daily commute to Bandar Seri Begawan by bus to operate a food stall nearby the capital's main bus stop.
For the better part of four years, Teck Haw would continue his daily routine of bringing his family's fresh kuey teow to Bandar to be fried up on the spot before returning home. By 1992, he had saved up enough to open a single unit in Menglait, and three years later expanded to their current, three-unit spot.
Kuey teow factory: Tasanne Food Manufacturer
Faithful to his family's recipe, Teck Haw continued to buy fresh kway teow from his family in Seria for another 20 years to be fried up at Tasanne.
The Seria operation – now led by his brother – would send kuey teow packages by bus everyday to the capital, which Tasanne staff would pick up.
While the arrangement was functional, Teck Haw's daughter Jia Chee believed a natural progression for Tasanne would be to make the noodles in house.
With the approval of her parents and brother Teng Hui who also works for the business, Tasanne Food Manufacturer set up as a factory in 2016 in nearby Menglait.
Jia Chee – then a 25-year-old part-time tuition teacher and real-estate agent – joined the business full-time.
A series of missteps prevented production from entering full swing. Faulty equipment and attempts at refining the recipe and shortening production times prevented consistent output for the first year.
They eventually settled on borrowing six figures to buy a second hand, industrial-grade kuey teow-specific machine from Malaysia, capable of churning out several hundreds kilogrammes daily.
"With our own factory we could explore with shortening the preparation times, or swapping (actual) rice for rice flour to make the noodles," said Jia Chee.
"But whatever our new mixes or methods were, we realized that nothing could match the original: the three-ingredient recipe, or its 14+ hours preparation. The texture of the Seria kuey teow today is instantly recognizable, and that's what our customers have come to expect, so we continue to prepare and serve it that way."
Tasanne Food Manufacturer now produces an average of 200kg of kuey teow noodles daily, supplied primarily to their restaurant, Kontena Park outlet and Sim Kim Huat stores nationwide. Several eateries who like to offer authentic Seria Kuey Teow, are also on their order list.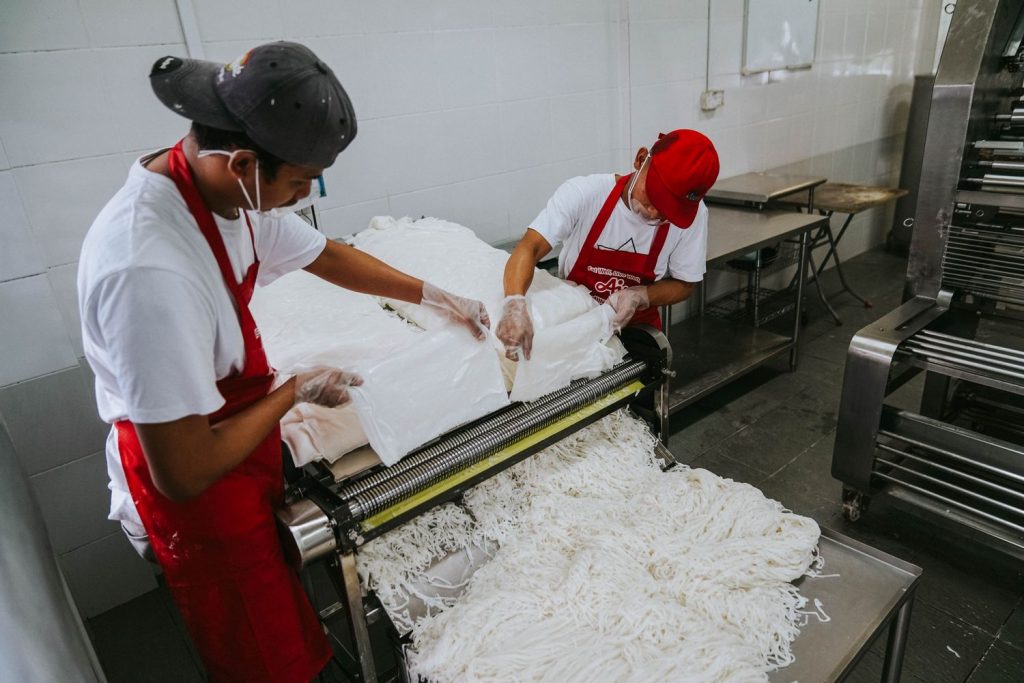 Branding to keep Seria Kuey Teow relevant for generations
Much like their parents and grandparents before them, Jia Chee and Teng Hui have ambitions of sustaining the business for generations to come.
The restaurant space in Brunei is vibrant with no shortage of newcomers with novel offerings, and Tasanne – despite having a loyal base – must do more to market themselves to the newer generation. Especially since the dish of Seria Kuey Teow continues to pop up on menus of restaurants across the country, even if they do not offer the signature noodles produced by Tasanne.
"Today so many places offer Seria Kuey Teow that many people do not know what the difference is anymore compared to regular kuey teow," said Jia Chee. "A lot of Bruneians also don't know where it originally comes from, or where they can find the authentic version today."
Ironically, Jia Chee insists the names of Seria Kuey Teow or Mee Sungai were given by the customers that frequent their establishments. This is corroborated by their older menus, which simply list their dish as kuey teow.
Earlier this year, Jia Chee successfully applied for a unit at Kontena Park, a F&B retail incubation programme by Darussalam Enterprise (DARe) which has enabled her to bring Tasanne to new audiences and join business development courses.
"By joining Kontena Park we have a clearer view of what our future expansion looks like," said Jia Chee. "We will most likely need a larger industrial sized unit for a factory (as opposed to our regular shopfront unit) to expand production, as well as a Serusop outlet potentially.
"To help build our brand, we recently developed our own logo along with new branding and started our social media accounts, where we try to tell the story behind the business. We want to be able to expand the eatery as a franchise (or chain).
"Our product (compared to the competitors) is 100% free of preservative, additives or any artificial ingredients, so we also hope to market it as a more wholesome, healthier kuey teow brand in stores like Supa Save that's only a little bit more expensive (10 cents to 50 cents) than other mass produced brands."
If there is any symbolic foretelling of their longevity, it's perhaps the small kuey teow machine that grandfather Lee bought in 1972. Without fail, it continues to churns fresh noodles in Seria everyday.