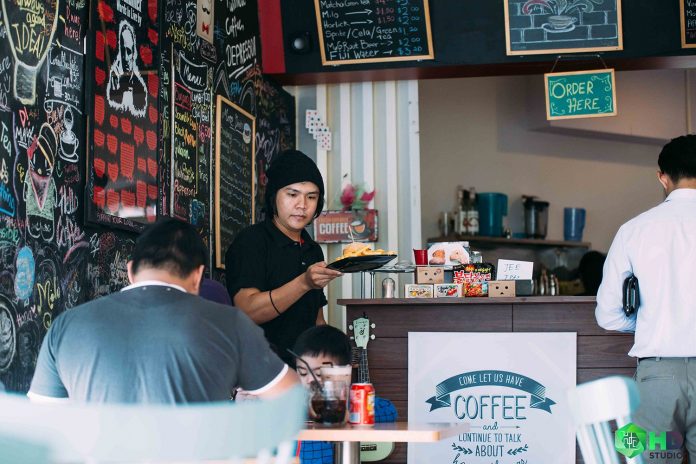 Dwarfed by an enclave of electronic retail stores, spritely chatter begins to fill the narrow hall of Gerai De'Ceriaa located at the edge of a shop lot in Kiulap.
12 customers are tightly seated across three full sized tables while another four huddle across two smaller tables. They tuck into burgers lathered in BBQ sauce, served with fries dressed in orange cheese.
A young gentleman with wavy, shoulder-length hair mans the counter while three others, all Bruneians still in their 20s, prepare food and bus the tables. In an industry filled with foreigners, Gerai De'Ceriaa has none.
Occupying only half a shop lot, with a kitchen powered by three small stoves using portable gas cartridges, it's a modest operation at best, that if judged solely from its exterior – most won't think twice about.
Yet in the evenings, as the café struggles to seat all the customers coming through its doors, a case begins to build that De'Ceriaa is on the cusp of something greater.
Monthly sales for the miniature café now teeter over $10,000, and when Ramadhan arrives, tents are spaced out in the parking lot as diners prepare to break their fast.
But business wasn't always this brisk. When a 24-year-old Mohd Nur Asyraf Noraini took a gamble in 2014 to open the store, days passed where less than ten dollars exchanged hands.
"One day I remember as the absolute worst," he recalls with a slight clench in his eyebrows. "From 10am to 10pm all I sold was two tins of 100plus."
Doubt would set in, and Asyraf – better known as 'Acap' to close friends and family – would begin second guessing his decision to start a business.
"Many times passed where I didn't think I could make it," says Acap. "But this was my dream. This is what I wanted."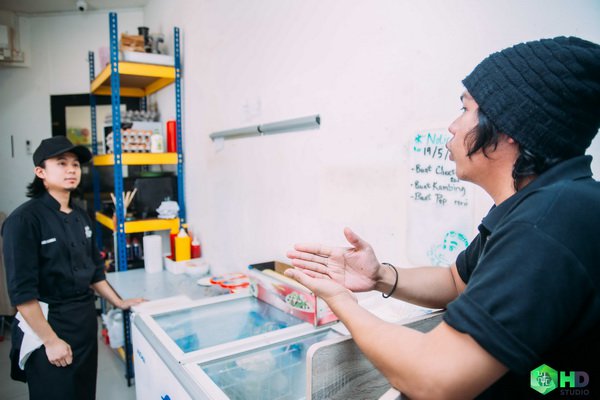 A business threatening to close however, wasn't the hardest hand the 26-year-old had been dealt. Acap was only four when his family was rendered homeless by a blaze that destroyed their house in Kg Ayer.
He achieved little in both his primary and secondary education, and left school with just three O'Levels in hand. It was in the classrooms of MTSSR, now known as the Institute of Brunei Technical Education's Sultan Saiful Rijal Campus that he first discovered the culinary arts.
"Back then cooking courses were amongst the last options," said Acap, recalling the words of the officer conducting his entry interview, who said at point blank: "After you graduate just apply to the army for fire brigade".
Acap graduated two years later and began to ply his trade at the back end kitchens of Royal Brunei Catering group and the Empire Hotel & Country Club.
He showed promise, but soon opted out of working his way up in a traditional establishment, choosing instead to join a friend at his pop up burger shack in Anggerek.
"I wanted to be on the frontline; greeting and serving customers," he said. "With the direct feedback I could then improve my cooking. And whenever I would tire – all it took was a happy customer's smile lift me back up. It was my reward."
Acap eventually split with the start-up over a disagreement, but the first flames of entrepreneurship had already been stoked. He went back to the drawing board and developed his own brand – 'UUB' – from home.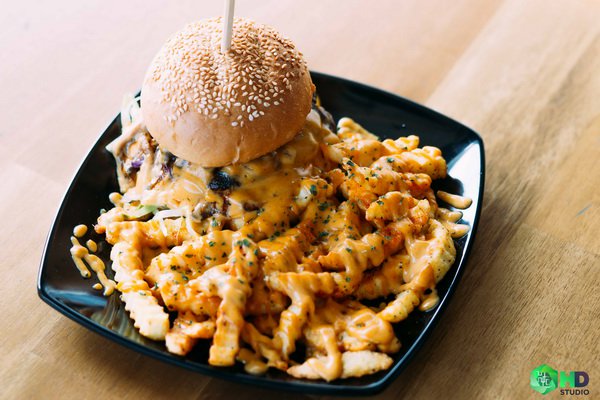 "Unassuming but holding great potential for power," said Acap. "That's what the UUB character was in the Dragonball comics. I liked that idea for my business. It's more than what first meets the eye."
By 2013, UUB and its mushroom cheese and pepperoni burgers were a cult hit, building up an underground following at school hostels. Acap would routinely prepare orders between 30 to 50 burgers for delivery, earning a net income of up to $1,500 a month.
He leveled up his game by taking barista courses at MTSSR, and rode a steady momentum that eventually saw him winning a small tender to run a kiosk at a government school of his choice.
"I was shocked when I came first out of all the applicants," said the 26-year-old as he quickly picked MTSSR as his site of business.
To gain the edge over the other kiosks and canteen, Acap would rise at 3am to prepare his signature UUB meals and arrive at MTSSR at 6am, serving customers their first hit of coffee.
His popularity caught the eye of his former teacher, who introduced him to an investor keen on opening a physical storefront under the name Gerai De'Ceriaa in Kiulap.
There was to be no honeymoon however, as the half-sized unit came without a proper cooking area, creating a serious concern that could not be bridged by simply bringing in food cooked from home.
"I was naïve and didn't realize how ultimately limiting it would be to not be able to prepare food freshly," he said. "I was competing with real restaurants and cafes now. And pre-cooked food just couldn't cut it."
The investor eventually wanted out, and a relative stepped in to partner with Acap and revamp the business a year later. Traditional stoves powered by gas cylinders could not be installed because of safety concerns arising from the limited space for cooking. They resorted to electric hobs, which repeatedly gave out, before settling on three stoves with small gas cartridges.
"Honestly these are just some of the challenges," he says with a smile as he shrugs his shoulders. "There are many that come our way – but we are committed in finding a resolution at every turn."
It may have taken years, but Acap is now starting to see the fruits of sowing a uniquely local brand of blue collar resolve. Stop by De'Ceriaa any day and you'll catch him scrubbing away at the dishes, manning the counter or cooking and serving food.
As he wipes down and gets ready to cook, I see his staff intervene. They offer to take his load, eager to help shoulder the burden. Acap moves aside, and a young gentleman takes the reigns. A manager that takes full responsibility has inspired his staff to do the same.
"Let your actions match your words," he says. "I see many local entrepreneurs talking about passion – but soon as their business takes off, they lepas tangan (let go) and hire foreigners to completely run the show."
"If you are really passionate about what you do, you don't sit and order people around. You take pride in delivering the service. You get up and get into action."