When the COVID-19 pandemic arrived in Brunei in March, Brunei's diving and watersports leader, the Poni Group, were positioning themselves for a breakthrough year.
After more than a decade in operations, founder Thye Sing Wong – backed by the new strategic vision of his business development director and now wife Anna Aziz – earned Poni the gold standard of quality management systems with ISO 9001:2015 – a first for a recreational diving center in Southeast Asia.
The sultanate's small but growing tourism industry was also reaching new heights, increasing a further 19.8% in 2019 with the marketing of new air routes.
Poni's slice of the tourism pie is niche; attracting approximately 2,000 visitors annually but with significant spending power – serious divers spend on average $1,500 each to extensively explore Brunei's sunken treasures.
Poni Divers' reputation for leisure-based diving within the country has seen them gain more than 50,000 followers across social media platforms, and international recognition has followed, with a CNN feature in 2017 exploring their role in initiating the sketching of Brunei's shipwrecks.
Over the years, Thye has also expanded Poni's workforce into a team of 40 executing a growing portfolio that now includes professional diving, marine engineering, transportation, teambuilding and event management.
So when the government ordered the closure of its borders and other restrictions followed, Poni would go on to lose $200,000 in cancelled bookings and projects – just for the month of March.
"When the outbreak first hit we knew we were going to lose the tourism business, and we were definitely not doing much local business (from local visitors) as we were adhering to the guidelines and everyone was staying at home. We then thought, maybe we still have some commercial projects and services. Unfortunately those also got delayed or postponed," said Thye.
"We had to put our staff on three days a week. But we were adamant that we didn't want to let our team go; we have hardworking staff who've dedicated a lot to help us get to where we are."
Against the backdrop of a global pandemic that shuttered millions of businesses and jeopardized the livelihoods of those it employed, this is the story of how a dive club became a new industry leader that rebounded from the pandemic to win the ASEAN Business Award for SME Excellence.
A carousel of Poni's photos from their diving expeditions. Recreational diving is up to 40 metres deep; below that is considered technical diving. Diving can also be classified as either for leisure or for professional/commercial purposes. Poni offers training for a wide range of depths and objectives.
From Alberta to Serasa
Thye's entrepreneurial beginnings can be traced back to his parents' business which has expanded to supplying and maintaining cold storage equipment to most of the major supermarkets and meat processing plants in the country. The fruits of their labour lead to Thye pursuing a degree in Economics from the University of Alberta, Canada, where he founded the college's dive club which lead to his appointment as the youngest director on Alberta's Underwater Council Board.
Thye discovered diving during his summer breaks backpacking across Southeast Asia, doing his first dive in Thailand and then his first diving course in Brunei. Diving was never in his career plans – he started off as a equities trader in Canada in 2008, but less than a year in, his employer closed due to the global financial crisis.
Thye then returned to Brunei for his brother's wedding, and plying his experience in starting a dive club abroad, help found the Poni Dive Club in Brunei, before accepting an internship for marketing and business development in China.
"A close friend then got in touch and asked if I wanted to help set up a dive shop in Brunei," said Thye.
"This was about 2009; unfortunately he had to pull out from the business (due to other commitments) but we proceeded anyway with launching Poni Divers in Seria Q-lap Mall by 2010. Was it a dive club? A dive shop? We sort of ran it as both."
Diversifying into watersports and marine services
A lot the early expansion – that later developed into Poni's wide expertise – is down to the tenacity of the 36-year-old Thye, who together with his team, began to tackle requests that made use of their diving capabilities, but were considered outside their initial scope of leisure diving.
By 2011, Poni Divers was operating out of the Serasa Watersports Complex and began to receive queries for beach-related events and watersports. Not long after, people would drop by asking if their divers could recover items lost at sea.
"We had to accept earlier on that this wasn't Thailand or Malaysia where hundreds of dive tourists would come in every day. So when people dropped by asking if we offered water sports – jet skis, parasailing, banana boats and the like – we jumped on it right away," said Thye.
"That lead to organising large outdoor events sometimes even for 100, up to 500 people at the beach. There wasn't a large pool of certified divers either; so we used that opportunity to extend our expertise for search and recovery jobs, and the next progression was to offer (international) diving certifications."
Poni became the first dive center to offer professional instructor courses by the Professional Association of Diving Instructors (PADI) in Brunei in 2014, and since tourist divers were beginning to opt for extended stays, Thye opened a homestay in Muara town.
It's a laundry list of milestones thereafter. Poni sets up a diving branch in the highly competitive Bali market; opens a division specialising in technical diving and training called Poni Tec; begins catering to speedboat transportation under Poni Marine, leading to the setting up of Poni Base, which handles boat maintenance and marine-related engineering work.
By 2017, almost half of Poni's revenue was outside leisure diving services as Thye stretched the company's capabilities. But with a growing portfolio, standardization and structure within Poni was needed – something Thye would find in a former business development executive running wellness retreats.
Restructuring into the Poni Group
Anna Aziz is most known in Brunei for her business exploits in popularizing healthy eating; starting with Hip and Healthy which she ran as an online business from home, before moving onto become a managing partner at The Energy Kitchen in Kiulap.
The bulk of 39-year-old's career was spent abroad however, progressing in various business development roles for the luxury hotel operator Dorchester Collection owned by the Brunei Investment Agency.
"I first met Thye in 2016 when I was running Hip and Healthy which included wellness retreats," said Anna, who also did diving recreationally. "I was looking to combine yoga and free diving in our programme – which is how I got to know Thye and the story of Poni Divers."
"When I found out that Anna was leaving her other business, I jumped at the chance to ask if she would be willing to help us out," replied Thye.
"Because every time I look at this monumental task of changing the business from small to medium, there were just so many things do. I'm still involved in operations, managing staff, meeting clients and also heading out to dive for a lot of our projects," he added.
"I really needed somebody and there's where Anna came in with digitalisation, restructuring, and initiating the ISO process as well."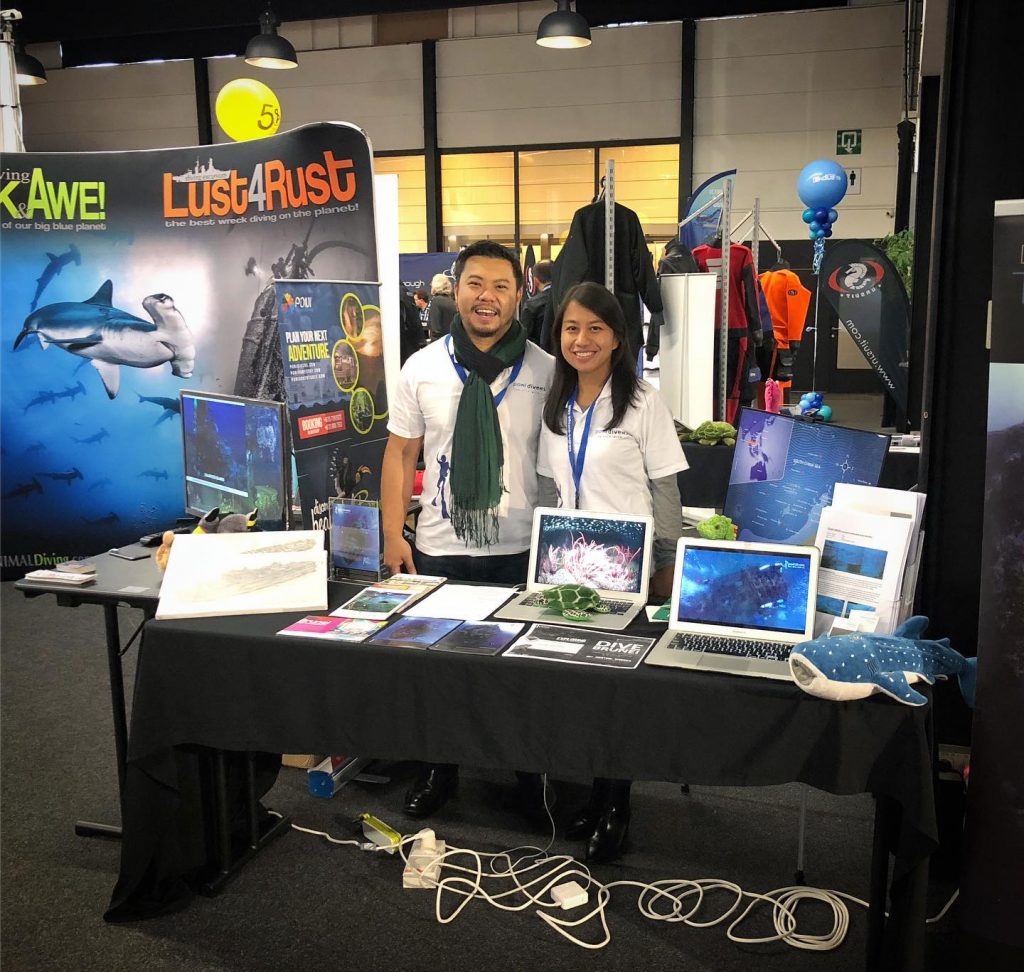 With a comprehensive view of Poni's activities, Anna was able to streamline processes and put systems in place that enhanced an operation already in full-swing through better internal reporting and documentation. Delegation was improved through staff development with new leads supervising teams of five to ten.
The duo's forward thinking landed them a major contract with Hengyi Industries in 2018 to transport more than 600 Brunei staff to Pulau Muara Besar before the adjoining bridge connecting to the island was opened for general use.
Poni expanded their small fleet to 14 speedboats and opened their new administrative headquarters in Muara town the same year, with a branch in Belait following the year after.
At the start of 2020, the Poni Group was incorporated with its local subsidiaries Poni Divers, Poni Marine, Poni Adventures, Poni Tec and Poni Homestay. Poni Divers Bali would continue to operate with a focus on Japanese tourists, and the group also plans to launch a foundation focusing on marine conservation, local youth development and regional disaster relief support.
Thye is also looking to set up Poni branches in Miri and Labuan to cater to commercial diving and marine engineering work for the oil and gas industry.
"Our growth strategy is to diversify and leverage Poni Group's core strengths whilst creating synergies with existing assets and capitalizing on experience and skills we have developed," said Thye in a statement to mark Poni's ISO certification under DARe's Standards Consultancy Programme.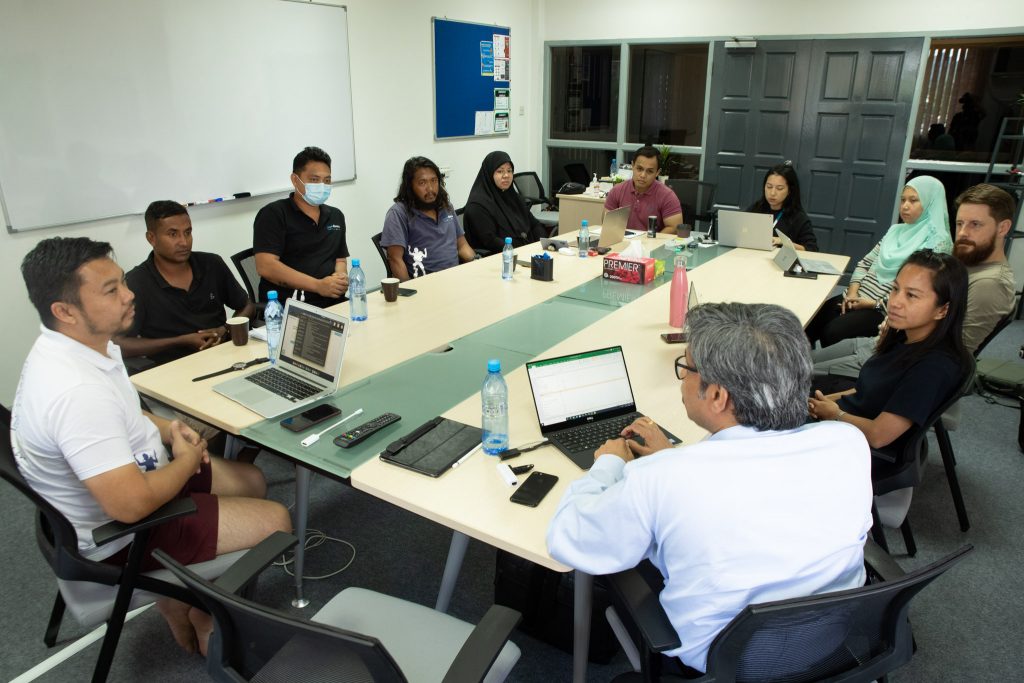 A bittersweet journey
In an interview on the grounds of their new Serasa location located next to Nur Wanita Restaurant in Anjung Layar Luncur, Thye's description of the effects the pandemic had on his business begins with a summary of the revenue lost – before focusing on the struggles of finding work for their staff during the downtime.
The months of March, April and May were especially hard as outdoor activities were also limited. While brainstorming alternative revenue streams, Poni's team also used the spare time to further shore up internal processes and do internal equipment maintainenance including boat repairs.
The government's swift response in stemming the spread of COVID-19 allowed the first series of de-escalation to begin on May 16. By July, as borders remain closed for leisure travel, there appeared to be a new market – a whole country who couldn't travel out that were now looking for recreational activities to do.
Poni began marketing affordable packages comprising mostly of entry level diving, staycations, watersports and barbeques by the beach and nearby Pelumpong island. Not long after, bigger groups and corporates returned for teambuilding activities, enabling Poni's team to return for full duty.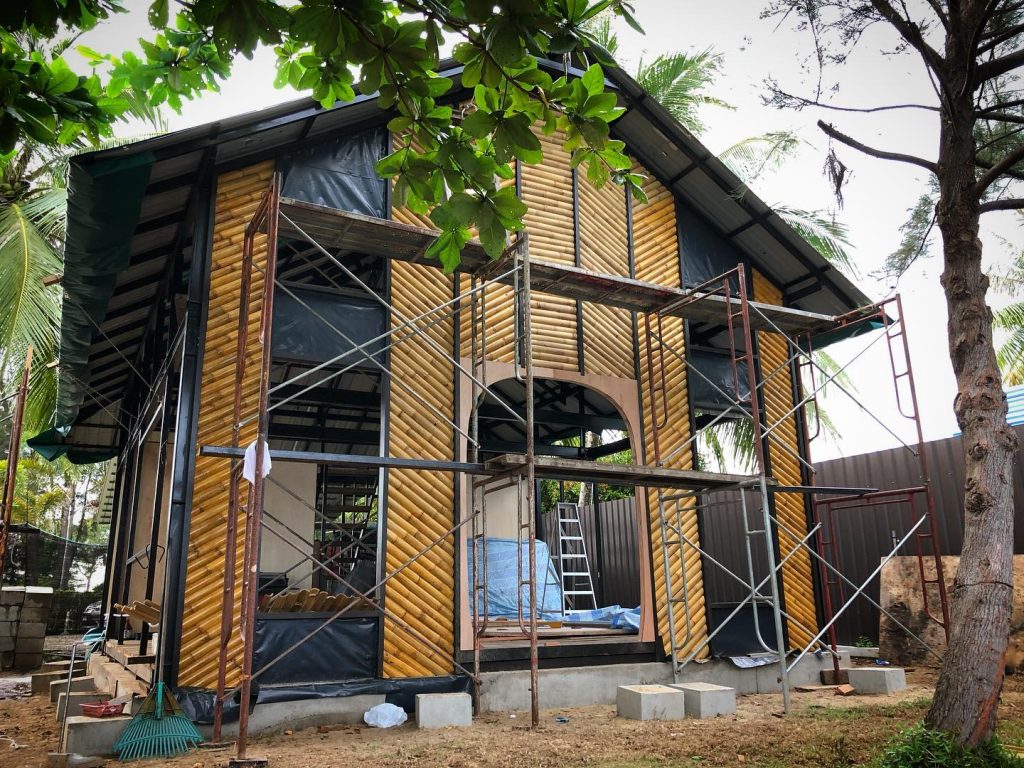 Since the pandemic, Poni have catered packages for over 6,600 residents, and for their resilience and decade-long expansion, were rewarded with an ASEAN Business Award on November 13 for SME Excellence.
For Thye – who lived in the classroom of the watersports complex and spent many quiet nights at swimming pools offering free scuba diving trials – the award represents a remarkable turnaround, even if the wider diving industry in the country is still considered to be in its infancy.
More than 3,000 have earned diving certifications through Poni, and a total of 38,000 have taken part in their activities. Poni is now recognised as a five star facility for instructor development by PADI and is also one of only ten dive centers in the world to be approved by the British Ministry of Defence for adventure training for its military personnel.
When Thye set up shop, money had to be bootstrapped from savings, close family members and friends. He began with eight employees – none of whom could dive. Others told Thye that since the water by Brunei's beaches was "too brown", open waters would not be conducive for leisure diving.
"When we started many of the early day were filled with doubt; 'Have I messed up? Have we spent too much? When will we be able to earn it back?'" recalls Thye.
"I think through it all, there wasn't a template to follow. But I had been out (diving); seen our wrecks filled with corals, marine life in clear, picturesque waters – and I knew what Brunei has to offer, and that is some of the most unique diving in the world."
As the books close on 2020, Poni's situation isn't as simple as a resounding comeback. It's more bittersweet than triumphant. Despite the award and record numbers of local visitors, Anna still expects Poni's annual revenue to be down by 60%.
Yet in a world still in contention of how it can return to normal, the duo at the helm of Poni deserve recognition for making the the most out of a predicament. And so whatever the future brings – if there is a silver lining to be found on the horizon – you can count on Anna and Thye to be amongst the first to capitalize on it.